We're getting some leaves ready for crafting. We're pressing, drying, and sorting the leaves we've collected. Later this week, I'll be sharing a few fun crafts we've been making with our collected dried leaves.
For Pressing Leaves: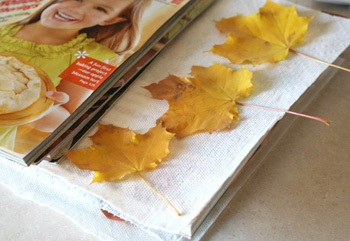 Place a fresh leaf in between two paper towels. Then place a few heavy books or magazines on top of the paper towel, pressing them down. You can even just place the leaves in a magazine, but they may ruin the page, so only use magazines you're done looking at.
Wait for a few days, just to make sure they're dry. Open up the paper towel and carefully remove your leaves. Be careful, because you don't want to crunch or break off a piece of the leaf you took the time to press.
For Drying Leaves:
We're going to be using some crunched leaves in a project later this week, so we don't need to press the leaf, just get them dry. We used plastic grocery bags to collect the leaves that have fallen off our trees.
Place your bag of leaves inside the house, just in case it rains, then you'd have to wait longer for them to dry. In a day or two, they should be dry enough to crunch up and craft with.
Sorting Leaves:
There are so many fun shapes, sizes, and colors of leaves. We went collecting all over the neighborhood to find different kinds of leaves.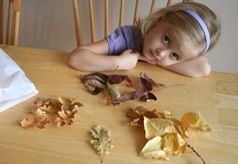 We placed our leaves on the table and began sorting them. We started with color. A few of those were tricky as some of the leaves have 2-3 colors on them.
Then we sorted with size and shape. My kids were amazed at how many kinds of leaves are on trees.
Here are a few links showing fun ways to craft with leaves: