Pretzels have been one of my favorite snacks since I was a little kid, and National Pretzel Day is April 26th, so I'm ready to celebrate in a big way with these 9 pretzel recipes.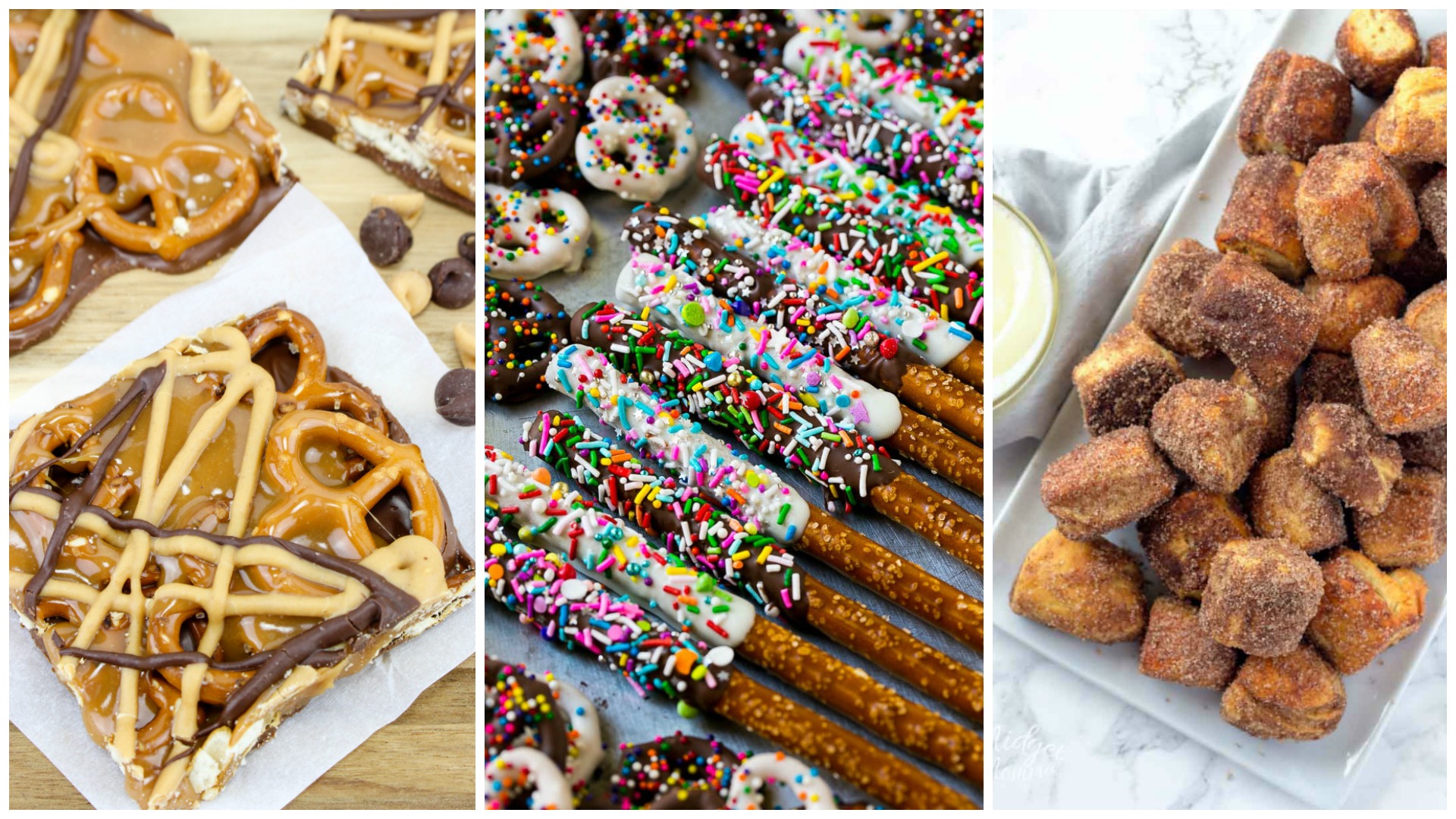 I love all different kinds of pretzels. Pretzel thins with a little hummus, munching on mini pretzels on road trips, and a big soft pretzel from the mall. Nothing beats soft pretzels while you're walking around the mall. Why are they so good? Cinnamon and sugar is my favorite but I love a good salty one too. I searched around for some delicious looking pretzel recipes for all of us to read about and try at home! To go along with our 9 NOW Ideas series, here are 9 pretzel recipes to scroll through.
9 Delish Pretzel Recipes to Try
1. Peanut Butter Pretzels: Just four ingredients for the perfect little dessert snack. Peanut butter, white chocolate, chocolate chips, and mini pretzels! Crunchy and delish! (via Butter with a Side of Bread)
2. Chocolate Dipped Pretzel Hearts: These little treats are addictive, easy to make, and the perfect little holiday treat for friends and neighbors! Just package them up and deliver them.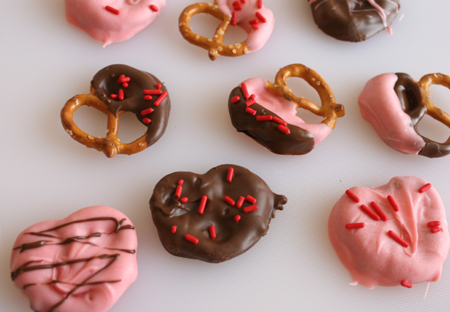 3. Perfect and Easy Soft Pretzels: Have you ever made homemade soft pretzels? They are easier than you think! These are cooked to perfection. Browned on the outside and super soft on the inside. YUM. (via The Domestic Rebel)
4. Pumpkin Spice Pretzel Treats: Who says pumpkin treats are just for fall time? You can make and eat these pumpkin spice pretzel treats any time of the year! They are TASTY. I love a good pumpkin flavored snack.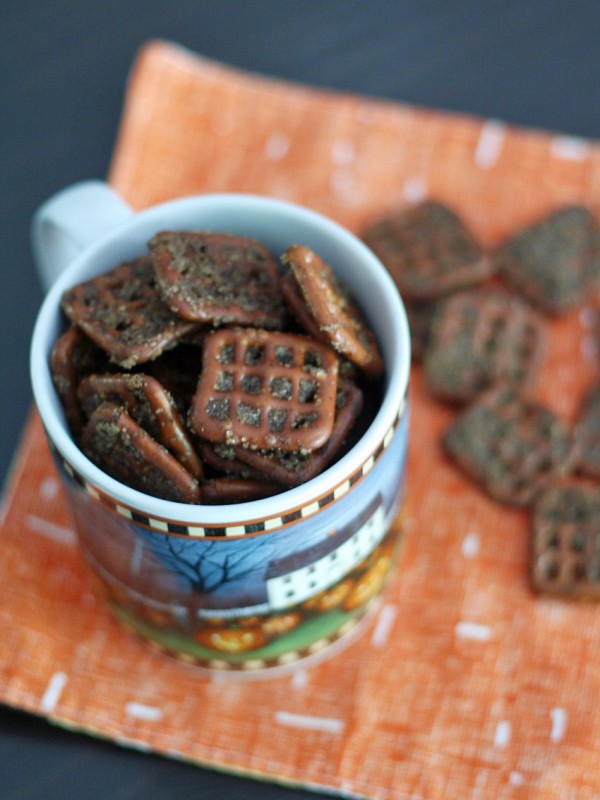 5. No Bake Caramel Pretzel Crack Bars: I can tell this is one of those desserts that you can't just eat one piece. It has so many yummy ingredients in it and it's a simple no-bake recipe! (via My Incredible Recipes)
More Pretzel Recipes to make:
6. Chocolate Covered Pretzels: Need a quick and yummy dessert idea for a party? These chocolate covered sprinkle pretzels are your answer! Change the sprinkle colors to make it reverent to whatever event you're headed to. (via Dinner at the Zoo)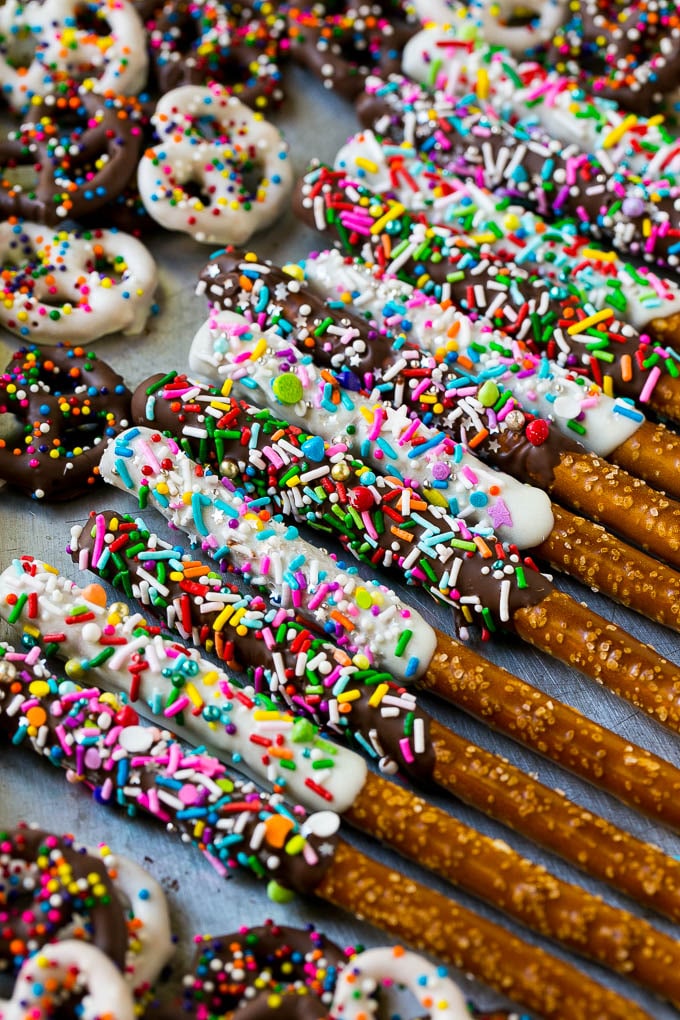 7. Auntie Anne's Copycat Cinnamon Sugar Pretzel Bites: Can't think of anything better then cinnamon sugar pretzel bites. Soft little bites of heaven is what they should be called! Can't wait to try this copycat recipe. (via Midget Momma)
8. Simple Snackable Homemade Pretzel Bites: Let's continue on this soft pretzel bite train. You can never have too many pretzel bite recipes. I love this one with a little salt and dipped into a savory dip.
9. Nutella-Pretzel Truffles: How incredible do these sound and look? I love the combination of pretzels and Nutella. A little sweet and a little salty. YUM. These combine those two things into something amazing! (via Brown Eyed Baker)
Which recipes do you want to try??