Last month I shared with you a really easy way to make a diamond patterned tablecloth. Today, I'm sharing with you another fabric printing idea that has the potential to transform the look of any room. The best way to inexpensively change the feeling of any space is by changing your throw pillows.
Or, as I prefer, just print your own fabric and make slipcovers for them! To make your own printed fabric, you simply need fabric paint and some solid colored fabric (of contrasting color) and you are in business! I won't share with you  tutorial today on making your slipcovers, but if you would like to find an easy way to do this, you can visit here (one of my favorite tutorials for zipper-free slipcovers).
For today's project you will need just a few supplies and about half an hour or less to complete the printing (not including sewing time).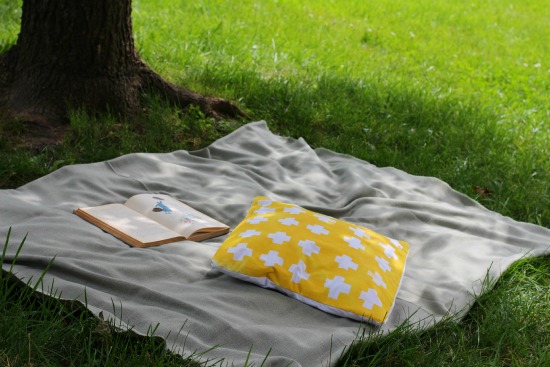 Supplies for Printing Criss-Cross Pillows:
fabric paint
a small roller paintbrush
masking tape
fabric
scissors
a shallow container (for the paint)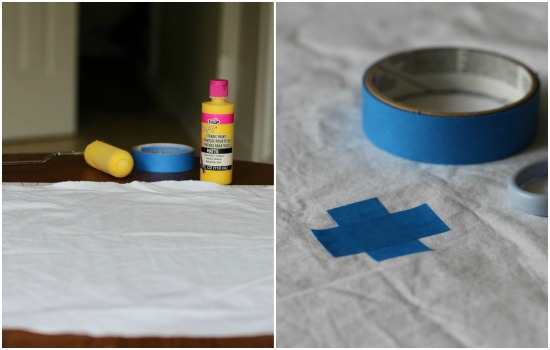 Step 1:
Lay your fabric (of whatever size you wish) on a surface that is covered or that can easily be cleaned afterwards. Pro tip: fabric paint always bleeds through fabric, so be prepared for this and be mindful of this while you are working, i.e. don't shift the fabric's position around.
Once you lay your fabric flat (you will sew it into shape later) begin creating small cross shapes with masking tape. I always eye-ball the length of the tape for two reasons: firstly, I think if you are making something handmade–it should look that way (gives it personality) and secondly, it's much easier and less stressful than measuring. And seriously, how hard can cutting out pieces of tape be?
Make your first criss-cross shape in the middle of the fabric and work your way our creating horizontal rows.
Step 2:
Once you have created as many cross shapes and rows as you wish, you are all ready to paint! Distribute a good amount of fabric paint in a shallow container and dip your roller brush in the paint. Begin painting being careful not to pull up any of the tape edges as you are rolling.
Step 3:
Once you are finished painting, remove your tape and reveal the little cross shapes! Hang your fabric to dry.  The next step is to sew your fabric into pillow form. Or, you can make anything out of your handprinted fabric: tea towels, napkins, a tote bag or stretch it over a painter's canvas and hang it on the wall!
Next month, I promise you won't see another fabric painting tutorial from me. But seriously, who can resist and this is great information to pin! I mean, you can make your own fabric, everyone! I find the limitless possibilities in that to be so much fun, not to mention friendly on the ole wallet.
Happy fabric printing my friends and I will see you soon!