We're creating cute and crafty jungle puppets from recycled cereal boxes to play with as an after school activity. We'll finish up any homework from school and then get right to crafting our puppets!
I've partnered with KiX Cereal as an ambassador for today's post. They've just come out with a super cool and interactive cereal box available only at Target. The new box is pretty great! Just what you'd want from a cereal box – something to craft with when all the cereal has been eaten! You can pop out the shapes, build them into animals, and have fun playing!
After you enjoy your cereal, pop out the perforated shapes and make them into all sorts of creatures. The boxes list instructions or you can come up with something on your own. You can also follow along with an online story as well. Celebrity mom Soleil Moon Frye has written 3 interactive stories you can find online once you've popped out and built your characters to play with. Our favorite story was about Mazy the Octopus and Jellyfish Fred!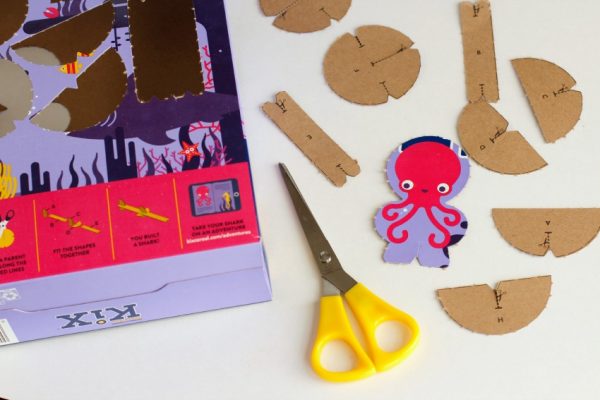 After we crafted with these fun cereal pop out shapes, we embellished them a little more with extra craft supplies and created a jungle-themed puppet show!
Supplies for Cereal Box Puppets:
new KiX Cereal box with pop-out shapes
craft sticks
glue
glitter
feathers
googly eyes
crayons
scissors
felt
pom poms
pipe cleaners
My older daughter chose the octopus and turned hers into a pirate with a feather in it's cap! She even crafted a cute little pearl and oyster for her octopus to go treasure hunting for. Arrr, Matey!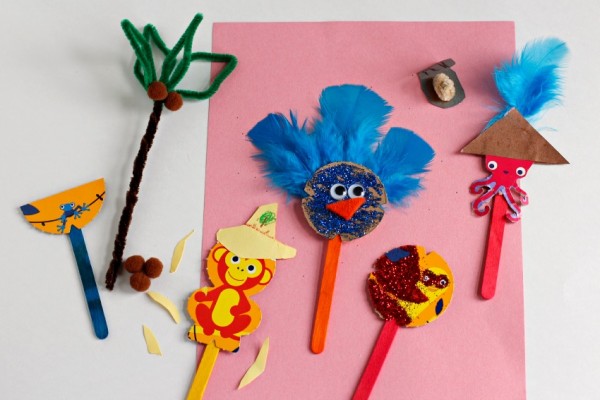 My younger daughter chose the monkey to craft with and decided on a jungle theme. She even gave her little monkey a yellow hat, which reminds me of a certain curious monkey we know ;)
We also made a pipe cleaner coconut tree:
fold 2 brown pipe cleaners in half together with 2 green pipe cleaners, in opposite directions.
twist the brown pipe cleaners together.
spread out each of the green pipe cleaners and then bend the green pipe cleaners back down to the center to create each leaf, twisting at the center in place.
glue on brown pom-poms for coconuts!
There are all sorts of fun puppet shows to be created. Here's the latest adventure my girls came up with for their cereal box puppets!
Octo the octopus sailed her pirate ship to a far off jungle forest in search for hidden treasure. Once on land, Octo came upon two friends, a silly monkey named Bananas and a blue bird named Bluey. They invited Octo to their party and shared coconut milk and bananas for breakfast!
Have fun crafting your cereal box puppets, taking them on all sorts of adventures!
*Thanks to KiX Cereal for sponsoring this post. Craft ideas and puppet show creations are my own. Be sure to follow KiX along on all sorts of creative adventures through facebook and pinterest!