Give your 4th of July table a little splash of red, white, and blue with this colorful centerpiece. We colored rice with red and blue food coloring to give it this festive look. You can add this to any area in your house or it would be perfect for your party table!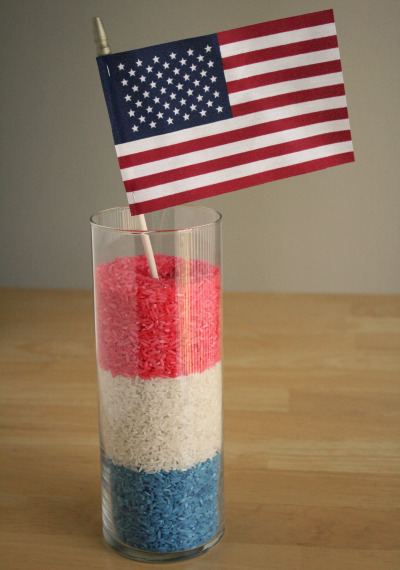 Supplies for 4th of July Colored Rice:
white uncooked rice
rubbing alcohol
food coloring, red and blue
paper towels and a tray
clear vase
1. Divide your rice into 3 equal parts. Place 2 of the parts into 2 baggies, one for red and one for blue. The third part you'll leave plain white.
2. Add your food coloring to each bag. Depending on your food coloring, you might need to add more than you think. I used 8-10 drops for each color. I also added 1 teaspoon of rubbing alcohol to each bag. This helps with the drying process of the rice, so it doesn't get wet and gooey. You can make this without the alcohol, you will just need to act fast and help it dry quicker, maybe out in the sun.
3. Seal up the baggies and start to mix it around with your hands. Make sure it gets spread out evenly over each piece of rice.
4. Set out some paper towels on a tray. Open each bag and spread it out on the tray to dry. Avoid them touching, it's not fun if they mix. It shouldn't take too long, and you can use a spoon to help fluff them and speed up the drying process.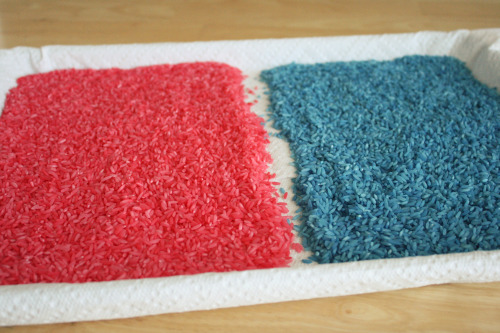 5. Once the rice is dry and set, add it to your clear vase. You can create all kinds of layers. In three chunks like mine, or with a lot of little red and white layers with one large blue layer at the top to make a flag!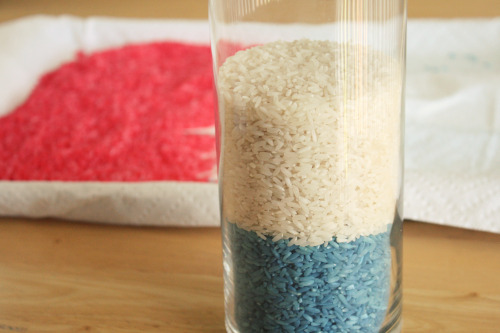 Now add your flare for the top. In the first photo, I added an American flag in the center. Or you could place some of these fun Patriotic Paper Lollies! Or below, I added one of these Pipe Cleaner Sparklers to turn it into a giant firecracker!
This craft could be turned into a decoration for any type of celebration. Create this centerpiece with your country's color or even with colors from a different holiday.