After school is over, my kids are cranky and tired. It's that witching hour that gets us all. It's the end of the day for me too which means I'm not always at my best either. I've found that at this point, nothing quite does the trick to boost moods and energy like a great, healthy snack. Nothing better than a yummy and filling snack to keep our energy up until dinner. Today's craft is something for the parents disguised as something for the kids because it will make both happy! A happy kid is a happy parent, right? Enter: After School Snack Place Cards.
After School Snack Place Cards
Once you make these place cards, instantly you've set the mood for a fantastic afternoon! The best part is that these are so easy to make, you can craft them in full-on, multi-task, "Quick! The kids will be home in 30 minutes!!" mode. You could even make this an after school craft activity to make with your kiddos. They'll love using their handiwork with their snacks. Read on for the full tutorial.
Supplies:
colorful (index card sized) card stock paper
sharpie marker
glue stick
photo of your child's face printed on copy paper
scissors
Step 1:
Fold one of the index card stock cards in half and stand up like a tent.
Step 2:
Cut out the face, or head and shoulders of your child then glue them onto the card.
Step 3:
Write the name of your child on the index card with a sharpie.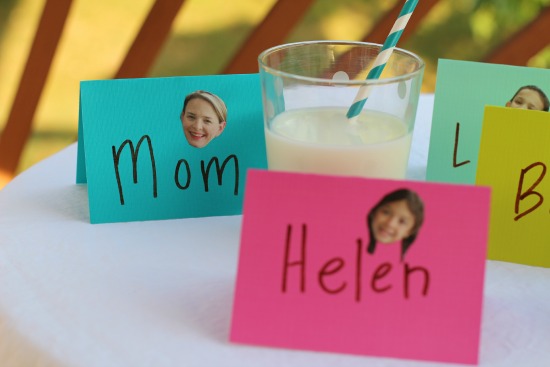 Fantastic job! You can even make one for yourself! I mean, what parent doesn't love a great after school snack too? Goldfish crackers, anyone? Happy After School snacking!
More after school snack ideas: