We just can't have enough bookmarks in this house! Everyone is reading multiple books at one time, plus there are encyclopedia pages to mark and recipes to tag. On a whim, I picked up a pack of transparency film for us to experiment with. See-through bookmarks were born! You'll want to make a big stack of bookmarks, to keep and give away.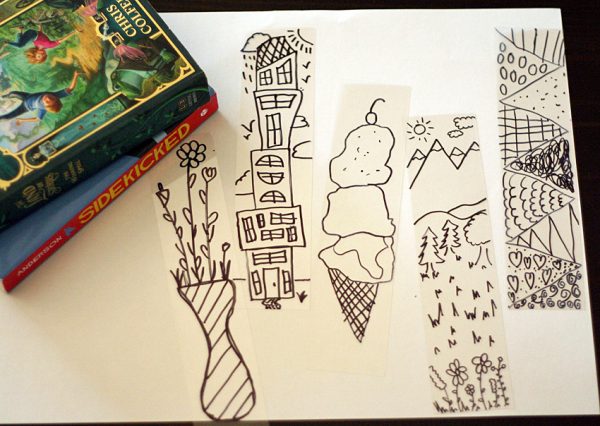 You need just two supplies for this project: black Sharpies (or other permanent marker) and transparency film. Transparency film is a clear, see-through plastic sheet, like what you would use on an overhead projector. You can pick up a package of it at the office supply store. There are transparencies that go through the printer, and some that are just for writing on – either one will work here.
First, cut the transparency sheets into bookmark-sized pieces, about 2-inches wide. Then, it's time to draw!
My 10-year-old's first bookmark was inspired by Zentangle designs. I love how the patterns on this one turned out.
It's also fun to take advantage of the bookmark's tall shape. We brainstormed tall things to draw, like layer cakes, ice cream cones, crazy houses, giraffes, hot air balloons, sunflowers, trees, and mountains. I love this wacky, Seuss-inspired house my 12-year-old came up with!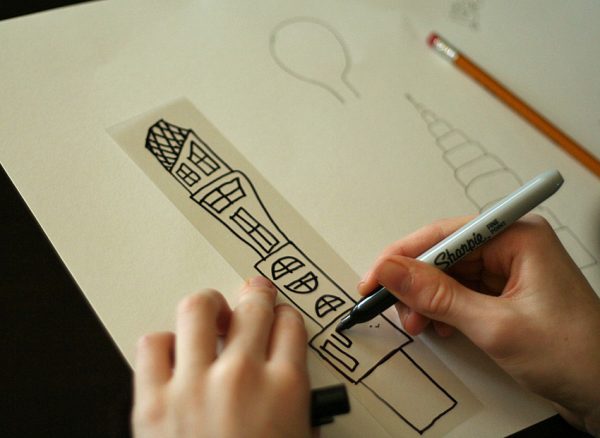 One of the best things about working with transparencies is the ability to practice your drawing on paper, and then easily trace it onto the bookmark. You could also trace things from coloring book pages, magazines, drawing books, or even quotes that you design on the computer and print. Endless possibilities!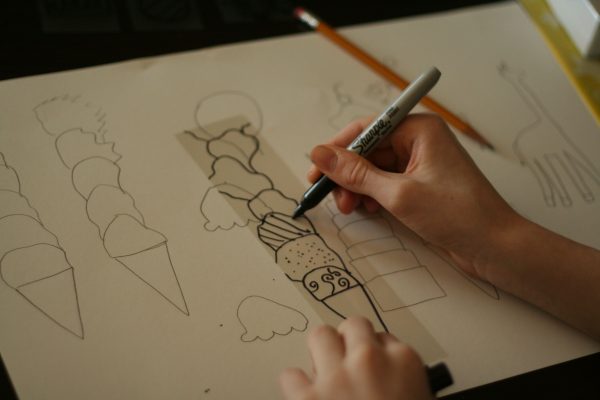 It's always fun to experiment with new drawing surfaces, and my girls loved drawing on the transparencies. I have to admit, I really enjoyed drawing on the super-smooth plastic, too! I'm thinking these see-through bookmarks would be a fun party craft or kid-made gift idea. We might even experiment with colored Sharpies next time!