Yes, I have the official title of "soccer mom"! But I love it! Our family loves to sit on the sidelines and watch the kids play. Even in the cold windy Seattle rain! And each season we're in charge of snack for one of the games. After a few years now, I'm always looking for new ideas on quick and easy (healthy) snacks for the players.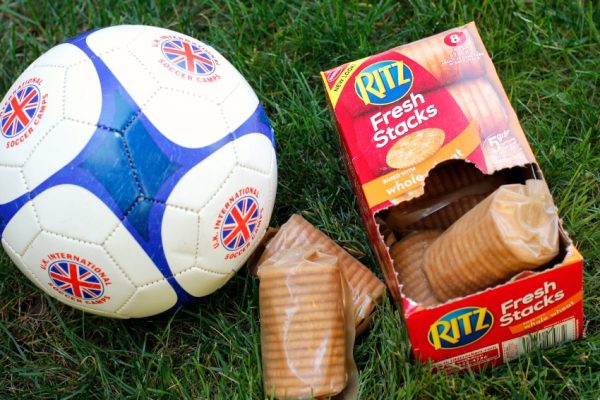 I've partnered up once again with RITZ and their new Fresh Stacks for today's soccer snack-attack! Their new snack packs are the perfect size for a quick snack, especially with a crowd of cute little soccer kids! These crackers come in 3 flavors: original, whole wheat, and everything – so everyone's happy!
Along with these RITZ Fresh Stacks, I've gathered 6 more quick soccer snacks to bring on your child's game day!
1. Ants on a Log – this classic is always a hit with kids. Make these for a silly snack to eat on game day.
2. Grape Kabobs – place your grapes on a lollipop stick and make them easy for kids to grab and go.
3. Cream Cheese and Jam Crackers – make these up ahead of time to hand out to the kids after the game.
4. Little Orange Cuties – my kids love peeling oranges and these little ones make it easy. For Halloween, you could even draw on a Jack-o-Lantern face!
5. Caramel Apple Trail Mix – all the flavors of a caramel apple, but without the sticky mess.
6. Yummy Edemame – so simple, yet so healthy. Kids love to munch on these and would be perfect for some protein on game day.
* Thanks to RITZ for sponsoring this post. All recipes and opinions are my own. Be sure to follow them on facebook, twitter, and pinterest for more snack-attack inspiration!