Boo! Let's get ready for Halloween with this easy DIY Spider Halloween Countdown Pocket Chart! It's a simple Halloween craft that you can do with kids of any age. Use your countdown pocket chart to keep track of the days until left until Halloween arrives! Kids love to get dressed up in costumes and go collect all that candy on Halloween night. It's usually pretty hard for them to wait for Halloween to arrive but now they can use a (not-so) spooky spider to help them count down those 13 days of Halloween!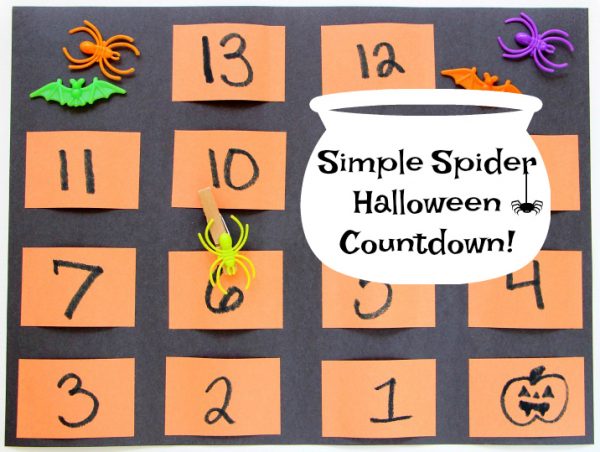 DIY Halloween Countdown Pocket Chart
This Halloween countdown pocket chart is really easy! And your kids can help make it. It's a great craft for practicing counting and scissor skills.
Supplies:
Black construction paper
Orange construction paper
Glue Stick
Scissors
Marker
Small clothespin
Hot glue gun
Spider rings
This fun Halloween countdown pocket chart for 13 days of Halloween is so easy and a unique way to get ready for the spooky holiday! Just gather these basic supplies and you are ready to make it!
Instructions:
Begin this Halloween countdown pocket chart craft by making a simple construction paper pocket chart. Cut 14 small rectangles from orange construction paper. Label them with numbers 1 through 13 and draw a Halloween themed picture on the 14th one. These will be the pockets for your Halloween countdown chart.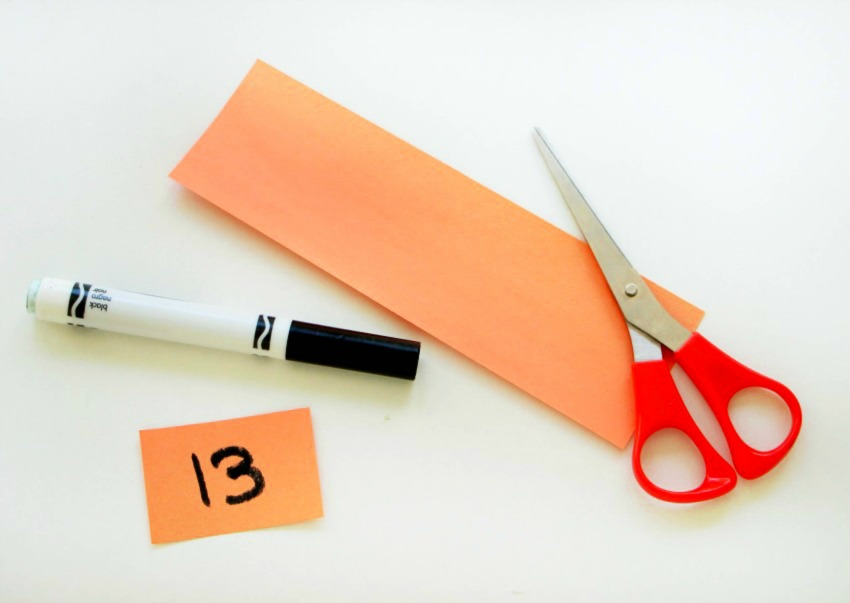 Space the rectangles out evenly on the black construction paper. When you have them arranged how you want it's time to glue them on with a glue stick. Use the glue stick on the two outside edges of the rectangle. Place one end down on the paper and press firmly. Now press the other side down but make sure the center of the rectangle is bowed upward, creating a little hump or pocket area.
To make the spider clip for your Halloween countdown pocket chart pick out a colorful spider (or bat) ring. Turn it over and cut the ring portion off where it meets the back of the plastic spider.  Next glue the spider onto a small clothespin with a hot glue gun. That's it! Once the glue cools it's time to start the countdown.
Clip the clothespin spider onto the pocket with the number 13. This will be your first day. Each morning your child can move the little spider to the next pocket, counting down 13 days of Halloween! Use the extra spider and bat rings to decorate your pocket chart.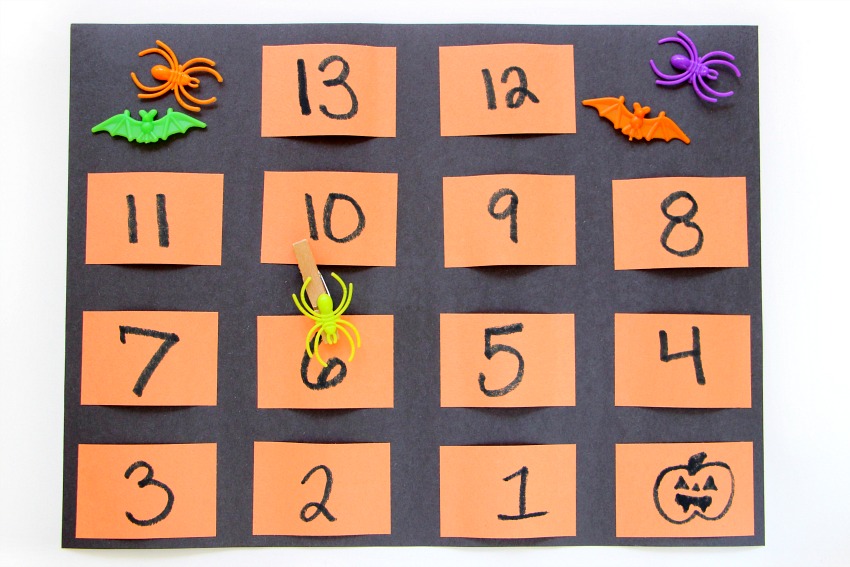 See, it's super easy! Make yours today!  It's a fun way to get ready for Halloween!