Guest post by Alison of Ingredients Inc.
Saint Patrick's day is celebrated on March 17th, and my three kids always make sure they wear green clothing to school. This year, we will start off dinnertime with this healthy, easy and very simple Saint Patrick's Day Fresh Herb Dip. It's a great way to get the kids to try fresh herbs such as basil and dill and to eat fresh vegetables. I like to use reduced-fat Greek yogurt in this recipe because it has so may health benefits and is filled with protein. Enjoy this on St. Patrick's Day or anytime during the year.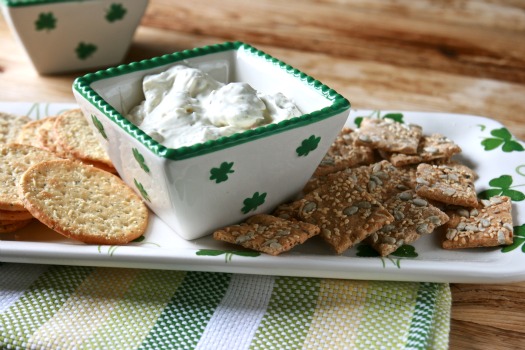 Saint Patrick's Day Fresh Herb Dip
Prep: 15 minutes
Yield: 3 1/2 cups
Ingredients
1 (16-ounce) container light sour cream or reduced-fat Greek yogurt
1 cup reduced-fat mayonnaise
2 cloves garlic
3 tablespoons chopped fresh basil
3 tablespoons chopped fresh dill
1/4 teaspoon kosher salt
1/4 teaspoon freshly ground pepper
Fresh vegetables, crackers
Preparation
1. Combine all ingredients in a container of a food processor; pulse until combined. Cover and chill at least 1 hour. Serve with fresh vegetables or crackers.
5 Facts about Saint Patrick's Day
1. Saint Patrick's Day is actually an international holiday always celebrated on March 17th. It started as a Christian holiday but has become a secular celebration of Ireland's culture.
2. Believe it or not, the color of St. Patrick was not actually green, but blue. In the 19th century, however, green came to be used as a symbol for Ireland.
3. According to the Guinness Book of World Records, the highest number of leaves found on a clover is 14.
4. One estimate suggests that there are 10,000 regular three-leaf clovers for every lucky four-leaf clover.
5. A fun Irish toast: "May your blessings outnumber the shamrocks that grow, and may trouble avoid you wherever you go."
Alison Lewis is a nationally known Recipe Developer, Food Television and Media Spokesperson, Nutritionist and President and Owner of Ingredients, Inc, a Food Media Consulting company in Birmingham, Alabama. Be sure to check out her blog of family-friendly and healthy recipes at Ingredientsinc.net. Her upcoming cookbook, "400 Best Sandwich Recipes: From Classics & Burgers to Wraps & Condiments", will be released in April 2011.