Summer Camp guest post by Amanda of OhAmanda.com and Impress Your Kids
Welcome to Camp! Yeah, it's Summer Camp here at Make and Takes. But at our house? We've been having Toy Camp! And just what is Toy Camp? And what do do we do there?
Well, let's have a look around, shall we? First, we'll begin with a welcome picnic.
We set it up in a 9×13 pan filled with some leftover sandbox sand. Added a leaf blanket (you can't tell, but the edges are frayed!), some mica plates and a berry lunch. Goofy and Mickey Mouse seem to be enjoying it and Snow White looks like she found a woodland friend, but the Little People Train Conductor looks a little preoccupied. Wonder what he's looking at?
Ah yes, it's Dopey at the Old Fishing Hole! He has a twine and twig fishing pole and green leaf fish (cut expertly by the Camp Director: me!). He hasn't caught anything yet, but he's patient!
As camp progresses, the Assistant Camp Directors (my 2 and 5 year old) decided it was just too hot for our poor toys to play. So, they set up teepees for some shade and naps. We found 3 thin matching sticks and tied them together around the top. Then skewered a giant leaf on the top of each stick for a perfect covering!
You can see Goofy really enjoyed his tent. They also added some extra branches for shade and another teepee by the fishing hole for Snow White to visit the patient fisherman, Dopey.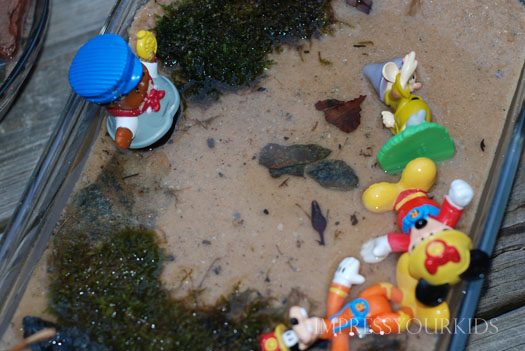 And it would have been a perfect day at camp if hadn't been for the rain!
When was the last time your kids' toys went to camp?

Amanda is a stay-at-home mom of two who blogs at OhAmanda.com and Impress Your Kids. In her former life, Amanda was a Children's Pastor — overseeing, organizing and developing ministry for kids in nursery through middle school, but now that she is a mom, her "skills" are used up on her kids!