Fire up that grill! It's time for some summer skewer grilling. Skewer dinners are some of my favorite meals in the summertime. They are easy to assemble and so fun to eat. My kids love them! This outdoor cooking meal is perfect for a socially distant get together with family or a few friends. You don't even need utensils if you don't want to use them. Less dishes- yes, please!! I've found 9 of the best skewer recipes for you to try these next couple of months.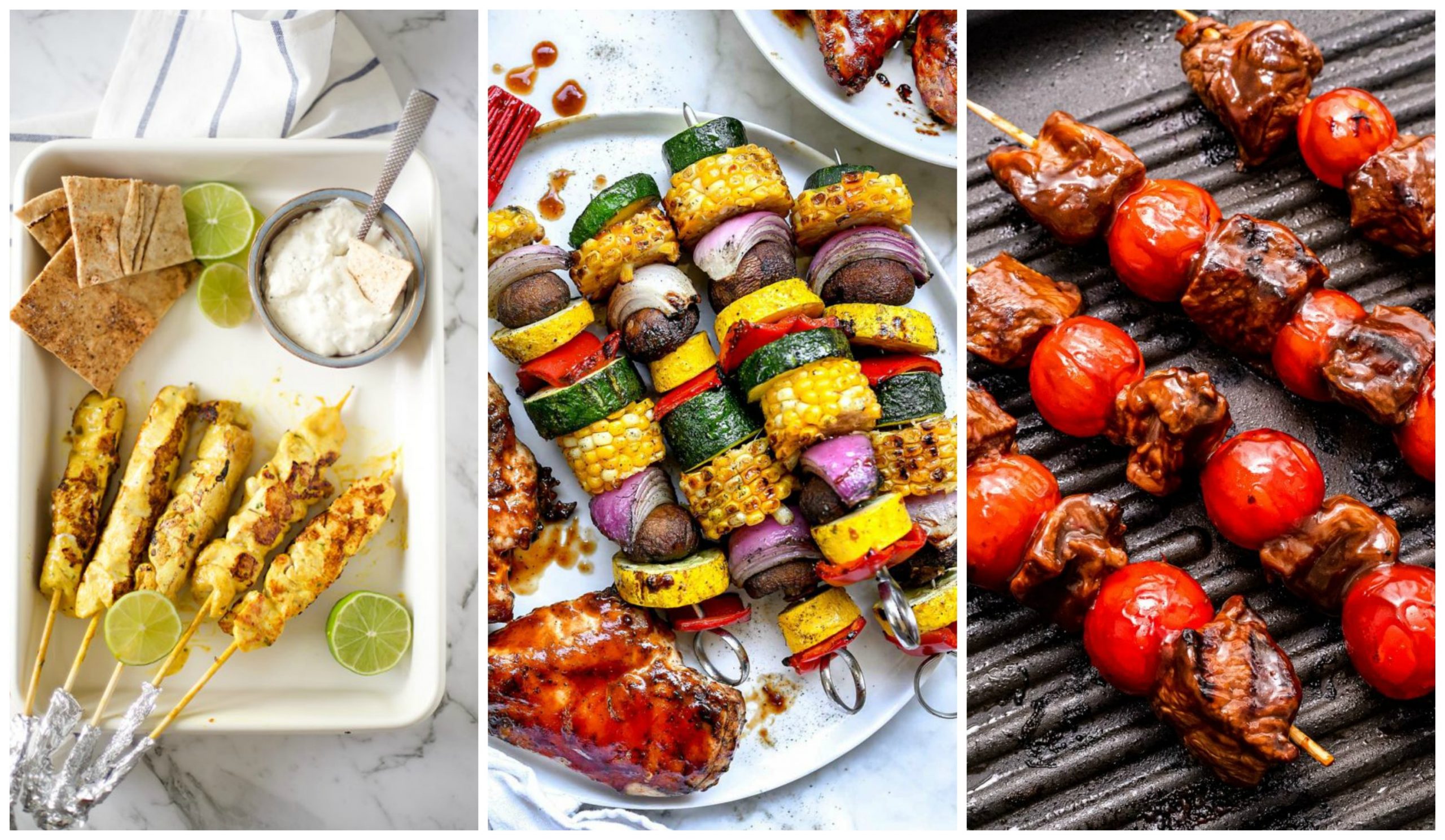 9 NOW Summer Skewer Grilling Recipes
1. Hawaiian Chicken Kebabs: My mouth is watering looking at these kebabs with big chunks of pineapple and chicken! Love the combination of sweet and savory in this recipe. (via i am baker)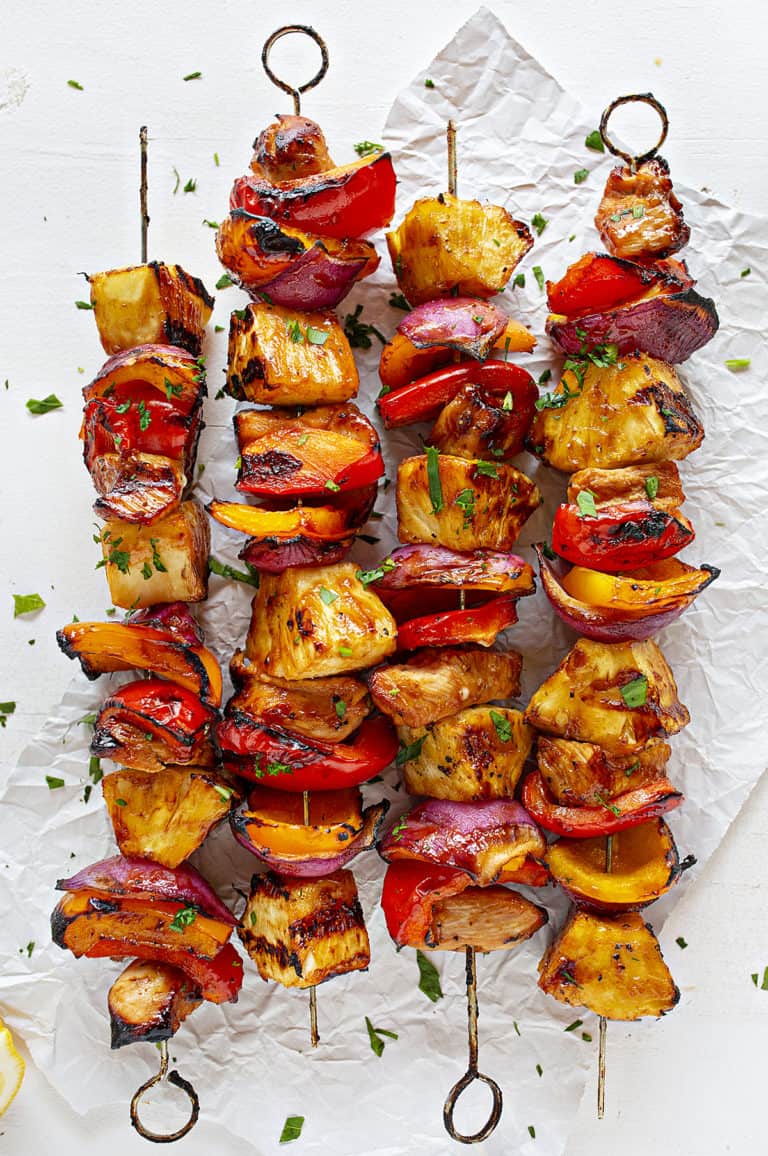 2. Easy Barbecue Chicken Skewers: Easy Barbecue Chicken Skewers Recipe marinated in a Mediterranean marinade with some cilantro, olive oil, garlic and lime marinade and grilled to perfection served with tzatziki and crispy pita bread.
3. Grilled Vegetable Skewers: Load up those skewers with corn, onions, bell peppers, and zucchini! Throw them on the grill and you've got the perfect summer side dish. (via Foodie Crush)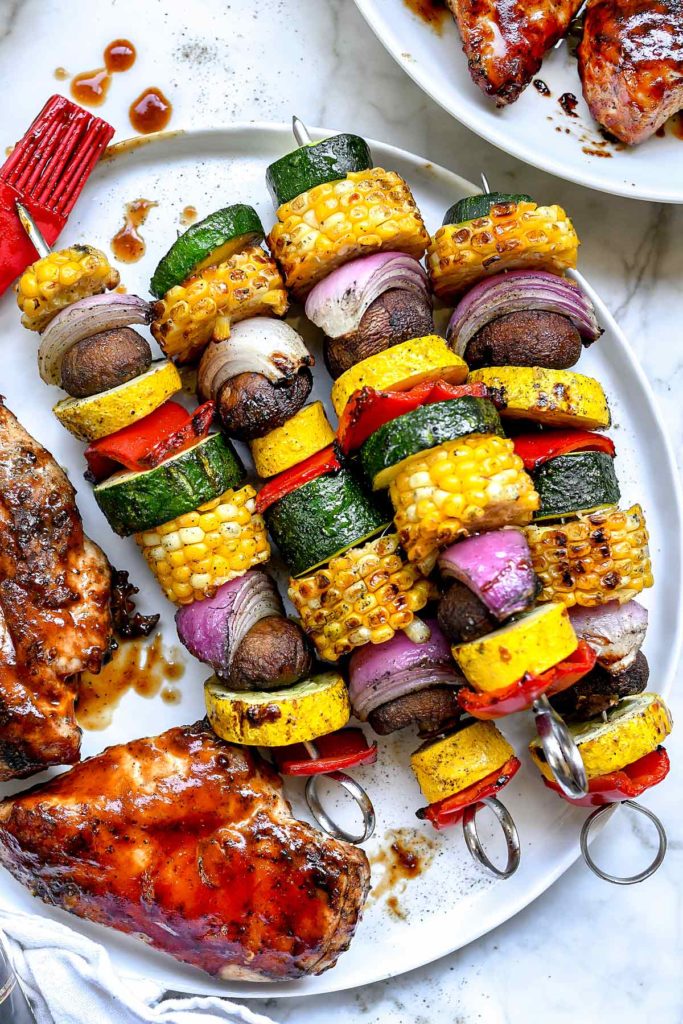 4. Balsamic Steak Kabobs: Loving the idea of grilled steak and cherry tomatoes drizzled with balsamic. How yummy does that sound?? (via Julie's Eats & Treats)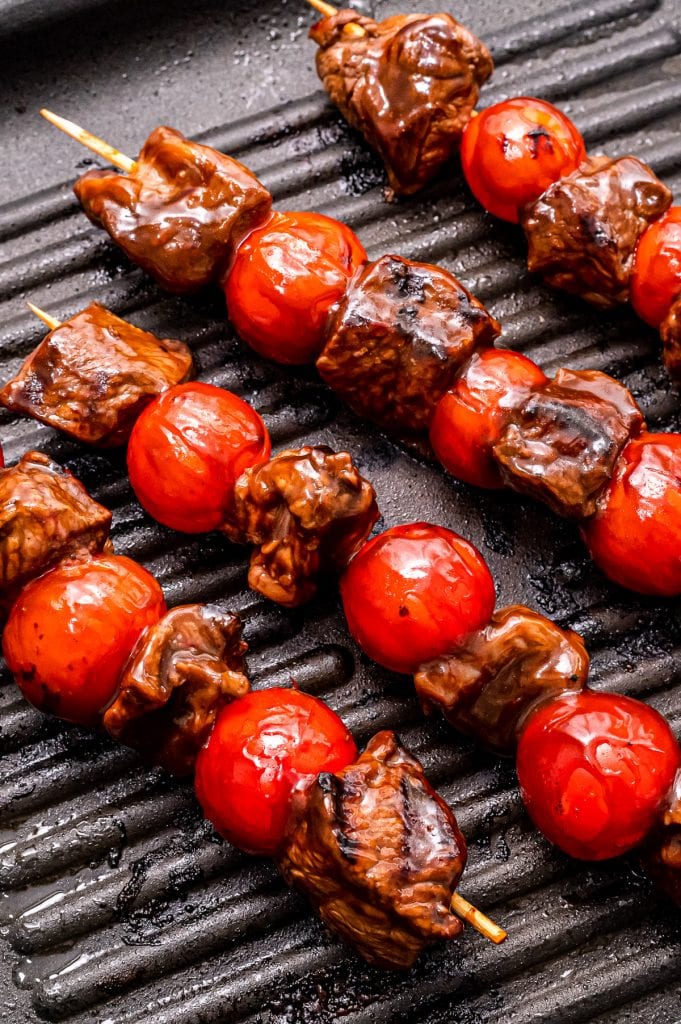 More summer skewer grilling recipes:
5. Bacon Wrapped Grilled Brussel Sprouts: Marinate your Brussel sprouts and then wrap them in bacon!! Toss them on the grill for the tastiest side dish in the world. (via Gimme Some Grilling)
6. Grilled Watermelon Pineapple Skewers: Have you ever grilled watermelon? It brings out the flavor in a way that you've never tasted. Combine it with some chunks of pineapple and you've got the yummiest side dish or even a dessert idea! (via Amanda's Cookin)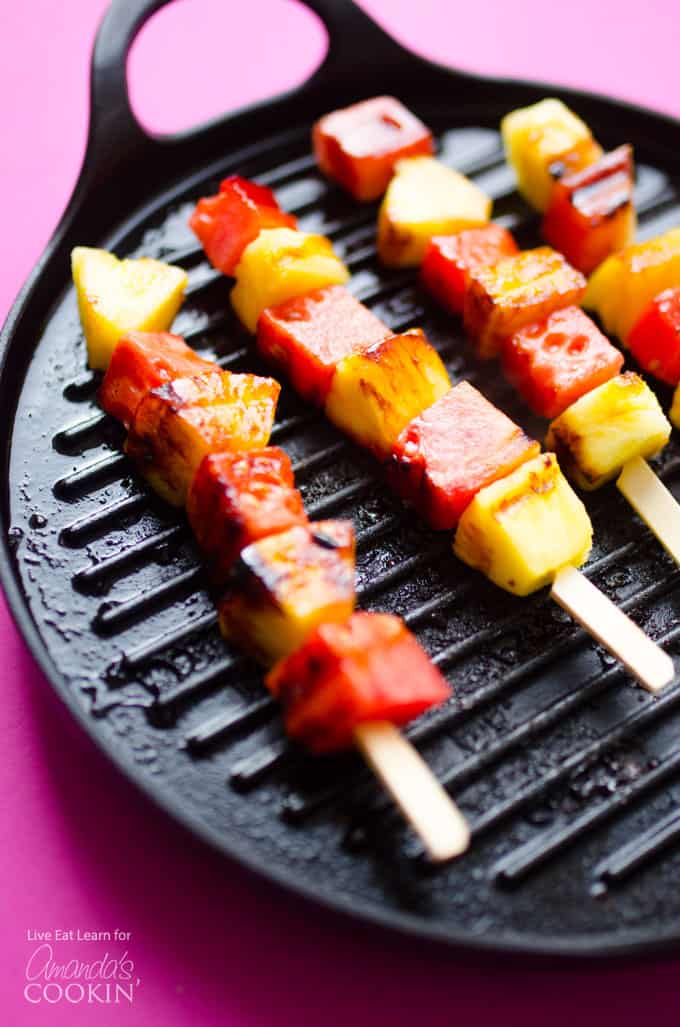 7. Grilled Shrimp Skewers: Nothings beats fresh shrimp on the grill. Marinate those yummy shrimp, skewer them, grill 'em up, and serve them with a spicy pineapple-mango salsa! (via Design Mom)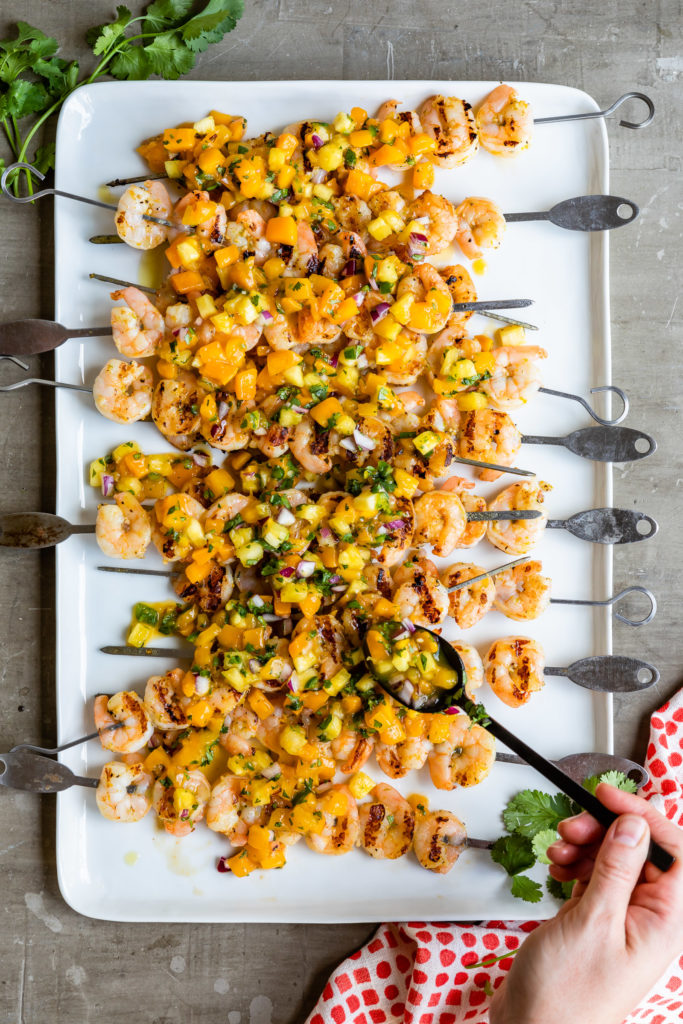 8. Grilled Fruit Skewers with Easy Yogurt Dip: Grill your dessert with these peach and pineapple skewers. Whip up an easy yogurt dip. Sounds delish! (via Yummy Healthy Easy)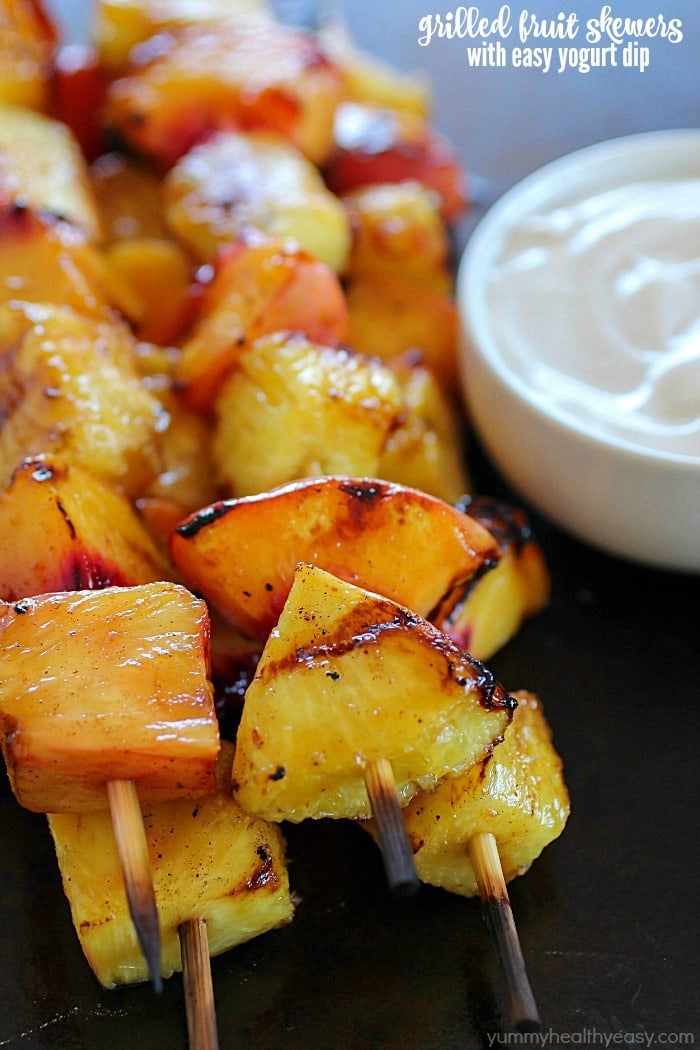 9. Grilled Asian Garlic Steak Skewers: Steak skewers marinated in an Asian garlic sauce and grilled to perfection. These sound incredible. I am definitely trying this recipe. (via The Recipe Critic)