My daughters have been reminding me that we forgot to cut paper snowflakes during our December advent activities. So, I knew they would enjoy this snack-time surprise – making crunchy tortilla snowflakes dusted with powdered sugar. These are so simple and fun to make, perfect for a cold winter day when you're stuck inside.
Tortilla Snowflake Ingredients:
Flour tortillas – small or medium size
Melted butter or coconut oil
Granulated sugar and/or powdered sugar for sprinkling
Preheat oven to 400°. Find some clean scissors for cutting your tortillas – I just washed a couple pairs in hot, soapy water and called them good.
Step 1: Depending on the flexibility of your tortillas, you might need to microwave each tortilla for 8-10 seconds to soften it for folding. Ours were fine at room temperature. Fold the tortilla into quarters or eighths – eighths were a little too hard for my kids to cut through.
Just like with paper snowflakes, cut out various designs, careful not to cut away all of the folded edges. When you are happy with your design, gently unfold your tortilla.
Step 2: Put the snowflakes on a baking sheet and brush with melted butter or coconut oil (both are delicious!). Sprinkle with sugar or cinnamon sugar, or leave plain for sprinkling with powdered sugar after baking. We did some sugar-sprinkling, and left some plain.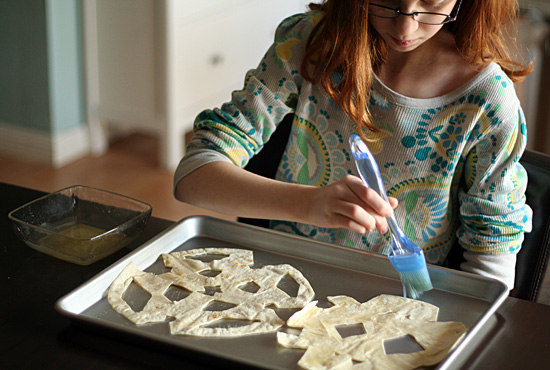 Step 3: Bake at 400° for 7-8 minutes, or until lightly golden around the edges and crispy. I kept a close eye on ours after the 5 minute mark.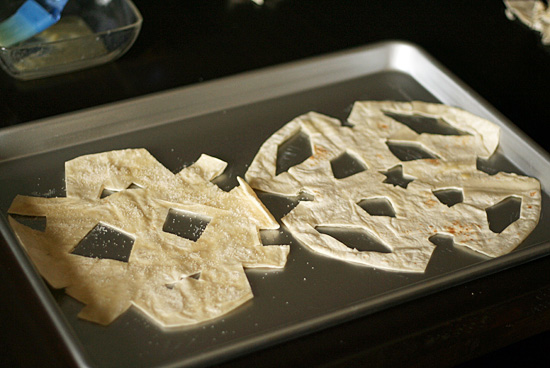 Step 4: Sprinkle with powdered sugar and enjoy – yum!
Variations:
Make a savory version with garlic powder and a pinch of salt. (We tried this – very yummy!)
Use colored sugar sprinkles before baking.
Sprinkle with grated cheese for a snowflake quesadilla.
Have fun playing in the kitchen with your kiddos!