Mother's Day is right around the corner, so I put together a quick and easy Mother's Day vase that would be a sweet gift or an easy centerpiece for a Mother's Day brunch. At least I know I'd like to receive one of these!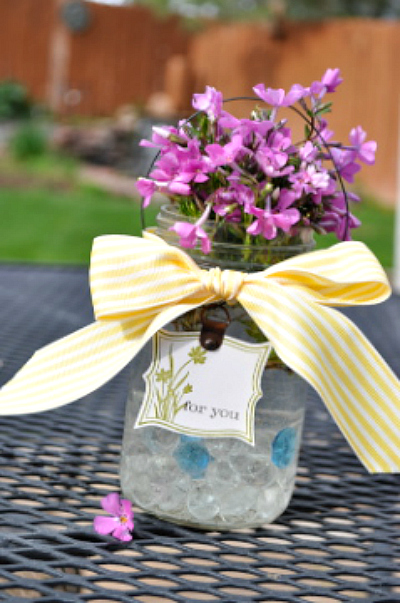 Supplies for Mother's Day Mason Jar Vase:
Small glass canning jar
18″ of at least 24 gauge (or thicker) wire
18″ piece of ribbon
clear glass marbles (optional)
Stamped tag and hanging hardware (optional)
1. Fill your jar 1/3 full of glass marbles.

2. Cut a piece of crafting wire about 18″ long. Wrap it around the neck of the jar just below where you screw the ring on top. Twist the end around the longer piece to secure.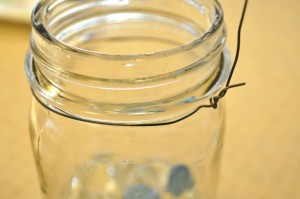 3. Create a handle with the remaining wire and loop it under the base on the opposite side. Twist to secure.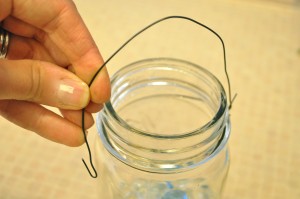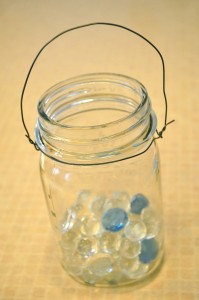 4. Hand stamp a tag: "just for you", "thank you", "Happy Mother's day" etc. I hung it on the wire with a hardware piece (all tag supplies Stampin' Up!).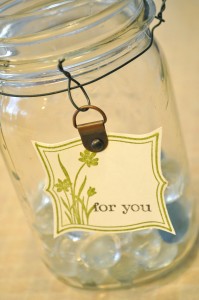 5. Tie a ribbon in a bow around the neck of the jar.

6. Fill with your favorite wild flowers!