This post is in partnership with Hulu.
Oh ya, The Powerpuff Girls are here with a power-packed-punch of excitement exclusively on Hulu! Blossom, Buttercup, and Bubbles are ready to "save the world before bedtime"! Hulu is now the only place to stream the full classic animated series of The Powerpuff Girls — Girl Power!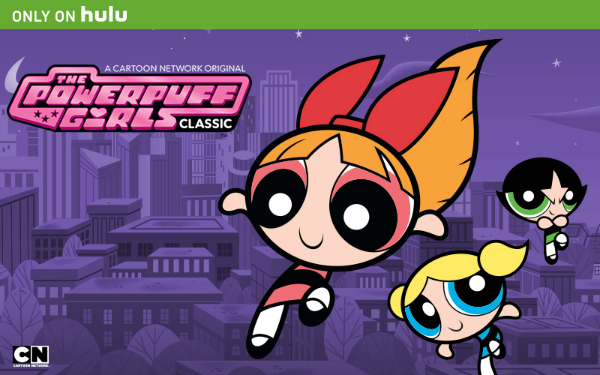 We're having a blast creating a few of our own Powerpuff Girls into craft stick puppets, making our own "POW-factor"!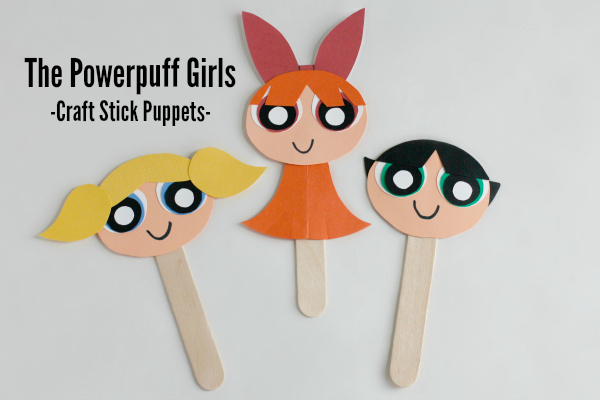 The Powerpuff Girls centers on three sugar-coated superheroes, Blossom, Bubbles, and Buttercup, whose missions in life alternate between going to school, fighting crime, winning at hopscotch and saving the world before bedtime. The girls are frequently called upon by the town's mayor to help fight nearby criminals using their powers. While their differences cause them to squabble and tease, their individual strengths combined always lead them to victory. They rely on teamwork, trust, and friendship to thwart evil (in the most adorable way).
The Powerpuff Girls Craft Stick Puppets
Supplies:
1 piece of craft paper for each color:
red, orange, peach, yellow, green, blue, black, white
glue stick
scissors
3 jumbo craft sticks
markers or crayons
Cut out the following items for each girl:
1 oval 2-3 inches wide in peach paper
2 – 1 inch circles in white paper
2 – 3/4 inch circles in colored paper (the color of each girls' eyes)
2 – 1/2 inch circles in black paper
2 – 1/4 inch circles in white paper
each of The Powerpuff Girls' hair, black, yellow, and orange. Follow the pictures to eye-ball cut each hairstyle.
Draw a black smile on the bottom center of each oval.
Glue together all the circles in size order on top of one another and glue them onto the oval face. Glue on the hair, covering a bit of the eyes, matching the hair with the same shape as the oval.
Glue together all the paper cut-outs for each girl character.
Add your craft stick to the back of your puppet. You can use glue or you might need to add a small piece tape to hold the stick in place.
To add a little more pizzazz to your craft stick puppets, color each stick with marker or crayon in the same color as the girls' outfits. If you're using markers, be sure to let the marker dry before you play with your puppets.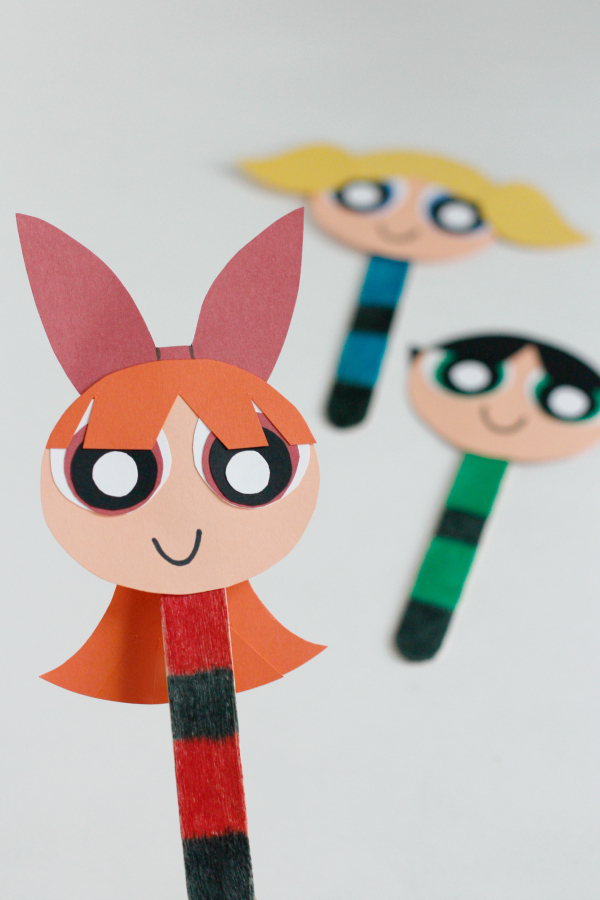 Watch the trailer here and then head over to Hulu to stream the full classic animated series now!
Hulu is THE streaming destination for the best of TV, and a great selection of films! Plus, you can stream almost anywhere, on any device, including gaming consoles, set-top boxes, tablets, mobile phones, and more.
Visit Hulu.com to start your free trial.
*Thanks to Hulu for sponsoring this post. Be sure to visit them on Facebook, Twitter, Instagram, and Google+!