It is time for another Guest Make and Taker. Jennifer at Half Full Life, has put together a great Make and Take. It's a how-to for styling beautiful Tissue Paper Daisies, Mexican Style.
TISSUE PAPER DAISIES: MEXICAN STYLE
Supplies:
Tissue paper, plain or patterned
Scissors
2 Pencils (ridged is best)
Hot Glue Gun
Green Yarn or Floral Tape
Cut your tissue paper into squares, the length of your pencil. Scrunch your paper up into wads and then flatten them back out to give it a crinkly look.
With a pencil at either end of your tissue square, roll the pencils around the tissue toward each other. Not too tight and not too loose, you'll get the feel of it quickly.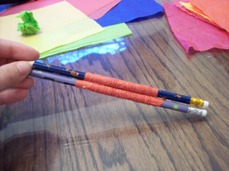 Tip the pencil up, with the eraser at the bottom, and squish the tissue paper down the pencil. If need be, flip the pencil over and do it again from the other side. Gently slide your "scrunch" off of the pencils. This is where the ridges come in handy. If your tissue is too tight, twist your pencils just a bit to loosen the suction. Make 8 of these "scrunches".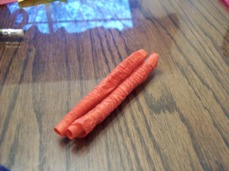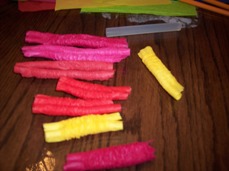 Stretch 6 of your "scrunches" out a bit and pinch them together at the base to make a petal. The pencil "chambers" should be facing out. Hot glue it together. Glue these 6 petals together to make a flower.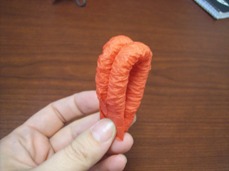 Take your other 2 stretched out "scrunches" and spiral them and glue to secure. Glue your 2 spirals on either side of your flower to make the center. Cover 1 of your pencils with green yarn or floral tape and hot glue it into the center base of one of your pretty, new flowers.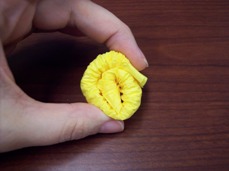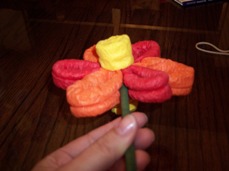 Try making them in colors for every holiday! These are really easy to make a dozen at a time. Make sure to give yourself 1 to practice on. They'll get better looking after the first or second try.
Thanks, Jennifer. These flowers look fun and simple to make. A perfect arrangement for Springtime. If any other great Make and Take readers would like to share more great Make and Take ideas, send me an email at marie (at) makeandtakes dot com.