A hot dog is not worthy of eating unless it's cooked over a flame. Slow roasted and bubbly! Thanks to our little Fire Pit, we are enjoying lots of roasted treats.
I grew up with a real "hole in the ground" fire pit and couldn't wait to get my own. Eventually, we'd love to make a pit in the ground too, but for now, this little portable fire pit is great. It keeps us toasty and roasts our dinner.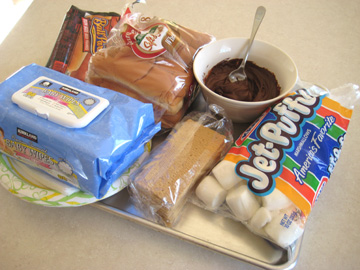 I like to put all my supplies on a tray or jelly roll pan. Don't forget the wet wipes for cleaning chocolaty s'more faces! I get messy.
Here are a few things we like to roast:
Marshmallows – Jumbo are best, but I even roasted a line of mini's last week. There's also the coconut and strawberry varieties.
S'mores – I like to melt my chocolate first in the microwave, then spread it on the graham cracker, placing my hot toasty marshmallow on top. I could eat a thousand of these.
More S'mores – Use Fudge Stripe Cookies for the smore instead. Or Kit Kats are a great chocolate substitute.
Doughy Biscuits – I learned this from my sister Nan. Wrap a Pillsbury biscuit around your stick and slow cook it over the fire. Then dip in melted butter. Yum.
Tinfoil Dinners – I haven't tried this on our little pit yet, but these are fun to make. Place your raw ground beef in tinfoil, with cut carrots and potatoes. Then wrap twice in tinfoil and place on hot coals. Turn once or twice.
Candy – My nephew and nieces were putting Starbursts on their sticks and getting them super soft and chewy. Thanks Glausers!
What are your roasting this Summer on your Fire Pits?