My four-year-old loves crafts that he can play with, so we make a lot of paper dolls and puppets. Of course, we had to do some sort of cute turkey art project to get ready for Thanksgiving. These fun turkey stick puppets is made with 2 paper circles and a few embellishments, making it an easy autumn project for all ages. Colorful craft feathers are one of my kiddo's favorite collage materials, and he loved adding lots of feathers to his turkey's tail.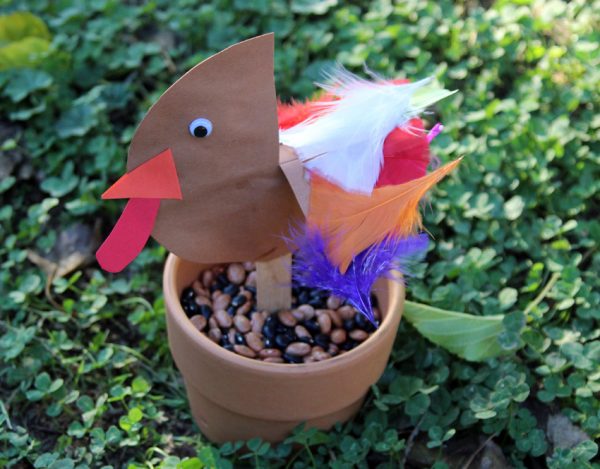 Turkey Stick Puppets for Thanksgiving
If you are making these turkey puppets with little ones, you can prep the puppets in advance (steps 1-3). Then, they can join in with the decorating and embellishing.
Supplies:
For each turkey puppet, you need:
1 sheet of brown construction paper
orange and red construction paper scraps
1 jumbo craft stick
white glue
colorful craft feathers
black marker or googly eyes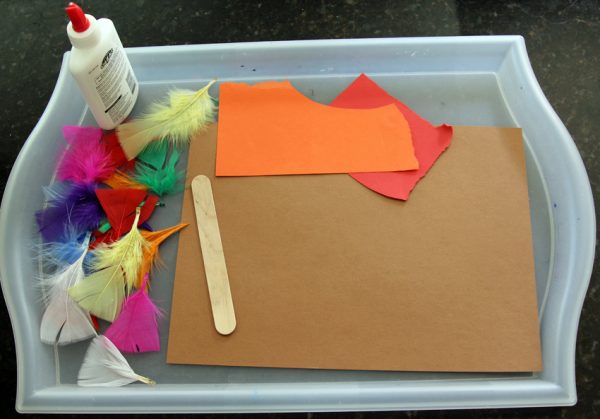 Step 1: On the brown paper, trace two circles, using a round dish or lid. Our circles are about 5″ across. Cut out both circles.
Step 2: Holding both circles together, cut a slit from the side of the circle to the center. We'll fold these quarter-circle pieces down for the turkey's big tail.
Step 3: Sandwich the craft stick in between the two circles and glue it all together.
Be sure to fold your tail pieces down so they don't get glued together. If necessary, use a few clothespins to hold the pieces together while the glue dries.
Step 4: Cover the tail with colorful craft feathers. My four-year-old loved choosing the feather colors and sticking them in the glue. A few dots of white glue work better than a glue stick for attaching the feathers.
Step 5: From colored construction paper, cut-out two orange beak shapes (one for each side of the head) and red wattle. Glue the pieces to the puppet.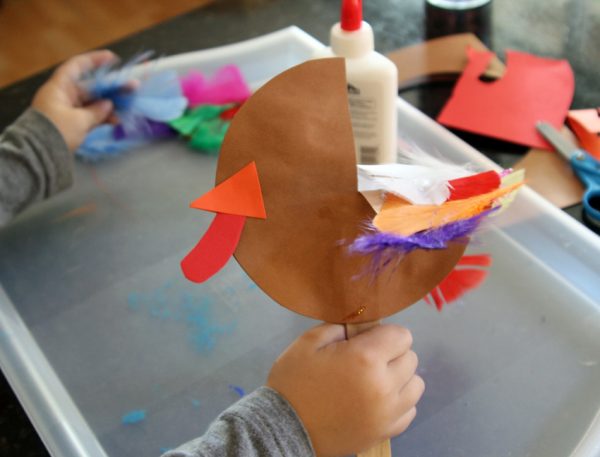 Step 6: Draw two eyes or glue on googly eyes. My 4-year-old always opts for the googly eyes! As soon as we finished our puppet, my little guy brought it outside to play in the fall leaves. So cute!
You can use your turkey puppet for telling stories, singing songs, and acting out Thanksgiving rhymes. This is our favorite rhyme to act out with our puppet:
The turkey is a funny bird
His head goes wobble, wobble
All that you ever hear him say is,
"Gobble, gobble, gobble!"
Happy crafting!