If you have a preschool graduate in your house and are planning to host a fun party to celebrate the past year, here are a few ideas that will help make planning easy for graduation day.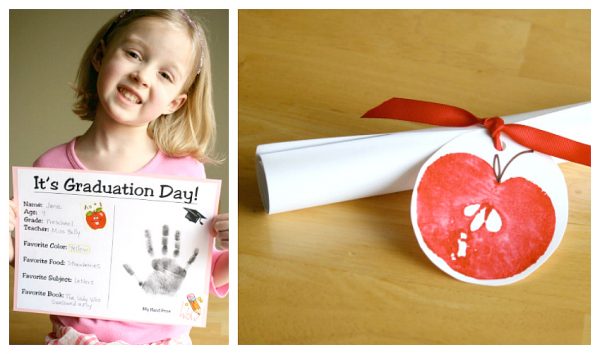 Two Ways to Celebrate Graduation Day
There are ideas for invitations, fun food, silly games, and a craft for the grads to go home with.
Celebrate Graduation Day
Invitations:
Once you have printed out your invitations with the time, date and place of the party, roll each one up and tie around a red ribbon, making it resemble a diploma. You can add a fun apple print tag to the invitation to give it some flare. Hand them out to each child in the graduating class coming to the party.
Party Food, aka Graduation Grub:
Here's a few fun food ideas for graduation day to munch on as they talk about the happenings from the past year:
Graduation Caps Cake Pops by Bakerella
A is for apple slices
Sugar cookies made into letter A's, school house, or school buses
Goblets of Graduation Gatorade or Ginger Ale
Graduation Games:
1. Pop Quiz: Give each child a piece of paper and a pencil and tell them school's not over yet, as it's time for a pop quiz! Have them number their paper from 1 to 5 and answer the following questions from their school year: 1. What is the custodian's name? 2. What is the school librarian's name? 3. What is the principal's name? 4. What is the school's mascot? 5. What are the school's colors? The child to get all 5 questions right wins a prize.
2. Get Schooled: Put children in teams of two. One child is the teacher and one child is the student. Blindfold the student and have the teacher help the blindfolded student through an obstacle course. The teacher and student who get through the obstacle course with the best success, win a prize.
3. Teacher May I: Play the classic childhood game of "Mother May I", but using the words "Teacher, May I". The first child to reach the end gets to become the new "teacher" to play again. You can dress up the "teacher" to wear glasses and hold a ruler.
Graduation Crafts:
1. Futuristic Time Capsule: Using a large glass mason jar, decorated with silver ribbon and star stickers, have each child write down one or two things they think they will be doing in 10 years from now, or at sometime in the future. Designate a place in the backyard of the house to bury the time capsule, not to be opened until a designated date. (Make sure to remember where you buried it so you can find it again!)
2. Mini Year Books: Fold 3 pieces of white printer paper in half. Staple the halves together to form a book. Write each graduating student's name on a book and hand them out with an accompanying marker. Have everyone sign each other's names on their new year books with a few encouraging words.
3. Crafty Graduation Cap: With some paper and a few coloring markers, each child can make their own graduation cap. See The Artful Parent for details.
4. Tag-a-long Tassels: Have each child make their own crafty tassel. Using yarn and pipe cleaner in coordinating school colors, adapt this yarn broom craft for instructions.
Graduation Day Certificate:
Make a personalized handprint certificate for your graduate to commemorate their special day!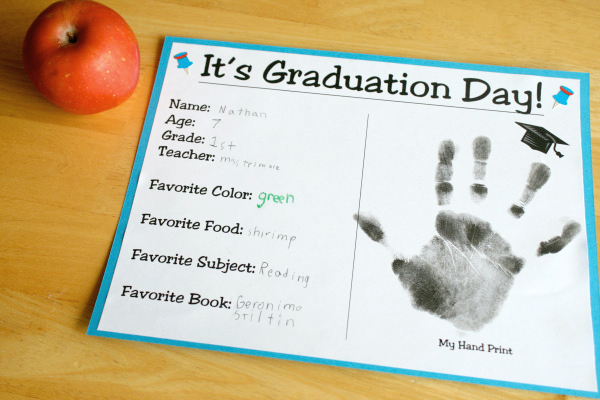 1. Print out the graduation certificate: Make and Takes Graduation Certificate Printable Or you can create your own with the same type questions to ask your student. These questions may depend on the age of your child and the grade they are graduating from.
2. Using a pen, have the child fill out the certificate, answering the questions asked. You may need to help write what your child says if they aren't ready to write it themselves. Make sure to dictate exactly what your child says, as it's more fun to look back at what they were really thinking at that age.
3. Open the ink stamp and set it on a paper towel. With your child's palm facing up, press or rub the ink stamp onto their hand. Guide their hand up and down with the stamp pad, getting every area covered in ink.
4. While the ink is still wet on the child's hand, press it onto the designated spot on the paper. Press the hand firmly onto the paper, making sure all the little areas of the hand are on the paper. Carefully lift the child's hand off the paper, set it out to dry, and head straight to the sink to wash off your child's hand!
5. You can leave the certificate as is or frame it to make it more complete. You can by a metal frame to hang on your child's wall or you can glue this certificate onto colored cardstock paper. Your child can help decorate it by placing stickers on it.
Have fun documenting your child's past school year on graduation day. It is a fun tradition that will be a treasured memory.
Pin this post for later: