I am loving all the burlap that's being used lately for quick and easy home decor projects! I recently made a red burlap table runner and had some burlap left over, so I used my scraps to make matching napkin rings that double as place cards for a pretty Christmas table setting. Totally quick and easy. Plus I up-cycled paper rolls, so it's a "green" project, too!

Easy Napkin Ring & Place Card Tutorial Supplies:
Empty toilet paper rolls, or paper towel rolls cut in half
Extreme Glitter paint in Champagne (optional)
Paint brush (optional)
Burlap fabric pieces cut to 3.5″ x 7″
Scrap of sheet music or patterned paper, cut to 2″ x 6.5″
Heavy-duty double sided tape (I like Score-Tape)
Ribbon and twine
Tiny Christmas ornaments (mine were mercury glass, but small glass balls or jingle balls would work great, too!)
Strips printed with guests' names
Sewing machine and matching thread
1. For a less "preschool craft" look, paint empty toilet paper or paper towel rolls with Glitter Paint. This Champagne Extreme Glitter by Folk Art is transparent, so you can still see the color of the roll, but it looks a little fancier.
2. Cut burlap to 3.5″ x 7″.
Turn edges of burlap under about 1/4″ and sew hem with a sewing machine. This is optional, but it gives a much more finished look.
3. Adhere a strip of double-sided tape to one short end of burlap. Wrap burlap around roll and tape in place.
4. Add a strip of sheet music or patterned paper cut to 2″ x 6.5″ and tie with a piece of ribbon.
5. Tie a tiny Christmas ornament on top of paper strip with a piece of coordinating twine (I used baker's twine).
6. To make a placecard out of your napkin holder, print guests' names on card stock, cut into strips, and attach to top of ornament. I also painted a little glitter paint around the edges to match the toilet paper roll.
Roll up napkins and insert into napkin ring. Place on top of plates for a pretty place card!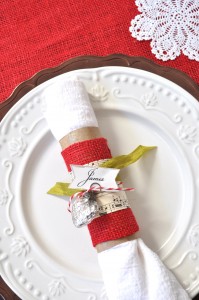 Merry Christmas from Mandy & Jessica at Little Birdie Secrets!