We're ready to have some fun in the sun this summer at our local beach. We live fairly close to the Puget Sound in Seattle and try to hit one of the local beaches at least once a week. It's my happy place! There might not be big waves, but we love the sand and searching for sea glass! We also love to fly frisbees to each other on the sand, so we made a few watermelon frisbees to fly around with at the beach.
As part of the Passport to Imagination summer campaign, I've partnered with Gymboree and Michael's Crafts to bring you some fresh and fabulous summer fun! Along with our fresh looking watermelon frisbees, we're looking fresh in our bright and cheery patriotic outfits thanks to Gymboree and their Girl Star Spangled Summer collection!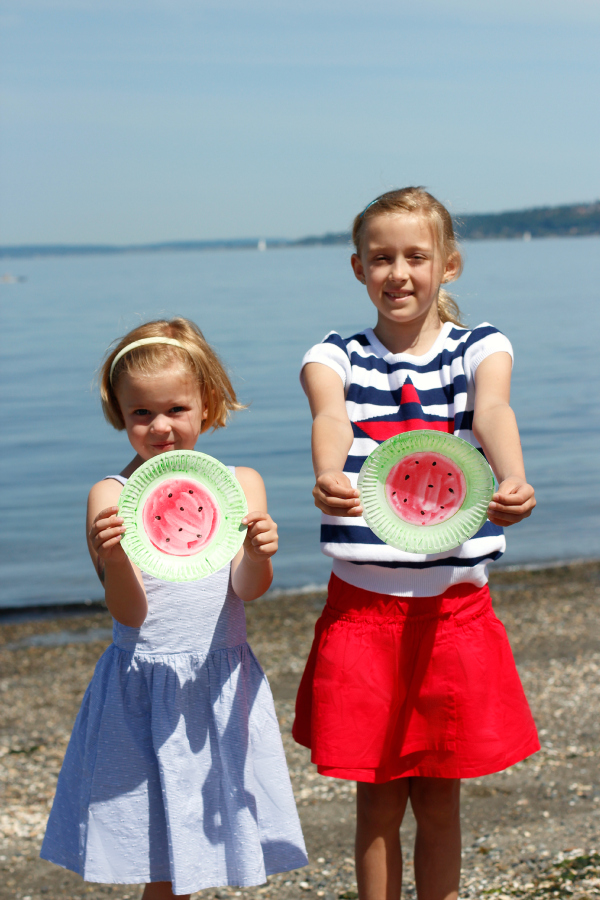 This summer, Michaels is offering a kids' crafting program, Passport to Imagination, every Monday, Wednesday and Friday from 10 am – noon from June 14-July 31 at every Michaels location across the U.S. Passport to Imagination takes kids on an imaginary seven-week summer road trip from the beach to the country fair and more! The Michaels classroom will teach different crafts each session. Gymboree offers cute, coordinate looks that help your little ones enjoy the little and big moments this summer—from craft time to beach time.
We crafted our watermelon frisbee flyers at home, then took them to fly around at the beach! Here's what you need to make your watermelon frisbees!
Supplies for Watercolor Watermelon Frisbee Flyers:
watercolors and paint brushes
mini paper plates – any size will do, but we love the look of the mini white paper plates
newspaper, cup of water, paper towel
1. Set up your watercoloring station. We lay down newspaper first, then place on our water cup, paints, brushes, and a small paper towel.
2. Dip your paintbrush into the red paint and start painting the red part of the "watermelon" on the center of the plate. We love how the watercolors make it look like the real colors inside of a watermelon, sort of wishy washy with red, pink, and white!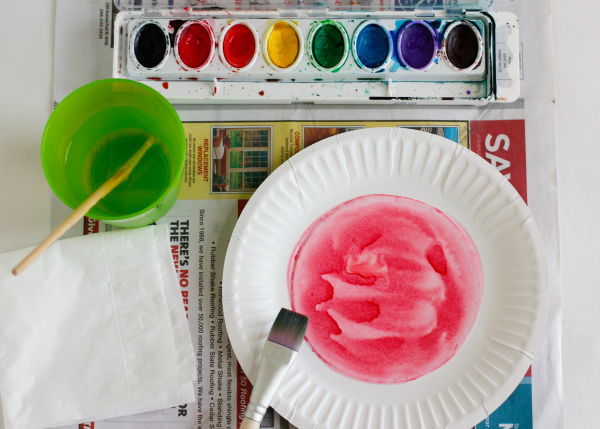 3. Clean your brush in the water and dip it into green paint. Add the green paint to the outer edge of your paper plate. Since the plate is slanted, the green will run down and pool at the bottom. It will dry even, but just be careful that it doesn't run into your red area.
4. Let your red paint dry a little and then use a small brush to add black dots over the red paint to make the watermelon seeds. If your red paint is too wet, the black paint will run and not stay small as a seed. We let our red paint dry completely before we added our black paint.
Let these dry completely and they're ready to take to the beach!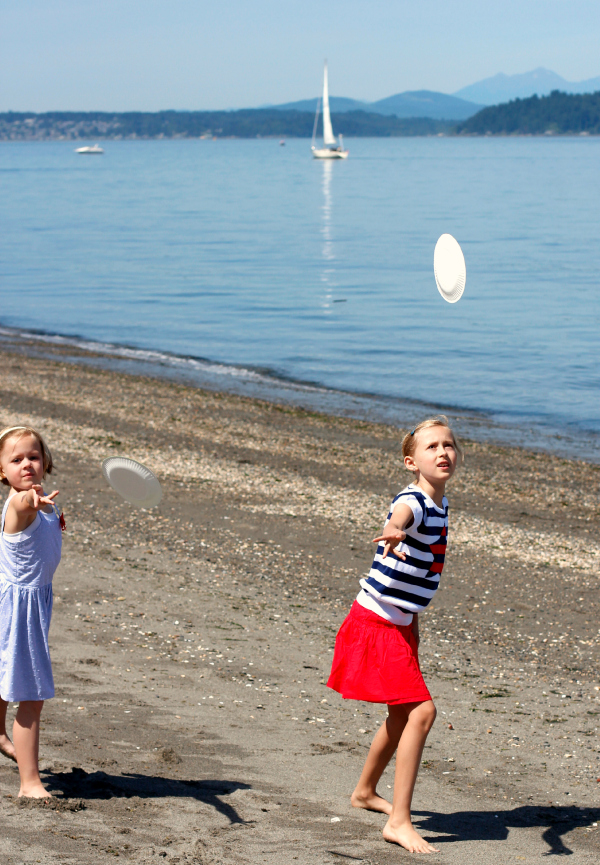 As they are thin paper, they might fly around a little wonky, but that was part of the fun for us. My girls were flying them straight up and trying to catch them again! TIP: you can staple 2-3 of these plates together and they will fly a little farther the heavier they are.
After a little frisbee flying, we searched the beach for little treasures. We used our watermelon painted plates for holding our sea glass! It's one of our favorite things to do at the beach.
As part of the Passport to Imagination, Gymboree and Michael's are hosting a 7-week weekly Instagram sweepstakes, encouraging you to share a photo of your family getting crafty, inspired by each week's summer destination. The weekly winner will receive a $100 Gymboree gift card, a $100 Michaels gift card and craft supplies! Be sure to follow @Gymboree and @MichaelsStores on Instagram, post a picture of how your family crafts in style, and tag your photo with #CraftInStyleSweeps!
*Disclosure: Thanks to Gymboree and Michael's for sponsoring this post. Be sure to follow the Passport to Imagination campaign all summer long!