Guest post by Jodie of Growing Book by Book
We are quickly approaching my favorite holiday of the year- Thanksgiving! It is one of the few holidays that isn't associated with material gifts. Instead, we focus on family, fellowship and feasting! It is a reminder to be thankful for all that we have in our lives.
Todd Parr just released his newest book, The Thankful Book, and it fits perfectly with the season. Each page spread tells of something different for which to be grateful. At the end of the story, we are prompted to tell what little things we are grateful for in our own lives.
This Thanksgiving, why not have a true gratitude feast? Let the kids help prepare for the day by making gratitude placemats for the dinner table. Parr's classic bright and bold illustrations are a perfect launching pad into this activity.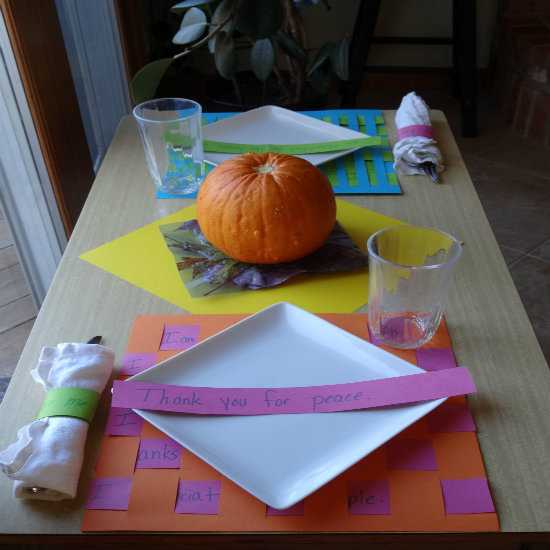 Supplies for 2 weaved placemats:
4 colors of 12 x 12 cardstock (found in the scrapbooking aisle of the hobby store)
scissors
dark marker
double-sided tape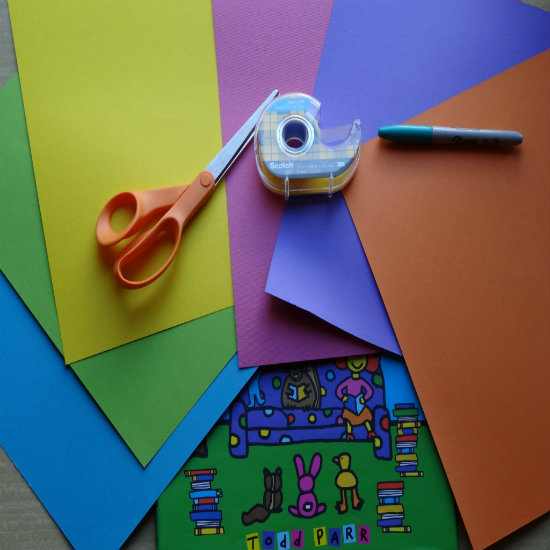 1. Fold one piece of cardstock in half (hamburger fold vs hotdog fold).
2. Cut 1/2 in. or 1 in. slits in the paper starting at the folded crease to the outside edge. 1/2 inch slits will be a bit more challenging to weave through. Younger children will do better with 1 in. slits. Do not cut all the way through. You want to stop each cut about 1 in. from the edge of the paper.
3. Unfold the paper. You now have the base of your placemat and are ready to prepare your weaving strips.
4. Select another colored sheet and cut eight 1 in. strips. On each strip write down one thing that you are grateful for in your life.
5. Weave each strip into the base placemat. As you weave you should read the grateful thought and think about it as you weave in and out on your placemat. You will use six of the strips. Save your extra two strips to use as napkin rings and plate decorations!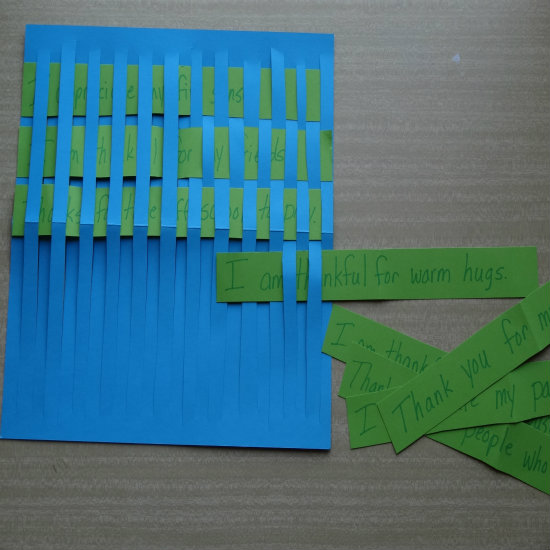 6. Under the end of each strip attach a small piece of double sided tape to affix the strip to the placemat.
Your placemats are now ready to adorn your Thanksgiving table. If you would like to keep your placemats for future use, you will need to have them laminated at a local office supply or teacher/parent store.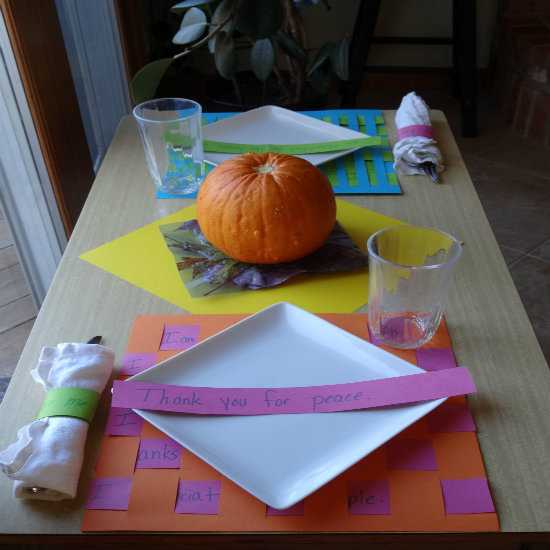 For a special little bonus, you can leave one of Todd Parr's free love coupons on the place setting for each guest.
May you truly have a THANKSgiving!
Jodie Rodriguez is a National Board Certified teacher, reading specialist and administrator with over 17 years of education experience. She currently stays at home with her two young sons (23 months and 6 months). Her newest adventure is the creation of the Growing Book by Book blog dedicated to helping caregivers nurture young readers.  You can also connect with her on Facebook and Pinterest.