Snowmen everywhere are just waiting for the snow to fall so they can come alive with this Snowman on the Go kit. I first saw this idea in the Better Homes and Garden's Holiday Craft magazine and thought it was way too cute. I added branches and some rocks for coal to it give my own touch. Now it's ready for some winter snow. Do you have some near you?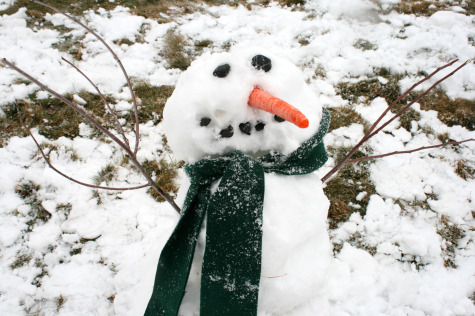 Supplies for Snowman on the Go:
bucket or pail
2 branches
carrot
black rocks
fleece scarf
snowflake stickers
white paper confetti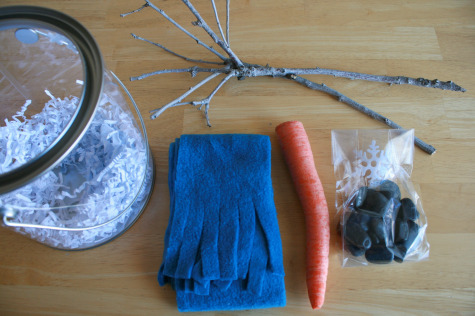 First you'll need a bucket or pail. You could use a sand pail, but buy them in the summer as they're a lot cheaper. My clear plastic paint style bucket came from a craft store Roberts, but I bet Michaels or JoAnns would have it too. I like that it's clear and you can see the orange carrot!
The branches I got from my mom's house, as her yard is full of oak trees that needed to be trimmed. The black rocks are just smooth marbled rocks I found in the floral section of the craft store. The fleece scarf is just a scrap piece of fleece I had measuring 45 x 4 inches, with cut ends in 1/2 inch sections just to finish it off nice.
I added snowflake stickers to the outside of the bucket for a fun decoration and the white paper confetti to the bottom of the bucket to make it look like snow.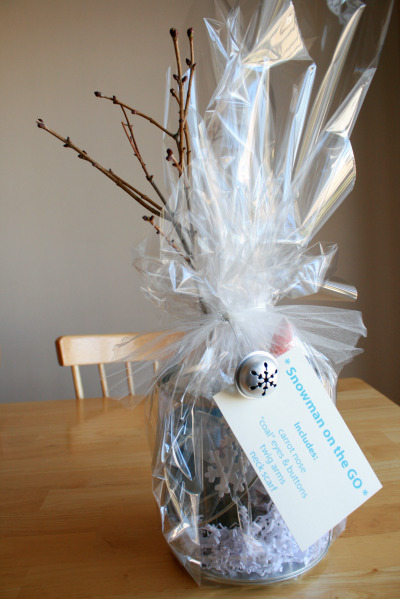 Then I wrapped the whole thing in cellophane and tied it with a ribbon. And it includes a typed up a list of what was inside, letting them know it's got everything you'd need for a snowman, well except for the snow!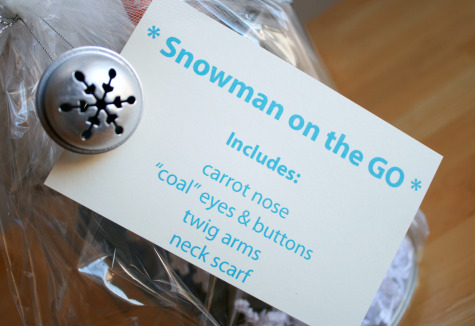 Now this kit is ready for winter. But if you don't live near any snow, try tying white fabric or blankets in a big ball. Or it could even work for a sandman!