This is our last Winter Olympic Game before the medal's ceremony. We're going to see who will win the Downhill Bobsled Race. The objective: to get your "bobsled" down the track first!
Supplies for the Downhill Bobsled Race:
empty wrapping paper tube
scissors and tape
2 toy cars
paper and marker
First, cut your empty wrapping paper tube in half lengthwise. This will make for 2 long bobsled tracks.
With a small piece of paper and a marker, name the country your racing for and tape it to the top of the toy cars. I'm the USA and my daughter chose China (she loves Kai-lan!)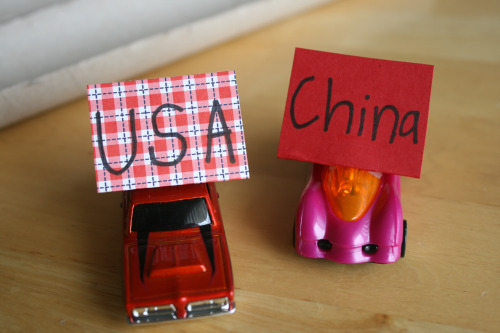 Get your "bobsleds" up to the top of the track, and let them race!
And the winner is… China, by 3 inches!

We're celebrating the Winter Olympic Games all week. To see more fun and sporty activities, check out the Winter Olympic Games for Kids series. Go for the GOLD!