I love these wonky lollipops. They're funny looking, taste yummy, and are a lot thinner than if you used a mold… perfect for little mouths. Last year I posted about Christmas Lollipops with the sucker molds I had growing up. But since molds are hard to come by, I thought I'd show how to make lollipops without any.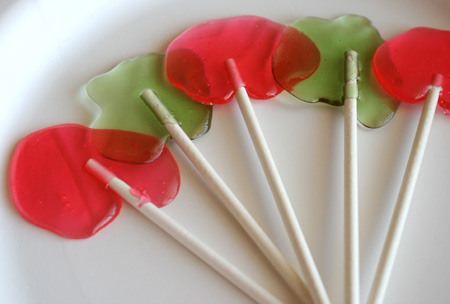 You simply drop your hot lollipop liquid right onto the sticks, just free form. They make fun shapes, turning the Lollipops into creatures. Especially the ones I tried to double up the colors with. They turned out even crazier!
Lollipop Recipe – they're super easy, you just need to collect the supplies: sugar, water, corn syrup, sticks, flavoring, food coloring.