A while back we made a yarn wrapped Ice Cream Sundae, and I thought it would be fun to use the same technique to make a yarn wrapped cardboard fish craft! This project combines fine motor skills and an art activity! They're good for a range of ages and look beautiful and whether you make one or a whole school, these fish make a pretty window display or hanging mobile too.
Yarn Wrapped Cardboard Fish
Supplies:
Cardboard
Colorful yarn
Scissors
Googly eyes
Glue stick
Scissors
Black marker
Instructions:
Start by cutting out a fish shape from cardboard (we used a cereal box). We practiced a fish shape on paper first and then used that as a stencil to cut out our fish template.
We wanted to try out our new liquid chalk markers and since they are opaque, we decided to outline our fish with a black marker. A sharpie works well.
We colored our fish in bright neon colors. The chalk markers were easy to cover and looked fabulous.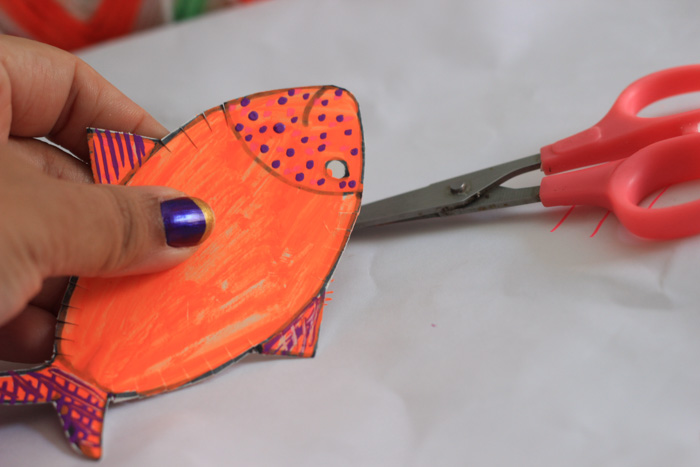 To help the yarn stay in place better, we made tiny incisions along the outline of the fish's body.
And then we started wrapping the yarn around the fish's body. Miss P could easily manage to thread the wool through the slits and wrap the yarn around its body. Younger kids or kids trying this for the first time may need a little assistance pulling the yarn tight enough to stay in place. Simply started to wind the wool tightly around, making sure to criss-cross it up and down the edges so that it became secure.
We used a multi-colored yarn for this project that added the much-needed pop of color. Once one fish was ready, we wanted to create more and more fishes. We created a pink fish, an orange fish, and a neon yellow fish.
There is so much going on with this project: composition, coloring, wrapping and handling long strands of yarn, cutting, stamping and most of all, creating. My tip for you is to pre-cut the length of the yarn for wrapping around the fish. This helped Miss P stop one color once the string ended and start with a different color.
Yarn wrapped crafts are wonderful for combining different media, learning about textures, practicing fine motor skills and creating unique works of art. You could team this craft with a "Fish" related book or use them as window decorations too.
Pin this kids craft for later: