I scream, you scream… we all love an ice cream party! And if it's a little too cold for ice cream outdoors, be sure to make these playtime sundaes for indoors. Invite a group of friends over to join you for an afternoon of making & celebrating this fun faux food craft – Yarn Wrapped Ice Cream Sundae. You seriously won't believe how easy, inexpensive and completely customizable they are. It's just simple fun for children of ALL ages!
Yarn Wrapped Ice Cream Sundae
Easily spruce up your summer holidays by whipping up this adorable Yarn Wrapped Ice Cream Sundae with your child today!
Supplies:
Yarn in pastel colors – Yellow for mango, Green for Mint, Pink for Strawberry and White for whipped cream
Yarn scraps in different colors
Styrofoam balls 3 inches wide
Bowl to hold your sundae
Scissors
Glue Gun – low intensity
Sprinkles or mini plastic beads for decoration
Red pom-pom for the cherry
Instructions:
Start with all your supplies kept at one place. Add a small glue drop using your glue gun and fix one end of the yarn string to it.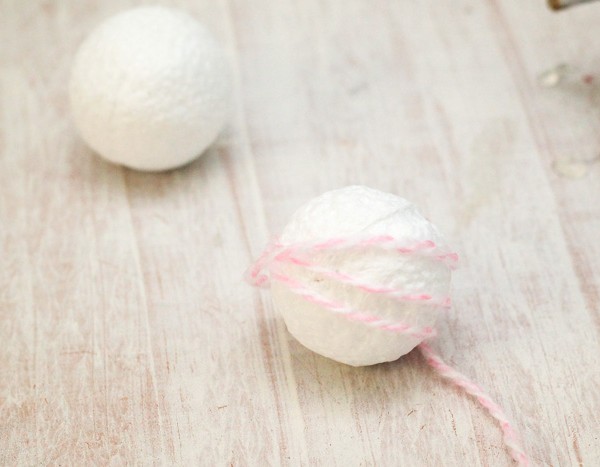 Hold the foam ball between your thumb and two fingers and wrap yarn around it multiple times, until it is completely covered. Secure the last end with a glue gun. Set aside.
Make multiple yarn wrapped balls like these in different colors (flavors) and keep aside to dry completely.
Cut some yarn scraps in bright colors. This will form the sprinkles for our ice cream sundae.
Arrange the yarn balls in a white bowl. Add a spoon or a straw for added effect. Sprinkle liberally with the yarn scrap sprinkles on top.
We made some whipped cream & cherry toppings for our sundae too. Wrap white yarn around a fork or your two fingers lightly. You might need about 10 – 15 rounds. Tie the center securely and slowly pull it out of your fingers. Now spread it in a circle like a flower. You could just place it on top of each ice cream scoop or secure it with a glue gun.
We set up our own Ice Cream Sundae station – with lots of flavors, choice of toppings & servings. You could make this too and watch your child enjoy unlimited hours of open-ended pretend play.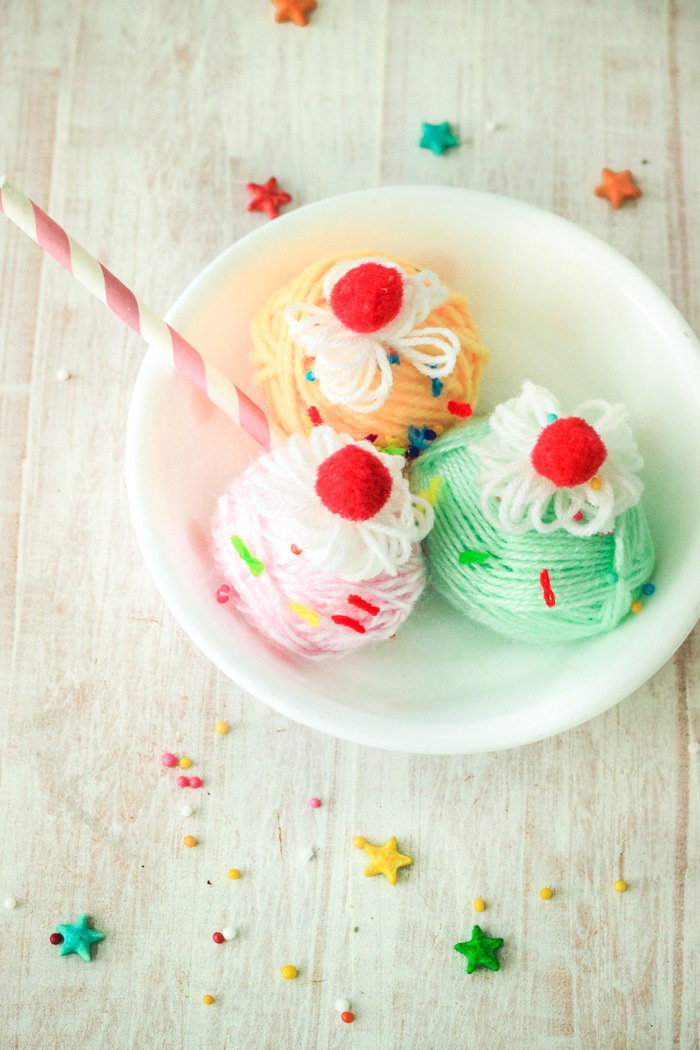 Pin this post for later: