Elephants have always been a favorite animal in our house. Even my toddler walks around the house raising his arm and making his own tiny elephant trumpets. I happened to see that World Elephant Day is coming up on August 12, which seemed like the perfect excuse for some elephant artwork. Not just any elephants, though – Zentangle elephants, with a colorful salty watercolor background.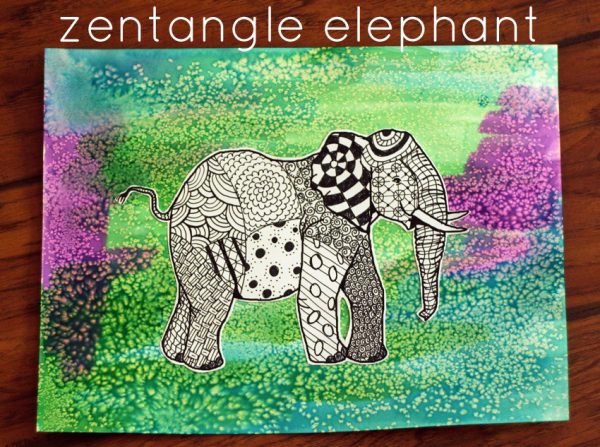 Drawing Zentangle Elephants
Salty Watercolor Background
Let's work on the background first, so it can dry while you design your elephant. I chose one of our favorite art projects for our background paper – watercolors sprinkled with salt. We have done this so many times, and it's always a hit! Of course, your background could be colored, painted, or just a solid color of construction paper.
To make the salty watercolor background, wet a piece of watercolor paper, then add your colors in any design you like. While the paint is still wet, sprinkle the paper with salt. Coarse salt and fine salt will give different results, but both will be interesting. The salt will absorb some of the water, leaving a speckled or mottled design behind. Let the painting dry completely, then rub and brush the salt off.
Zentangle Elephant
Now it's time for some Zentangle doodling on an elephant. You can draw your own elephant shape, but if you are anything like me, it might not look much like an elephant! We used an elephant coloring page, which worked great. There are many elephant graphics and coloring pages on the internet, ready to print. (The one we used is from Exploring Nature Educational Resource.)
Print the elephant shape on card stock. With a fine tip black pen, divide the elephant into sections. Fill each section with a unique design. I'm sure your kids will think of many interesting shapes, designs, and doodles they could draw. For even more ideas, I printed a Zentangle pattern idea sheet from Tiny Rotten Peanuts.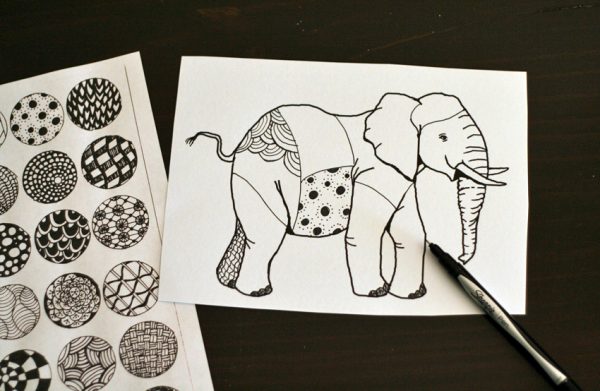 I find this type of drawing to be so relaxing, and quite forgiving, too! If you are working with complex patterns, it can take some time. You might encourage your kids to work on it over several days.
When your elephant is complete, cut it out and glue it to your painted background. I love how the black and white designs pop against the colorful background. This would be a fun project with any animal, so let your kiddos choose their favorite animals to design. Happy doodling!