We've just seen the new Zootopia movie and are in love! It's such a fun movie and has so many great messages for kids. I love the darling bunny, Judy. She's smart, hard working, and a great role model for young ones to follow! So with the excitement of Zootopia, we're getting ready to celebrate a few birthday parties with an animal theme. I've gathered 35+ great Zootopia Birthday Party Ideas that would work perfectly for a party!
35+ Zootopia Birthday Party Ideas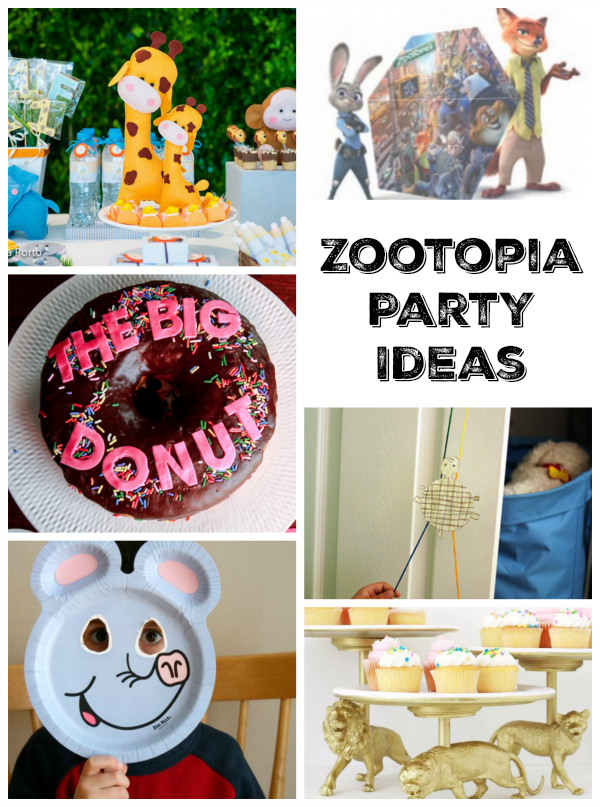 1. Zootopia Big Donut Cake: Oh boy, is this fun? What a sweet cake to have for a party – A Southern Mother
2. Zoo Themed Party Celebration: there are loads of great ideas in this post. Check out the decor and the party table – Kara's Party Ideas
3. Zoo Pals Plate Puppets: turn your zoo pal plates into fun and silly puppets – Make and Takes
4. Zoo Themed Birthday Party: fun ideas for a birthday party filled with activities and games as well – Spaceships and Laserbeams
5. Zootopia HexaFlexagon Printable: kids will have fun decorating these and then playing with them for hours – Sweeties Kidz
6. Climbing Critter Craft: kids can make these at the party and then have fun playing with them for an activity – Make and Takes
7. Zoo Animal Cake Stand: this cake stand would be fun for almost any party, but especially Zoo themed – Make
Zootopia Birthday Party Ideas
8. Pawpsicle Treat Recipe: these are so yum to make for an anyday treat, but perfect for your Zootopia birthday party – Pinch of Luck
9. Animal Nose Cups: how fun are these cups for a party? They'd be fun for anytime you're drinking!
10. Popsicle Stick Farm Critters: this is a simple craft the kids could make during the party – Make and Takes
11. Jungle Animal Pretzel Pops: make these ahead of time for your guests to enjoy at the party – Hungry Happenings
12. Zootopia Themed Party Bags: use these darling Zootopia bags to gift party goers with a go-home package – Amazon
13. Detective Secret Codes for Kids: practice your detective skills with these secret codes to decipher – Make and Takes
14. Kids Crafty Animals eBook: there are loads of fun crafts to make in this animal ebook – Craft Paper Scissors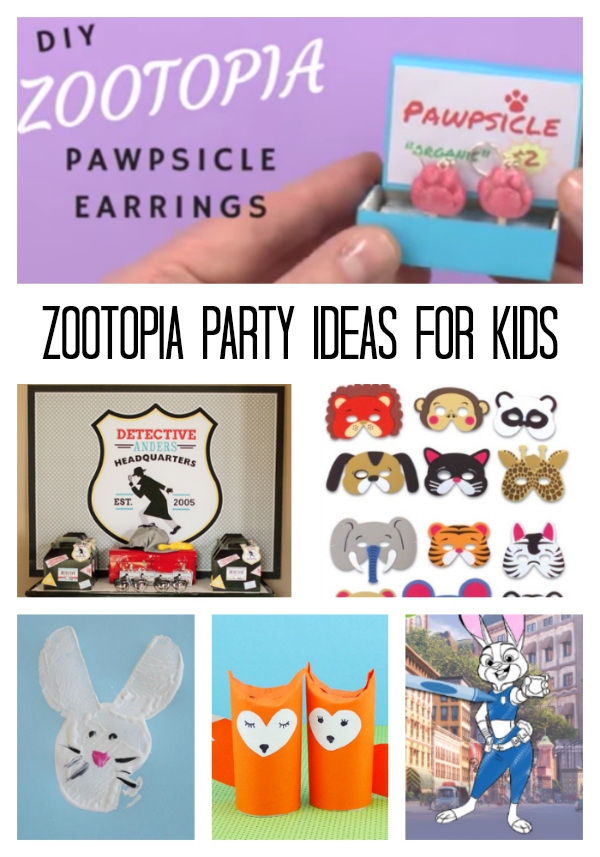 Zootopia Birthday Party Ideas for Kids
15. Paper Roll Fox Craft: these foxes are super crafty – Easy Peasy Fun
16. Zoo Animal Party Masks: gift all of your guests one of these darling animal masks – Amazon
17. Host a Detective Party: just like Judy from the movie, host a detective party – Evite
18. Bunny Shapes Stamped with Potatoes: kids can craft their own bunny with these potato stamps – Make and Takes
19. DIY Zootopia Pawpsicle Earrings: if you're kids are a bit older, this is a perfect tween and teen craft to make – 2 Cats & 1 Dog
20. Judy and Nick DIY Felt Masks: make these for all of your guests to wear during the party – Mrs. Kathy King
21. Coloring Page for Judy: print these out for the kids to color at the party – Disney
22. Q-tip Bunny Craft: craft a silly q-tip bunny – Make and Takes
23. Zootopia Themed Party Plates: these are with the characters from the movie, including plates, napkins, and cups – Amazon
24. Animal Tracks Kids Craft Stamps: make these tracks and stamp them around to follow the fun on an animal track hunt – Green Kids Crafts
25. Zootopia Inspired Sheep Cupcakes: how cute are these sheep cupcakes? perfect for the party – See Vanessa Craft
26. Make Animal Shadow Puppets: craft these stick puppets at the party and then host a shadow puppet show – Make and Takes
27. Zootopia on DVD: it's now available to buy and watch at home with the kids. This would be great to watch at a Zootopia party – Amazon
28. Polymer Clay Zootopia Judy Pen: make a Judy pen just like the movie from clay – NerdECrafter
29. Zoo Animal Soap Party Favors: make these soap party favors beforehand and gift them to your guests – Mrs. Kathy King
30. Funko Pop Fox Toy: this would be a fun prize to give to a winner of a party game – Amazon
31. How to Draw Animals: practice drawing animals from one of the websites listed here – Make and Takes
32. Paper Bag Fox Kids Craft: craft a silly fox with the kids during the party – I Heart Crafty Things
33. Zoo Train Party Ideas: I just love this Zoo themed party cake – Melissa and Doug
34. Zootopia Sticker Book: purchase this sticker book to help decorate your Zootopia party – Amazon
35. Fox Cookie Recipe: what a fun fox shaped cookie to bake up for the kids – The Bear Foot Baker
Have fun celebrating with these Zootopia Birthday Party Ideas with your family!
More Kids Birthday Party Ideas: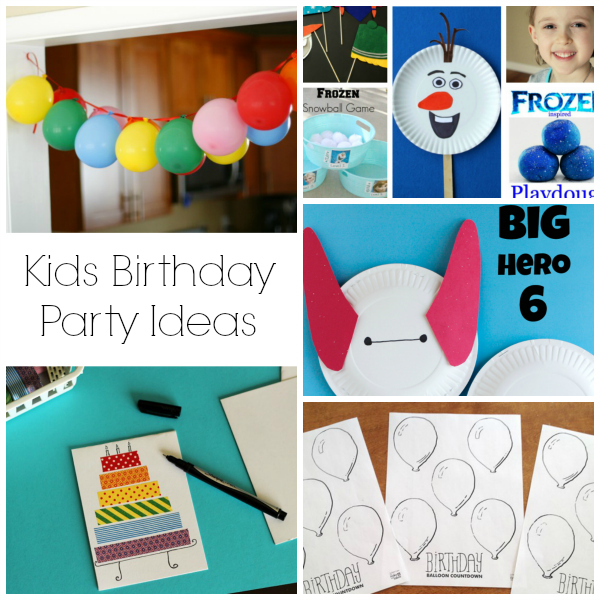 *This post contains affiliate links. Thanks for supporting Make and Takes!