Are you looking for kid-friendly ideas to celebrate New Year's Eve? We have lots of great ideas for you including 5 fun games to play as a family. Make it a party at home with our personalized New Year's Eve cups, party ideas, and make this New Years' hat for everyone to wear too.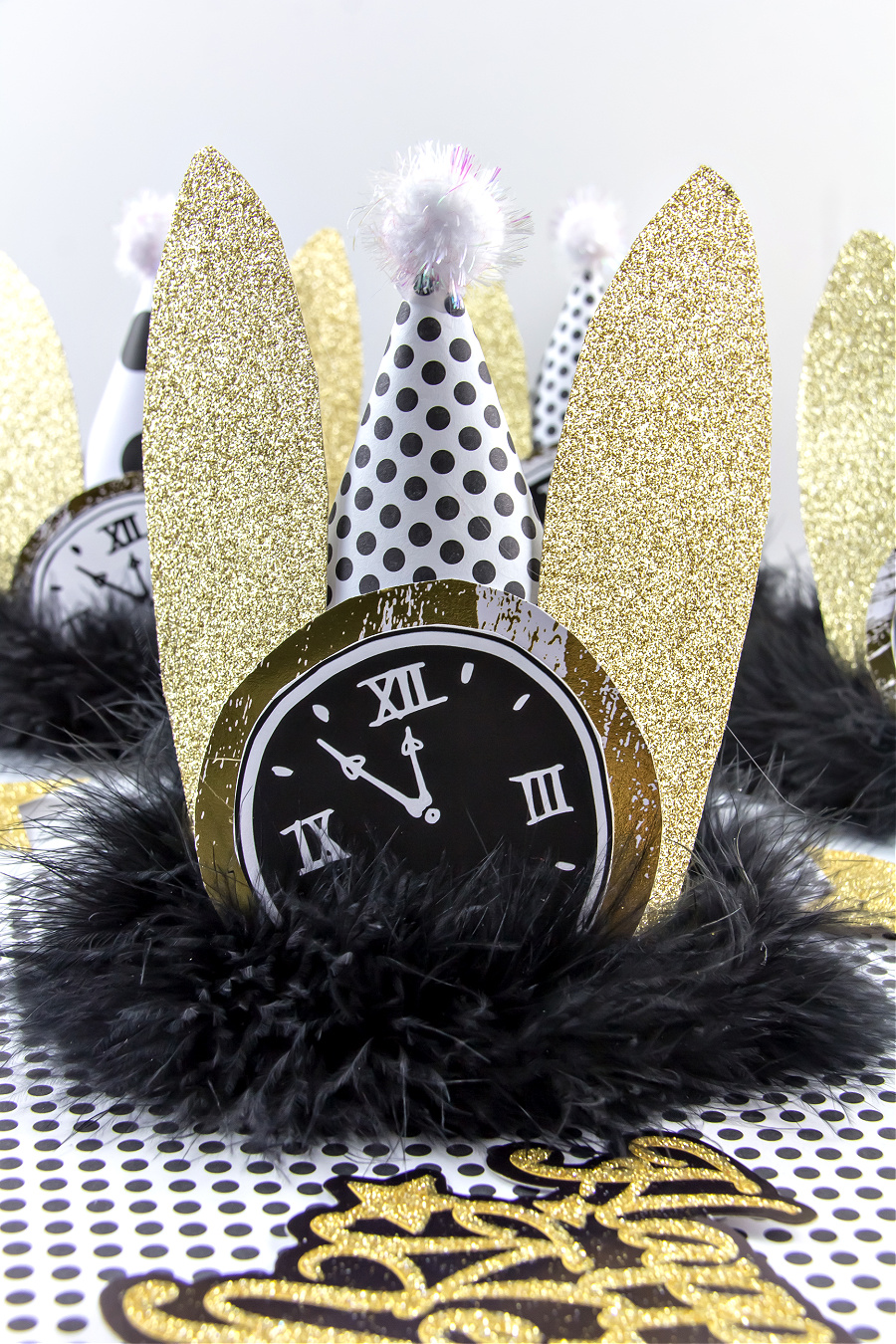 DIY New Years hat
These fun party hats are perfect for the whole family. They are inspired by the White Rabbit in Alice in Wonderland who carries a pocket watch and is always in a hurry for fear of being late. Not only do they make perfect New Year's Eve hats, but they are also great for an Alice in Wonderland party too.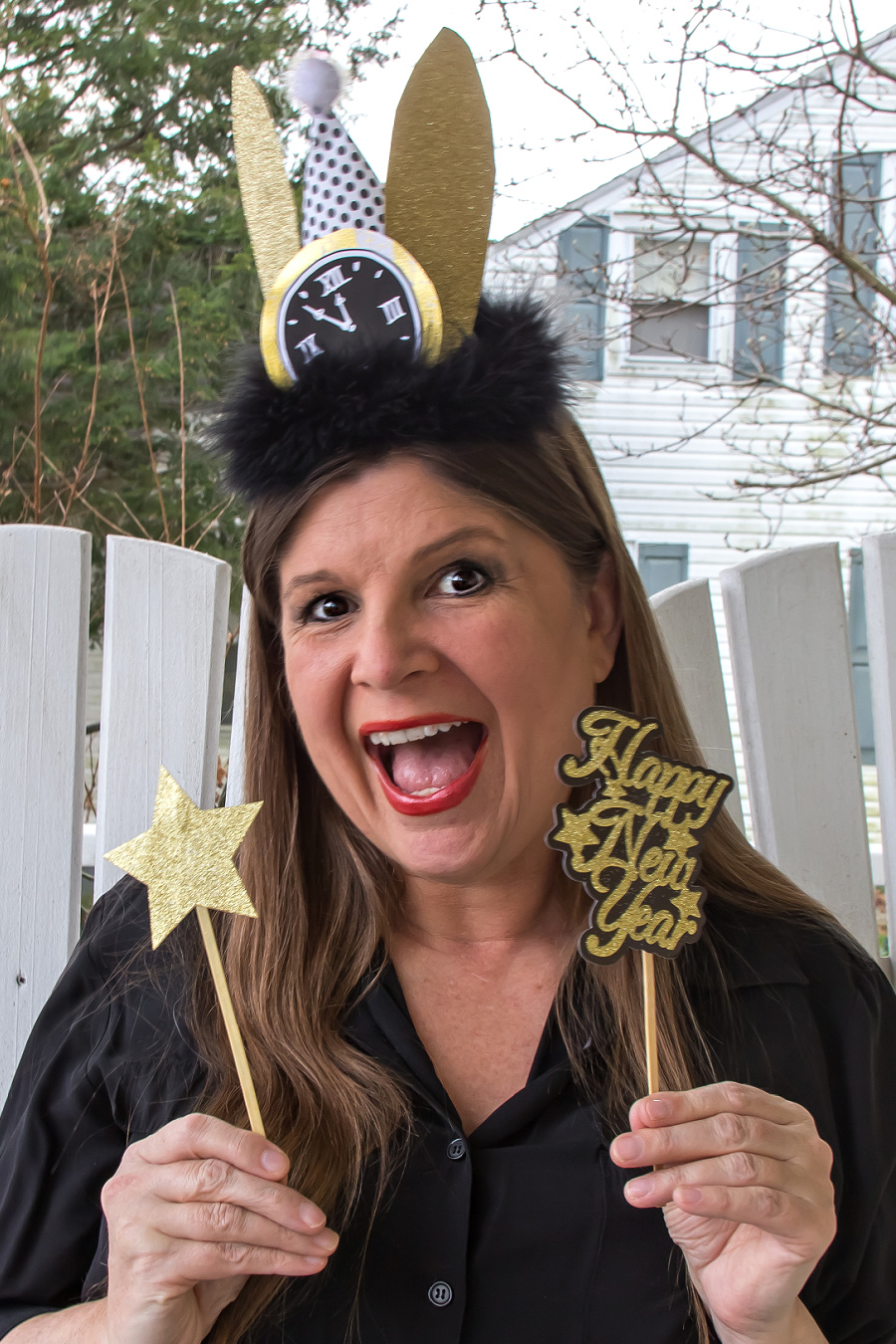 Supplies:
Scrapbook paper and card stock
Plain party hat/s (optional) – instead of making your own or to use as a template
Hot glue gun and glue stick
Scissors
Hole punch or stapler
String, ribbon, or elastic
Pencil
(optional) Decorations for your party hat – for example, feathers, beads, sequins, fur, pom poms, or ribbons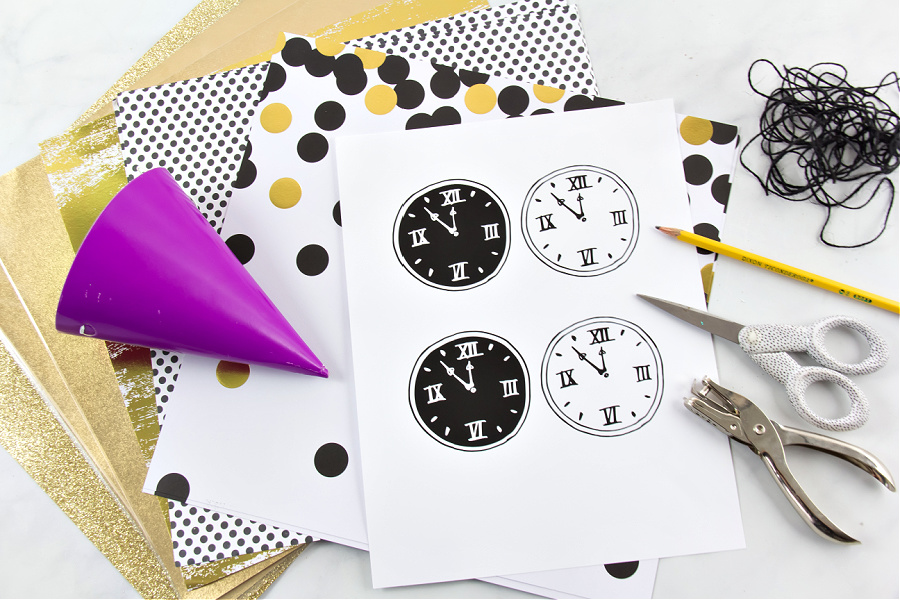 Instructions:
Step 1: Making a New Years hat
I had a plain party hat in my party supplies box that was leftover from a previous party. I decided to open it up to use as a template to make printed black, white, and gold hats using fun scrapbook paper. Alternatively, you can purchase black, gold, silver, or white party hats from a party store or big-box retailer.
If you are making your own hat, open up a cardboard party hat. Place it flat over your scrapbook paper, trace around it with a pencil, and then cut it out.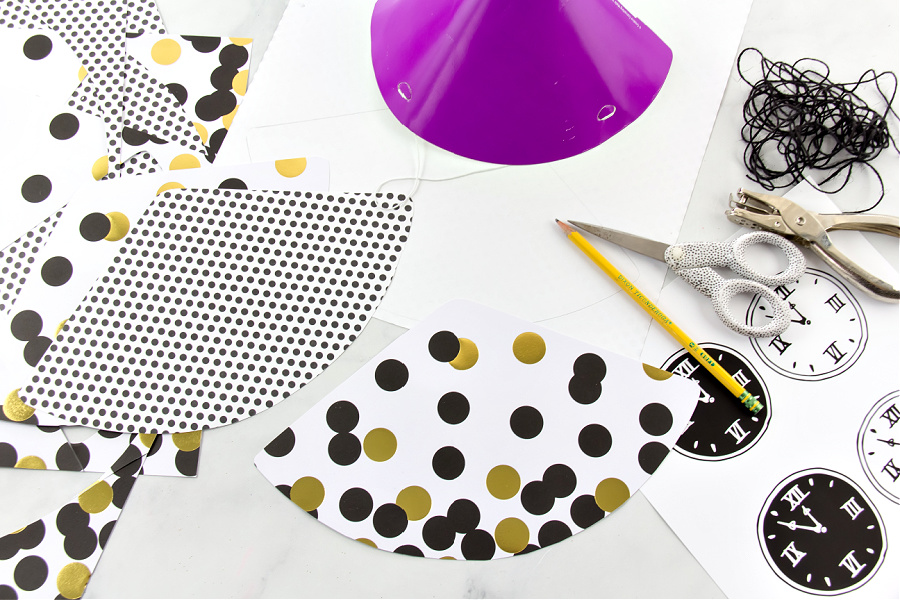 Bend your paper into a hat shape and glue it together using a hot glue gun.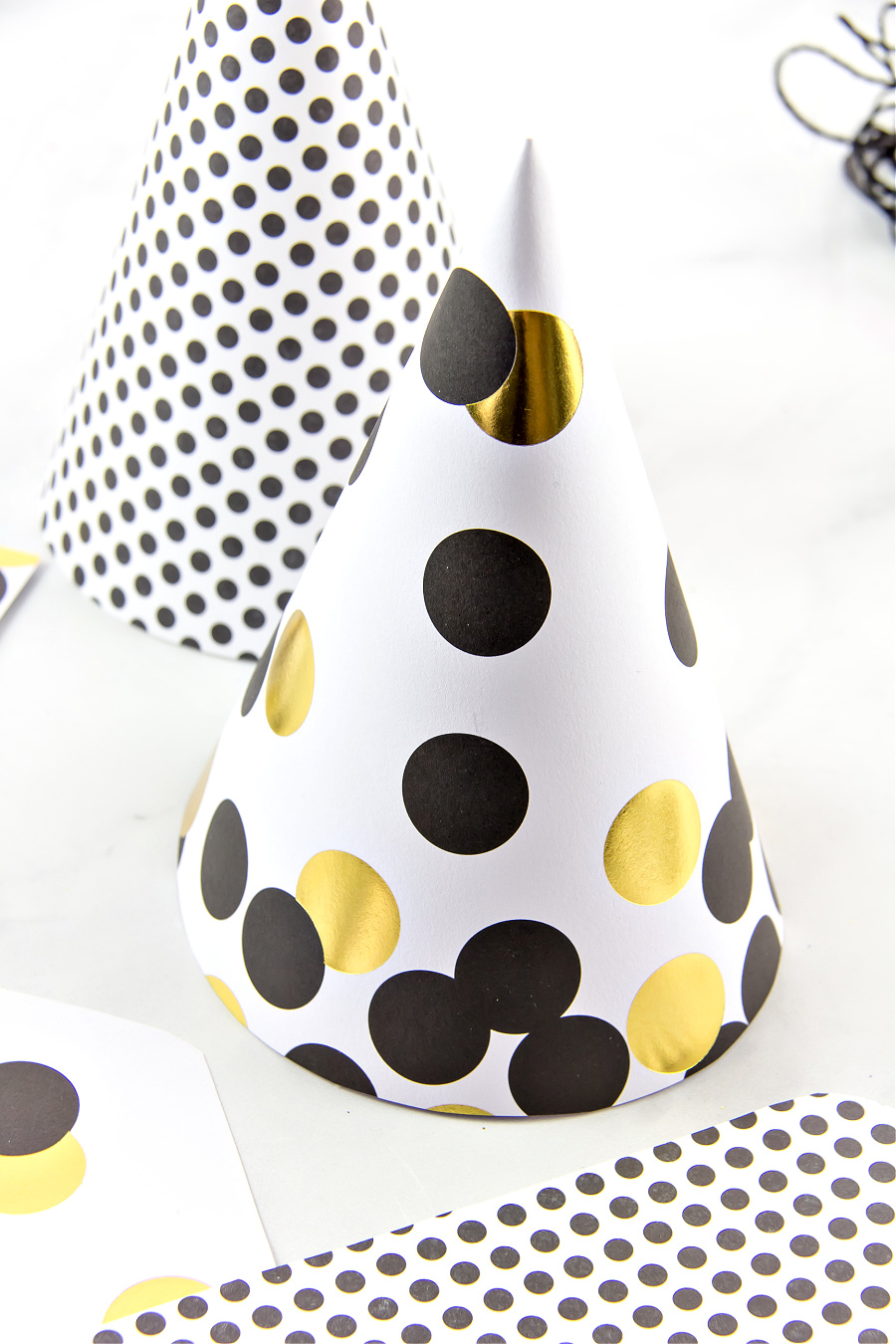 Using a single hole punch or stapler, make holes (or staple) both sides of your hat and attach ribbon, elastic, or string for tying the hat onto your head.
Step 2: Decorating your hat
I have made a PDF printable clock for you. If you want the clock in a different color you will need  to use PicMonkey. Here is how to make your own clocks:
Create a blank page in PicMonkey.com.
Click 'graphics' and search for a 'clock' image – you will see the one I used.
Add the image to your blank page.
Click on the image and then choose different colors.
Resize the image and then save or print it.
Print your clocks and then cut them out. Use glue to attach them to gold scrapbook paper. Cut around the clock again so that you have a gold border.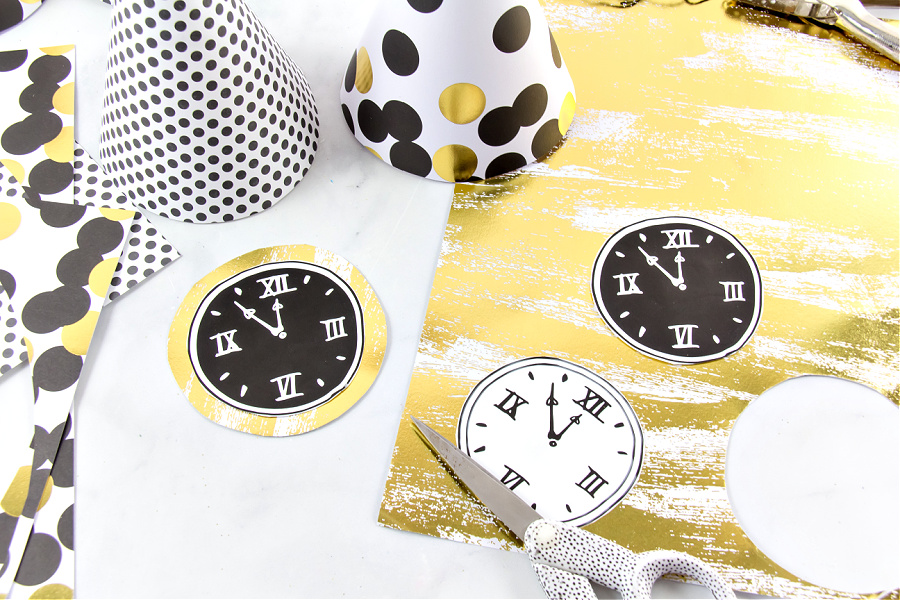 Next, we are going to make rabbit ears. Sketch a rabbit ear onto a piece of paper to use as a template. Cut out two matching ears from scrapbook paper.
Attach the ears and clock to your New Years' party hat. You can then accessorize your hat with other materials such as fur, feather, beads, pom poms, or even leftover Christmas tinsel.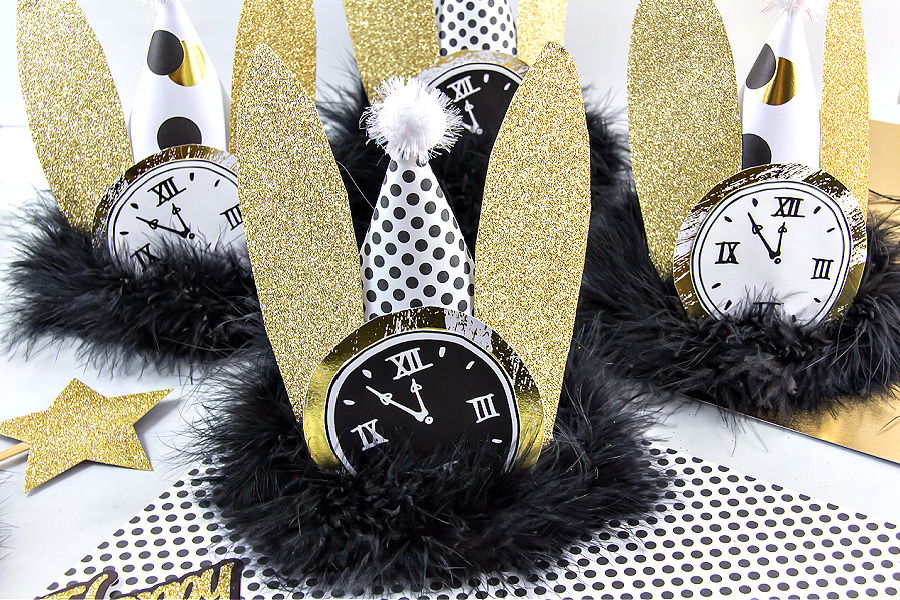 Please Pin Post For Later: