Need a quick and easy activity to hand to your toddler so you can get a few things done? You probably already have all the supplies you need to make this toddler sewing card project, and it only takes a minute to put together. This should keep your toddler busy for a little while! (Shoutout to my husband, who came up with this super easy and fun idea!)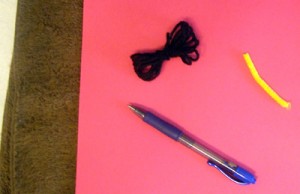 Materials:
Piece of construction paper or cardstock
Length of yarn
Pipe cleaner
Ball point pen
Hand towel
Instructions:
1. Place paper on towel, and poke holes in paper with pen. You can use a random pattern or a pattern that forms a picture, like a heart.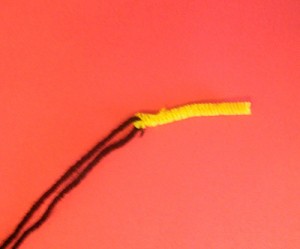 2. Make a "needle" with a short length of pipe cleaner. Bend the end of the pipe cleaner securely around the length of yarn.
3. Your toddler can use the pipe cleaner "needle" to sew through the marked holes. You will probably want to demonstrate it for him, and get him started.
That's all there is to it! Don't be too structured – allow your toddler to sew into whatever holes she wants to. There's no wrong way to do this fun activity!
Heather Mann is a regular contributor at Make and Takes. She's is the mother of three boys, ages 3, almost 2, and newborn. She publishes Dollar Store Crafts, a daily blog devoted to hip crafting at dollar store prices, CROQ Zine, a print magazine devoted to hip crafting, and also CraftFail, a community blog that encourages crafters to share their not-so-successful craft attempts.