Every year when Easter comes around, we get ready to start coloring eggs. My kids love it, but I tend to get a little pit in my stomach at the thought of the mess and stain of fingers or clothing. So I've come up with 3 simple tips helping our egg dying experience go much smoother.
3 Simple Tips for Coloring Eggs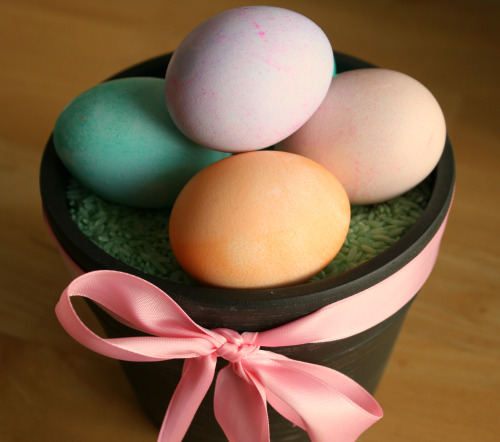 Tip #1: Gather Supplies
Every activity always goes better if the supplies are out and ready. You'll need your dye (we use the store bought packages), water, bowls, drying trays (aka empty egg carton), paper towels, spoons, tongs, and hard boiled eggs. See here for a great way to hard boil eggs.
Tip #2: Cover, Cover, Cover
You'll want to cover everything, including tables, children, and yourself. I put my children in old t-shirts of mine or my husbands. That way, they are covered up and down. I also cover the surface I'm working with. Newspaper is a good cover, a vinyl table cloth, or paper towels. I even use painter's tape to keep it in place, as newspaper tends to move around as you go.
Tip #3: Bowls and Tongs
When using bowls for coloring eggs, I say the bigger the better. If you use an 8 oz. bowl for a recipe that gets filled to the top, add an egg in there and you'll be sure to get a few spills. I like to use big ice cream bowls, that way there's a little wiggle room for an extra egg or two.
To help get those colored eggs out of the bowl, I use a good pair of salad tongs, not the flimsy wire handle provided. Get the kind of tongs that have large mouths for grabbing, but not too big, as the kids need to be able to handle them. Pictured below is what I use, basic tongs, or these crocodile tongs are fun and have nice egg grabbing teeth!
I hope these tips help you the next time you color eggs with your kids. It's a fun memory for the family and can easily be done with less mess!