My sister, Stephanie, and I came up with this Quiet Activity Book for our kids to play with when we need them to be quiet, especially during church. It is the perfect activity for them to play with for up to 20 minutes. All you need is Felt squares, a glue gun, fabric markers, and a few embellishments. It only took us an hour or two to put together, unless you are a perfectionist like my other sister, Sue! The best part is that there is NO Sewing!! I did sew on the zipper, but you could hot glue it.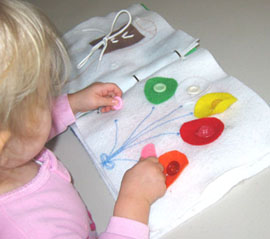 Here is your supply list for the Quiet Book:
3 Book rings
2 colored felt squares and 5-6 white felt squares (purchased at any craft store, then cut to form a square)
Scrapes of all colors of felt for some of the embelishments
Hot glue and Glue gun – have a bowl of ice water near you when you use a hot glue gun!
10 inches of Velcro
Fabric markers (any one color or all colors)
Webbing Strap with Buckle (we cut these off some old pants, or Craft store)
One shoe lace
6 Buttons, all different colors
6 pieces of yarn, same color
2 "googly" craft eyes
1 5-6 inch zipper
4-6 gold craft coins
First cut all of your felt to the same size squares. Then write a title with your markers on the cover for the title. I named my Quiet book, "Look What I Can Do". I love the title because everything in this Quiet book can help your child's learning, as well as help them stay quiet. Who doesn't love that? My sister named hers after her child, "_______'s Quiet Book", or you can name it whatever you want.
Page 1: I just drew a gingerbread man, but do more if you're artistic. Then cut the buckle to fit the page and hot glue each end to either side of the man.
Page 2: I drew a house, then hot glued two rectangles for doors and hot glued the velcro on the doors and the white felt. You could glue in a picture of your family inside the house.
Page 3: Cut out 6 shapes out of colored felt and trace them onto the white felt. Then glue the velcro in place. I also wrote the name and color of the shape to help with learning.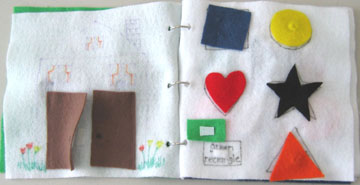 Page 4: Draw the shape of a shoe, then cut out two rectangle and glue them in place. With scissors, make 3-4 holes on each side of the rectangles and lace up the shoe lace. You can hot glue the center of the shoelace in place, so that it never comes all the way out.
Page 5: Draw strings for 6 balloons. Then glue your 6 buttons in place. Cut 6 balloon shaped felt pieces and cut a slit in the center of each.
Page 6: Draw the face of a girl with bangs. Then glue the yarn, 3 on each side, to the top sides of her head. Then glue on the googly eyes on.
Page 7: Cut out a mitten that would fit your child's hand. Then hot glue the mitten to the white felt, leaving the bottom open.
Page 8: Cut 2 triangles out of felt. Then glue, or sew, the zipper on each side. Hot glue it to the white felt in the shaper of a tent. Then draw a fun camping scene on the felt.
Page 9: Cut out a pig from pink felt and glue him on, all around. I used pink yarn for his tail. Then cut a slit at the top of him for the coins to go in. Then cut a green square and glue at the top, leaving the top open. I glued velcro inside the green square, so the coins wouldn't fall out.
Page 10: Trace a 4 piece puzzle onto the white felt. Then trace and cut out one puzzle piece for 4 different colors. Then glue velcro on for it to make a match. I ended up coloring around the velcro to help my child find the puzzle easier.
To finish off the Quiet Book, cut 3 small slits into each page, about 1 inch in from the edge. Place the felt book in order and place the 3 Book Rings on.
Now you have it. It may seem like a lot of steps, but it does go fast, and you come out with a great Quiet Book. Have fun and remember to put it in the church bag!