If you are looking for something to brighten up a dreary winter day, try painting, cutting, and piecing some bold and colorful abstract painted pieced hearts. For this project, we drew and painted big hearts, then cut them apart and mixed them up to create one-of-a-kind hearts. As one of my daughters said, these are fun and funky hearts!
This is a great project for a group to work on together, maybe for a play date or family art night. You'll want to make at least four painted hearts for cutting apart. We made eight, so we could have more variety when piecing the hearts together.
Abstract Painted Pieced Hearts
You can use any size paper you like. I cut 9×12″ watercolor paper in half for our project, making the finished hearts a good size to glue onto a piece of construction paper, while still leaving a border.
With a black oil pastel or Sharpie, draw a large heart in the center of the paper. Don't worry about everyone's hearts being exactly the same size and shape – the variation is what helps the abstract design.
Paint the heart and the background anyway you like – solid colors, stripes, polka dots, squiggles, etc. We used washable tempera for painting, which means even the little ones can join in on this project.
Allow the first layer of paint to dry before adding designs on top. Continue layering on colors and designs. Make your hearts unique!
When all your hearts are painted, set them aside to dry completely. Our paintings were a bit curled after drying, so I just stuck them under a heavy book overnight.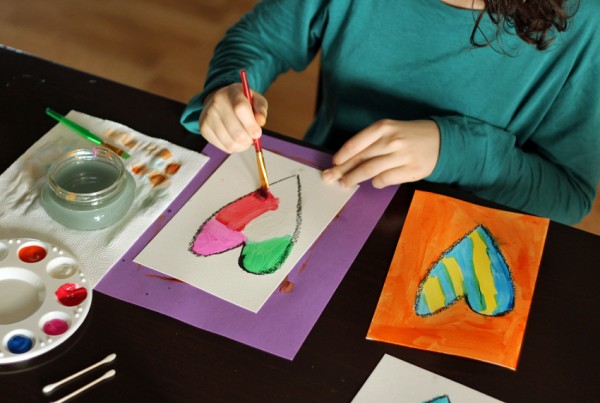 Now, we have a bunch of gorgeous, colorful hearts to work with. Make sure your kids want to proceed with the next step – cutting the hearts in pieces! If not, just hang these beauties up to enjoy.
Cut each heart into fourths. A paper cutter makes quick work of this step, but you can also measure and draw lines on the back with a pencil and cut with scissors. Separate the cut hearts into stacks – all the top left pieces together, top right pieces, etc.
Time to mix and match and create a new crazy, patchwork heart. Try out various combinations until you find one that you like, then glue your pieces onto black construction paper.
Quick tip: For less mess, you can use double-sided tape or glue dots in place of white glue.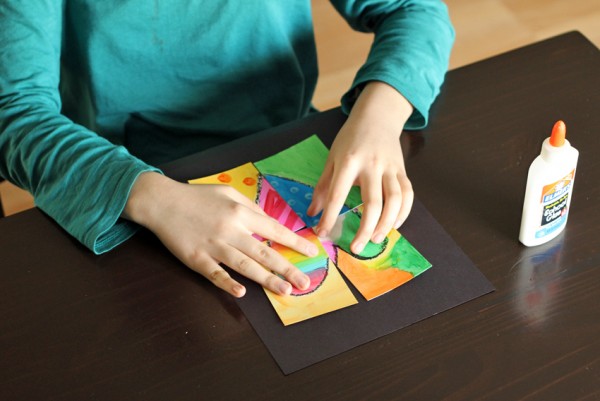 I love how the finished pieced hearts look, with mismatched lines and an abundance of color. So fun! I'm looking forward to adding these colorful hearts to my Valentine's Day decorations this year.