Summer vacation may be on our minds, but don't forget Father's Day is just around the corner too. So, if you are looking for a fun craft project to do with the kids over summer break, then why not make this air dry clay dish and matching DIY keychain for dad. You could also make him a bookmark, and a sentimental album too. That should keep the kids busy for a couple of days at least.
Handmade Dish and DIY Keychain
How often when doing the laundry do you have to fish things out of pockets? I'm always doing it. My college student leaves all kinds of things in them from gum, to coins, keys, pens. You name it, it's in there. My boyfriend takes his jeans off to put pajamas on and I'll find a trail of coins across the closet floor.
So, Miss M and I decided to make a special tray that would collect all of those little treasures that are constantly filling pockets.
Supplies:
Instructions:
Mold the clay in your hands, wetting your hands if it becomes too sticky, and then roll out into a circular shape.

Once rolled out and in the shape you want, stamp a pattern over the clay. We rolled a pin over a fondant stamp, but you could stamp with a regular stamp too.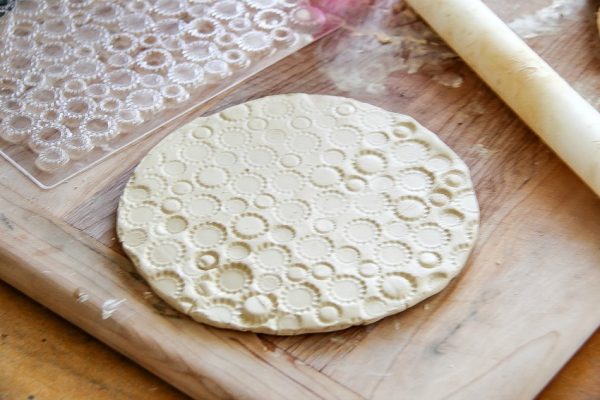 Turn up the edges a little so that the items being tossed onto the catch all don't slide straight off, and then roll up three small balls of clay to make legs for under the dish.
Now, roll out a second small piece of clay, shape into a heart, and place the same pattern onto the clay.
Poke a hole through the top of the heart with the end of your paintbrush.
Set your clay aside to air dry. We left ours for three days just to be sure.
Once air dry, spay the underside of both pieces with Testors Craft 3oz Aerosol Paint in silver. Apply two coats, allowing the first to dry completely before applying the next.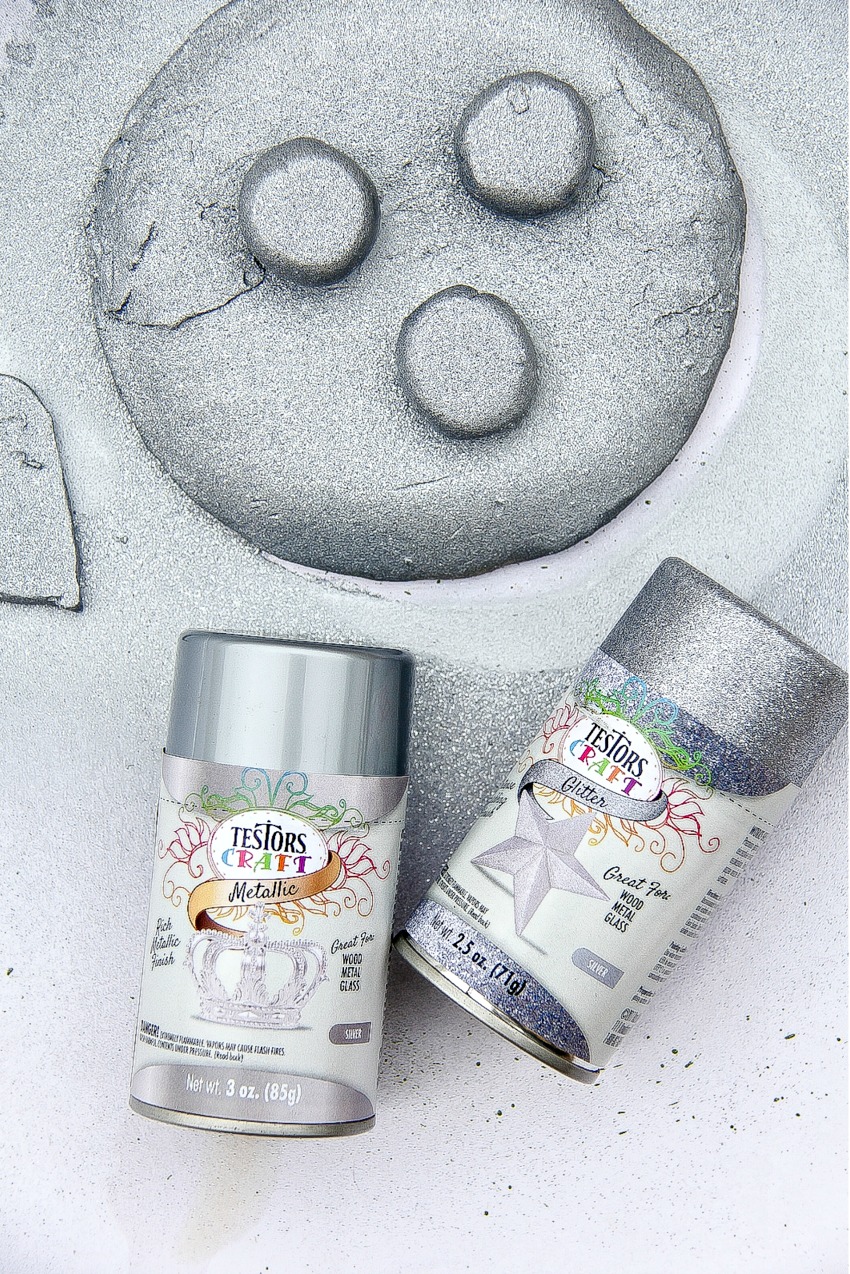 Once dry, turn your clay pieces over and spray the other side with Testors Craft 3oz Aerosol Paint in turquoise. Applying two coats again, allowing the first to dry before applying the second.
No, because the edges between the silver and turquoise will look a little messy unless you taped them, I like to apply a couple of coats of Testors Craft Acrylic 2oz Paint in silver to neaten them up and create a more defined edge.
Once dry, spray the entire project with Testors Craft 3oz Aerosol Paint in silver glitter. Mostly because my daughter insists that everything is better with glitter, and I have to agree with her. You only need one light coat though.
Allow to dry, and then apply a coat of Testors Craft 3oz Aerosol Glitter Sealer. That way dad doesn't have glitter on his keys, money, gum, or whatever else ends up in that catch all.
Set your craft project aside to dry thoroughly, and then hide it from dad until Father's Day. He'll love his dish and DIY keychain!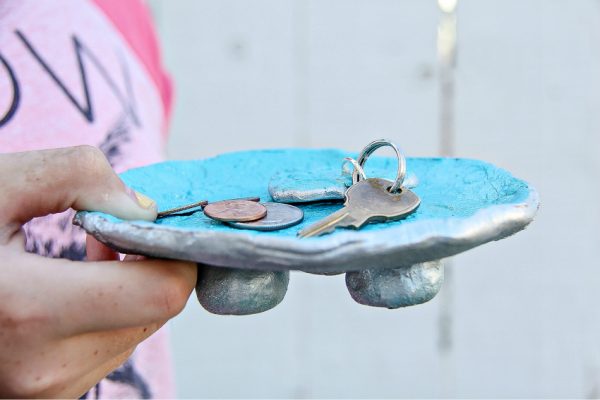 More about Testors Paints:
Testors Craft 3 oz. Aerosols are available in a wide variety of colors and specialty finishes (including metallic, glitter and glitter sealer) and adhere to a variety of surfaces including wood, metal, glass, terra cotta, ceramic bisque, and more.
Testors Craft Acrylic Paints are water-base paints available in a wide variety of colors as well including silver (which you can see featured on the first image above) and can be used for general craft and decorative painting. They can also be used on surfaces such as wood, metal, fabric, canvas, ceramic, glass, and more!
Please pin post for later:
*Thanks to Testors for sponsoring this post. Be sure to visit them on facebook, pinterest, twitter and YouTube for more inspiration. Testors products are available nationwide at all Michael's Craft Stores as well!