Have you ever played with Wordle? It is a fun way to create an interesting graphic or word cloud using text of your choice.
I didn't have much experience with Wordle until recently, and now my girls and I are hooked! We love to start the school year with self-portraits, interviews, and fresh photographs. For a change, I thought the girls might enjoy using Wordle to create All About Me word clouds.
All About Me Wordle for Kids
On the Wordle Create page, you will find a text box for typing or pasting text. The more times you type a word, the bigger it will be on your Wordle. The girls did their names six times, and all other words only one or two times.
They included physical characteristics, birthdays, adjectives that describe their personalities, things they like to do, favorite colors & foods, places they like to go, etc.
Once you are finished with your list, click go and your Wordle will be generated. From here you can do lots of customizing, from fonts to layout to colors. I suggest playing around with it first yourself, then showing your kiddos how to use it. For the littles, take dictation and let them play around with your help.
My girls (ages 8 and 9) were able to figure out the simple interface very quickly, and had a great time customizing their very own Wordles.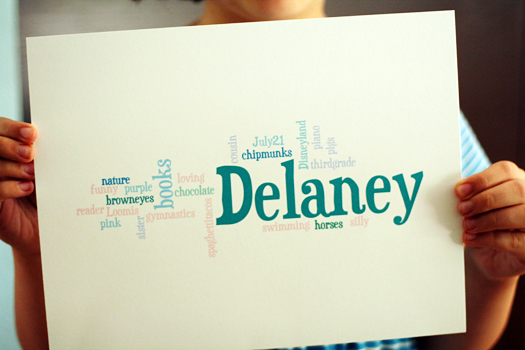 We printed the final Wordles on cardstock and plan to frame them with self-portrait drawings. What a fun memento of my girls at the beginning of 3rd and 4th grades!
More fun Wordle ideas:
Create a card with words and wishes for the recipient
Make a new Wordle on each birthday
Try making a Wordle about a famous historical figure or favorite book character
My 9-year-old is planning to make one with the titles of all her favorite books. I'm keeping this idea in my back pocket for Father's Day, too!
Happy creating!