So far, there are only boys in my family, so when faced with several approaching baby showers for female babies, my mom and I were only too overjoyed to experiment with making barrettes and headbands. We wanted to make Baby Hair Barrettes with newborns and infants in mind, so we experimented with several different styles, sizes, and hair-clipping methods.
First off, we hit up our favorite local craft thrift store (if you like crafting and you are ever in Portland, OR, I highly suggest scheduling in a trip to Knittn' Kitten!) and gathered supplies for making wee barrettes.
Baby Hair Barrettes Tutorial
Craft supplies we picked up:
ribbon of different widths and styles
buttons
lace
a package of 1″ yo-yos (you'll need to make your own or find them at a thrift store or garage sale, or grandma's sewing room!)
We also picked up some additional supplies. You can find these at your local big-box warehouse department store, craft store, dollar store, or drug store.
Additional supplies:
mini barrettes (also called "snap pins")
Velcro-type round closures
elastic
needle & thread
Unsure of what kind of barrette would work best in baby-fine hair, we experimented with several styles (well, actually, my mom did all the experimenting!) such as: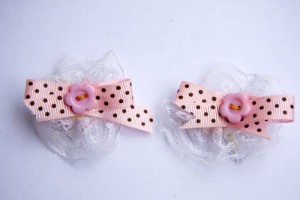 The Classic Clippie
Way, way back in the 1980s, my mom made "clippies" for my sister and I in a similar style to these pink ones.
To make:
Take a length of lace and gather it on the hemming edge, into a rosette. Tighten the thread and tie off. Add a ribbon bow and a cute button. Attach securely to clip.
These turned out really cute, but they were kind of big for a newborn or infant (about 1-1/2″ in diameter). They'd probably be better for a toddler. See the clippie "in action" above in my pre-schooler's* hair.
So, the revised infant-sized version was made:
For the small clippie, just a 1/2″ piece of ribbon was gathered into a rosette and embellished with a cute button, then attached to the clip. Here you can see the type of clip we used, and the method of attaching the embellishment. Because these are intended for small babies, we secured the ribbon to the clip with thread instead of a hot glue gun, with the idea that it would be harder for the baby to pop the ribbon off the barrette if it was sewn on.
The Velcro Barrette
Another method we used that we think would be great for wispy baby hair is the Velcro "barrette." We made lightweight embellishments (these Hello Kitty ones were made using a pre-made "bow" cutout and a shank button) and sewed them to small 1/2″ round Velcro pieces.
This version of the Velcro barrette looks like a kimono to me!
To put this barrette on baby, just remove the back of the Velcro round, place under small amount of hair, and attach front of barrette to back of barrette, with hair flowing through the Velcro. This is very lightweight and doesn't pull the baby's hair, but stays secure.
My toddler wasn't available at photo shoot time! We did test it on his* hair, though (still baby wispy-fine), and the Velcro worked very well.
The Snap Tape Barrette
Another barrette method we tried was using snap tape. How do you use it? Snap it into baby's hair – hair is caught between both sides of the tape and stays secure. It seemed to work well, but is harder to remove. That might be a good thing if you have a grabby girl!
For the snap tape barrettes, we used the mini yo-yos with ribbon and shank buttons, and they looked really cute! We sewed the snap tape to the yo-yo. The pre-made yo-yos we had were bold colors, but you can make yo-yos in any color you want, and they sure are sweet! These ones are about an inch in diameter.
Here's another yo-yo barrette shot because I like the Hello Kitty buttons! :)
Magnet Barrette Fail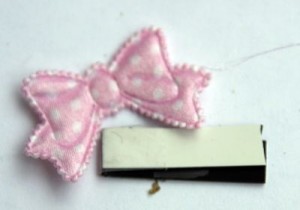 Not all of our experiments were successful. For instance, we tried to make a "barrette" out of sheet magnet, thinking maybe we could make the magnet stick to itself with hair between the pieces of magnet. With standard thin/weak magnet sheet, this didn't work well.  It did actually stay in the hair, but just not to our satisfaction. It might be worth experimenting with further if slightly stronger magnets were used.
Send this barrette to CraftFail.
And on to the headbands. We made a couple styles:
Lace and Velcro Headband
One headband was made with a length of lace that fits around baby's head, and secured with a couple pieces of velcro. The bow-style, which we think is so sweet, takes very narrow ribbon and makes a loopy bow, secured with a pretty button.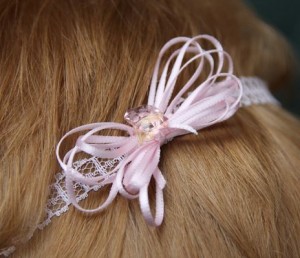 The lace and velcro headband stays put very well, and looks super cute.
The Elasticized Ribbon Headband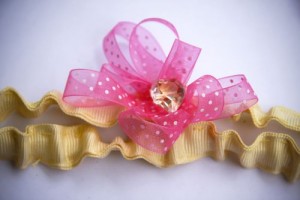 To make this headband, sew two pieces of ribbon together on long edges, leaving a small opening (an inch or so) to run elastic through. Put a safety pin on the end of a piece of elastic and run it through the ribbon casing to create the headband. Attach desired adornment. For this headband we used grosgrain ribbon for the headband and pretty sheer ribbon for the loopy bow.
We also tried the same method with bias tape for the headband. It worked fine as well (and you only have to sew it on one side). I like the lace and narrow ribbon loopy bow on it! And don't you love those pretty rhinestone buttons?
This style of headband seems to work well, too, but we didn't give it the "church service test" to see if it stays on for longer than five minutes! Please let us know how yours works for you!
*Thanks to my sons for being my guinea pigs! :)
And thanks to my mom for doing all the hard work!
Warning/Disclaimer: Please watch baby if you make these – she might put them in her mouth!