This project takes almost no time to put together and is the perfect little organizing tool for your school locker. A great back to school project, it keeps your pens and pencils in the same place for easy access. When the school year ends, simply take it with you and save it for next year! The supplies for this project are simple to find and you might already have everything you need. Let your kids use their imagination in the design and dress it up any way you want.
This would also make a great Mother's Day or Father's Day gift for a parents' office. Perfect for hanging on the refrigerator too. Just adapt the embellishments to fit your needs and style.
Back to School: Locker Pencil Holder
Supplies:
clean, empty tin can, label removed
felt
decorated or color cellophane
tape
hot glue gun
alphabet beads
embellishments, such as buttons, beads, thread, etc
5 button magnets
Instructions:
Beginning at the back seam of your can, tape cellophane in place. Wrap cellophane around the can and trim, then tape to secure. Trim excess cellophane around the bottom and top of can.
Using the can to measure your length, cut two strips of felt, about 1-inch wide.
Use the hot glue gun to attach the strips along the top and bottom of the can. Tuck the excess inside the top of the can, and around the bottom of the can. This will protect fingers from any exposed sharp edges.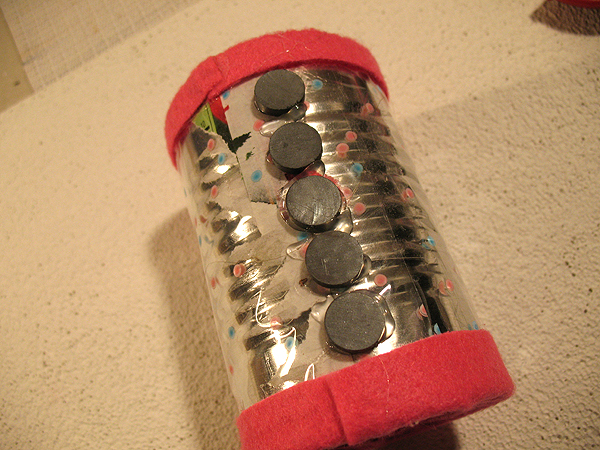 Hot glue button magnets along the back seam of the can.
Embellish the can however you like. We used alphabet beads to add some personalization to the bottom felt strip of the can. We also tied some embroidery floss through a button and glued that to the front. You are limited only by your imagination!
Check out more school organization projects here: