My kids love to help out in the kitchen, especially when it's a recipe for pizza. Because who doesn't love pizza?? We're baking up some mini baguette pizza bites the whole family is sure to love! This recipe is so simple and requires no pizza dough making. Your kids will love choosing different toppings and making their own little pizza bites. Top these mini pizzas with cheese, pepperoni, mushrooms, bell peppers, olives, etc. Get creative in the kitchen and enjoy!
I'm happy to be partnering with Disney-Hyperion and their new picture book Nanette's Baguette by author Mo Willems. We love the Pigeon series written by Mo Willems, and Knuffle Bunny is one of our family's favorite stories as well! In comes this new story about Nanette and how she gets to pick up the baguette from Baker Juliette. It's a silly rhyming story kids will love!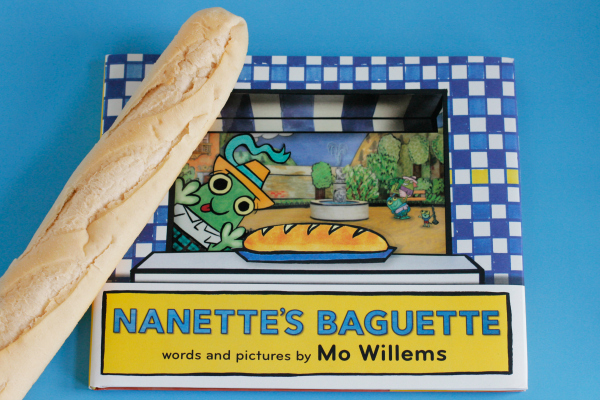 More about the book, Nanette's Baguette:
Today is the day Nanette gets to get the baguette! Is she set? YOU BET! Mo Willems' hilarious new picture book, Nanette's Baguette, follows our plucky heroine on her first big solo trip to the bakery. But . . . will Nanette get the baguette from baker Juliette? Or will Nanette soon be beset with regret? Set in a meticulously handcrafted-paper-modeled French village, the uniquely vibrant laugh-out-loud world of Nanette's Baguette may be Mo's best creation yet. Get set to krack into an irresistible tale you won't soon forget!
We're celebrating this story all about baguettes by baking up some yummy pizza bites. Be sure to let your little ones hear that "krack" of the baguette as you prep your snack!
Cheesy Baguette Pizza Bites
Ingredients:
baguette
pizza sauce or marinara sauce
shredded cheese
optional – toppings: pepperoni, ham, basil, tomatoes, olives
Method:
Cut your baguette into 1/2 inch slices. Add a spoonful of sauce to one side of the baguette and spread it around. Sprinkle on some cheese and add any extra little toppings you'd like.
Bake in the oven or toaster oven at 350 degrees for 5-10 minutes, just until the cheese has melted. Remove from the oven and let them cool.
Now they're ready to serve up to some hungry eaters! Have fun "kracking" your baguette and baking up some pizza bites!
*Thanks to Disney-Hyperion for sponsoring this post. Be sure to follow the hashtag #NanettesBaguette on Twitter: @DisneyHyperion @The_Pigeon and Instagram: @DisneyBooks for more ideas and inspiration!
SaveSaveSaveSave