Quick and easy Homemade Chunky Guacamole recipe, a real crowd-pleaser, ready to be served in less than 10 minutes! Goes perfectly paired with all your Mexican favorite dishes or served as appetizer with some tortilla chips on side.
Make Fresh Chunky Guacamole
Nothing easier…Scoop the avocado flesh into a bowl and using a fork or a knife cut/ mash into a big chunky mixture. Chop up some tomatoes and red onion and mix them with avocado. Season with salt and pepper and add some lime juice. Your chunky guacamole is ready to be served with some tortilla chips.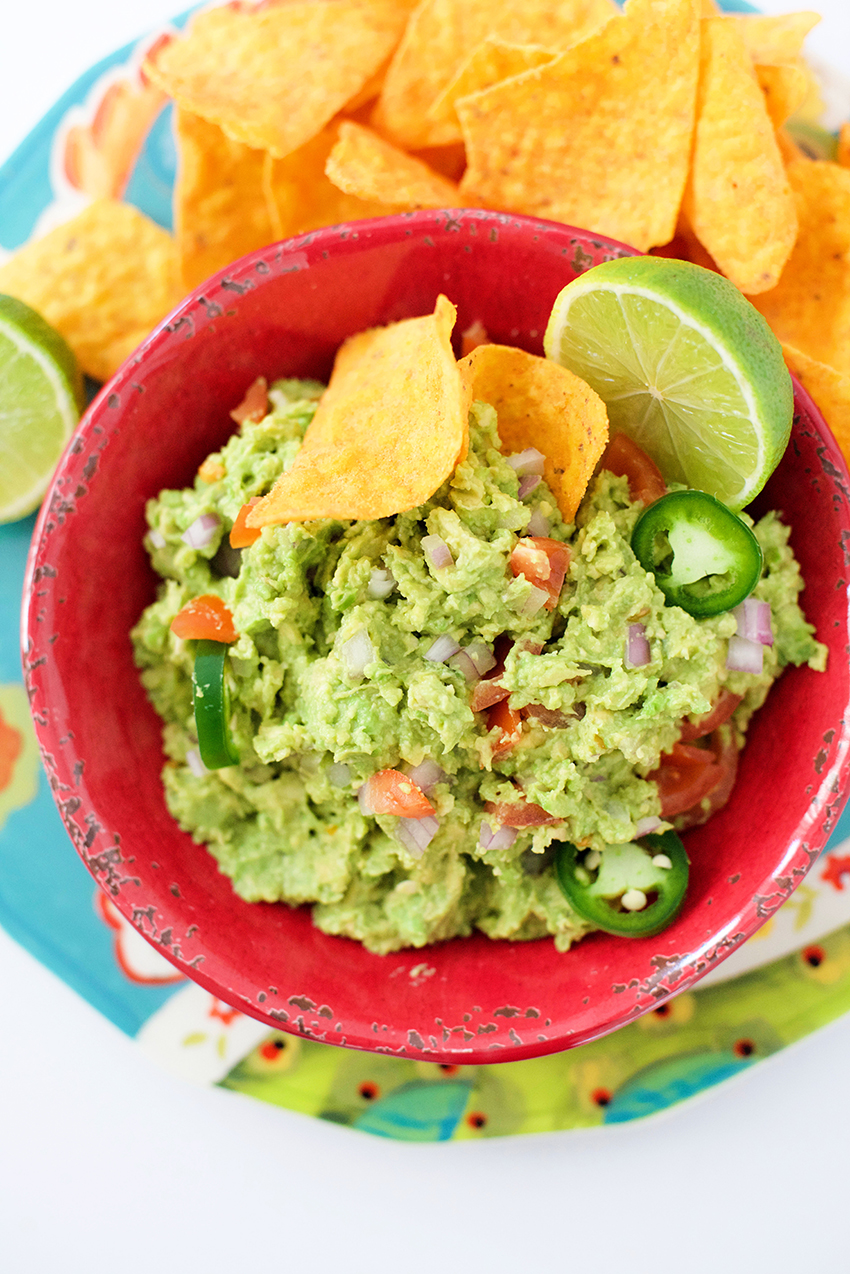 When it comes to guacamole, there are 2 types of people: those who love a creamy guacamole and those who would prefer a chunky guacamole….I fall into the second part as I really love a good, homemade chunky guacamole.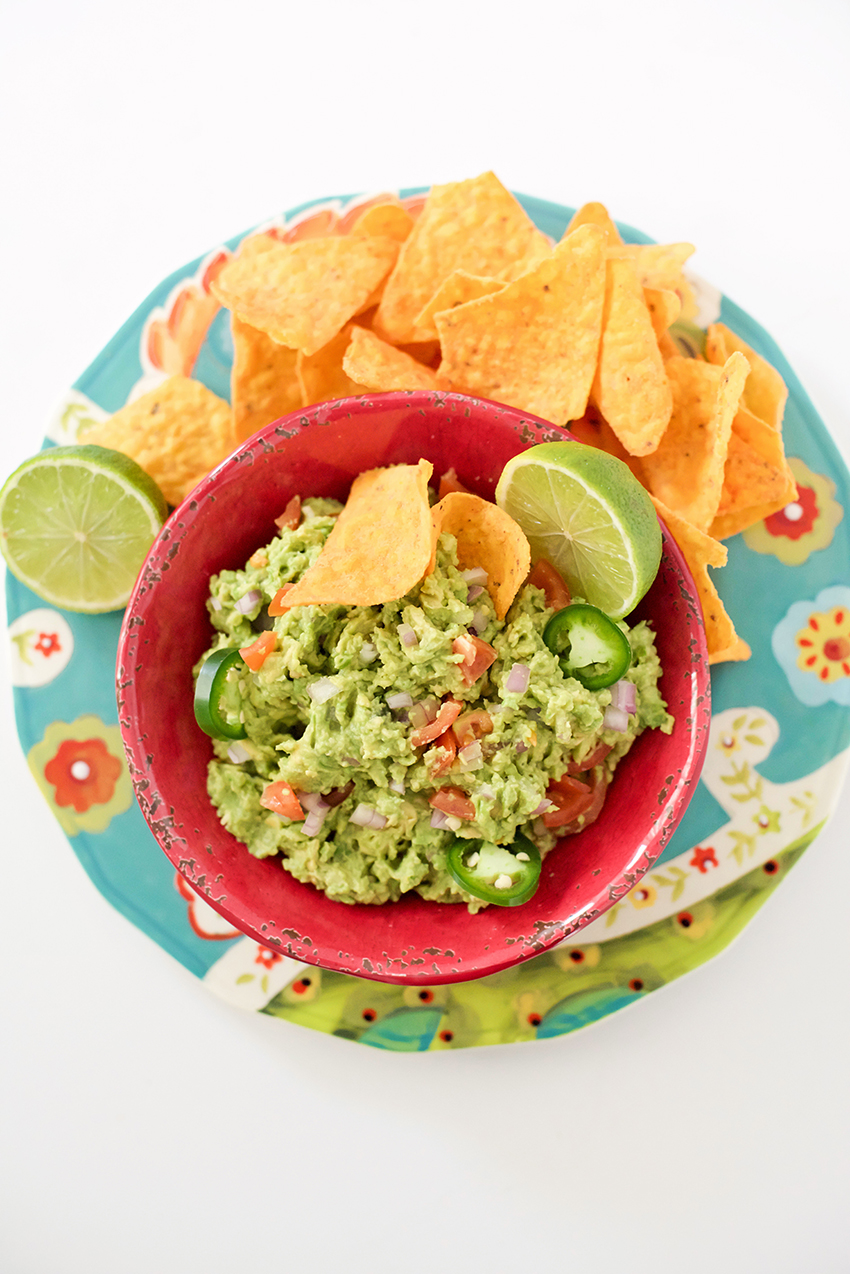 I prefer the chunky texture better, to taste each individual ingredient: avocados, tomatoes, red onions, all these delicious and healthy ingredients. I also love chili in my guacamole but I know not everyone likes them, so I have added them as an optional ingredient to the recipe.
Chunky Guacamole Recipe
Ingredients:
3 large ripe avocados
juice of 2 limes
1/4 red onion, chopped
1 clove garlic, minced
1 medium tomato, seeded and diced
salt and pepper
Optional: 1 small jalapeno, sliced
Method:
Halve the fresh avocados and remove the pits. In a medium bowl, add scooped flesh from avocados and using a fork or a knife, mash roughly/slice the avocado against the sides of the bowl until you get preferred consistency of the guacamole. The knife will give you bigger pieces, really chunky avocado, while the fork will give you a consistency between a creamy and a really chunky.
Add lime juice, red onion, jalapeño, garlic, tomato and stir gently to combine. Season with salt and pepper.
Serve with tortilla chips or use to top tacos, fajitas, and all you favorite Mexican dishes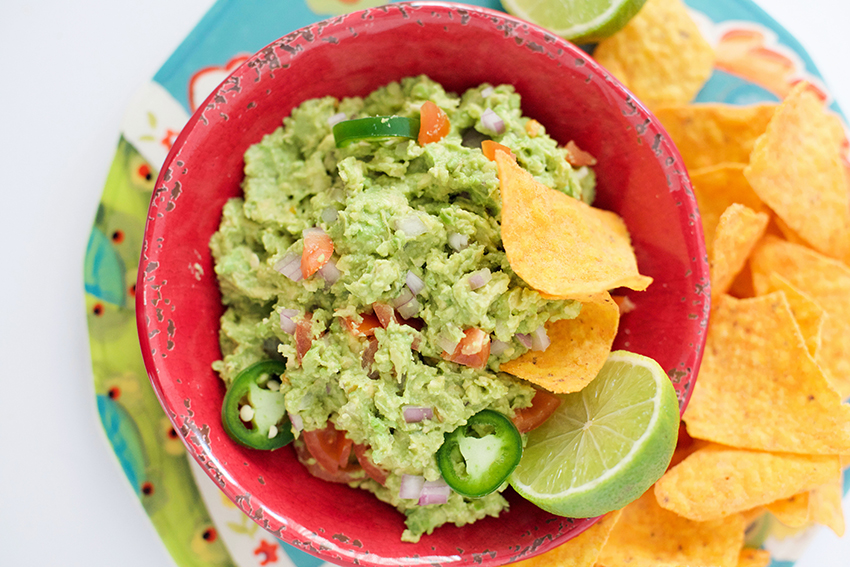 Chunky Guacamole Recipe
Ingredients
3

large ripe avocados

juice of 2 limes

1/4

red onion

chopped

1

clove

garlic

minced

1

medium tomato

seeded and diced

salt and pepper

Optional: 1 small jalapeno

sliced
Instructions
Halve the fresh avocados and remove the pits. In a medium bowl, add scooped flesh from avocados and using a fork or a knife, mash roughly/slice the avocado against the sides of the bowl until you get preferred consistency of the guacamole. The knife will give you bigger pieces, really chunky guacamole, while the fork will give you a consistency between a creamy and a really chunky guacamole.

Add lime juice, red onion, jalapeño, garlic, tomato and stir gently to combine. Season with salt and pepper.

Serve with tortilla chips or use to top tacos, fajitas, and all you favorite Mexican dishes
Pin this post for later:
Originally posted 7/26/18