I just saw this great idea for a Homemade Bird Feeder in the September issue of Family Fun Magazine (I love this magazine!!). This Bottle Bird Feeder is easy to make and fun for the kids to watch as birds come to dine! This project is the perfect afternoon craft activity for you and your kiddos. You probably have most of the supplies in your home already. Read the instructions below and have fun creating something with your family. Do not forget to hang it in your yard for all of the birds in your area.
Bottle Bird Feeder
Supplies:
First find an empty plastic bottle, yarn, razor blade, funnel, wooden spoons, and bird seed. Optional: add some paint or stickers to your bottle for a more fancy look.
Instructions:
With your razor blade, carefully carve a hole on one side of the bottle and on the other side to match. I only carved it into a dome shape and let the flap hang out. You can add another set of holes for more birds to perch.
Next, add your wooden spoons to each hole. Set the spoons in all the way so that the spoon end can catch some seed.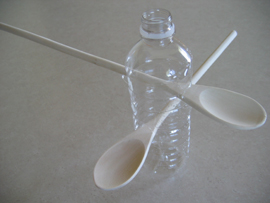 Now take the funnel and place it up top and pour in your bird seed. Some may come sprinkling out the spoon holes, but not too much.
Add a yarn tie at the top so you can attach it to a tree, or a place of your choosing. Now replace the cap and you are set to go.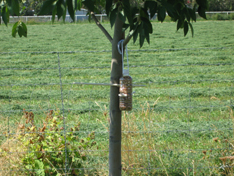 Aren't these bottle feeders awesome? I love how simple they are to put together. The birds are going to love snacking in your yard. Have fun feeding and watching the birds! What other birds craft ideas do you have?
SaveSaveSaveSaveSaveSaveSaveSave