We've been enjoying summer around our house, especially here in Seattle! It's my favorite season as the sun comes out to play for 3 months long, haha! So we've been grilling and gathering with friends and family for all sorts of fun during weekends and holidays. Especially with these delightful Bratwurst Bites. They are easy to grill and stack up for an simple potluck appetizer!
I'm partnering with Johnsonville and their upcoming holiday… BRATSGIVING! Oh ya! National Bratwurst day is August 16th and we're helping kick off the celebration in my hometown of Seattle with Carl the Bratsgiver and Johnsonville at the Seattle Seafair on July 29th! Will you be nearby Seattle this weekend for the fun? Here's what's happening:
Fans can swing by the Albert Lee Appliances booth during Fan Fest to get their hands on delicious grilled Brats served by prominent Seattle chef
Atop a custom-made Bratsgiving bicycle, Carl will lead the pack of runners participating in the 2017 Torchlight Run, officially starting the race before safely exiting a few blocks from the starting line
Carl will bring the Bratsgiving celebrations to the annual Seafair parade, biking the route alongside his crew of helpers, the "Brat Angels" – one part oompa loompa, one part North Pole elf, and 100% amazing grill masters
Throughout the day on Saturday Seafair and Johnsonville will partner for a "Where's Carl" competition, announcing his whereabouts at Seattle landmarks and Seafair events on social media and challenging fans to find him in exchange for Bratsgiving swag and free Seafair tickets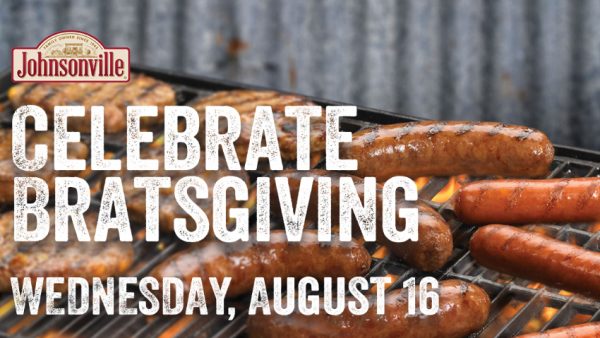 Join the fun with your family and friends and host your own Bratsgiving with Johnsonville brats and sausages. We're making these delicious Brat Bites for the perfect sweetness to snack on… hello Summer!
Bratwurst Bites Appetizer
Ingredients:
Method:
1. Grill or pan roast your brats until plump and seared with those delicious grill marks. Let these cool a bit and slice them into 1/2 inch slices.
2. Cut up your pineapple and avocado into small quarter sized bites. Wash and dry your cilantro.
3. Cut each of your small pretzel bites in half. If you're using pretzel bread or buns, you can simply cut them into 1 inch pieces, perfect for a appetizer bite.
4. Layer your bites: pretzel bite, brat slice, avocado or pineapple chunk, topped with a piece of cilantro. Place a toothpick through each layer to hold them together.
You can also add a little spicy dipping sauce next to your platter for an extra kick. Or maybe layer on a red pepper or yellow pepper to some of your bites as well! Mix it up and make it fun.
Now they are ready to serve at your next summer gathering, especially during National Bratwurst day – Bratsgiving!
Be sure to visit Johnsonville on Facebook, Twitter, Pinterest, and Instagram for more ideas and inspiration!
This is a sponsored conversation written by me on behalf of Johnsonville. The opinions and text are all mine.