Start off your morning with this quick and delicious Chia Seed Berry Coconut Smoothie Bowl!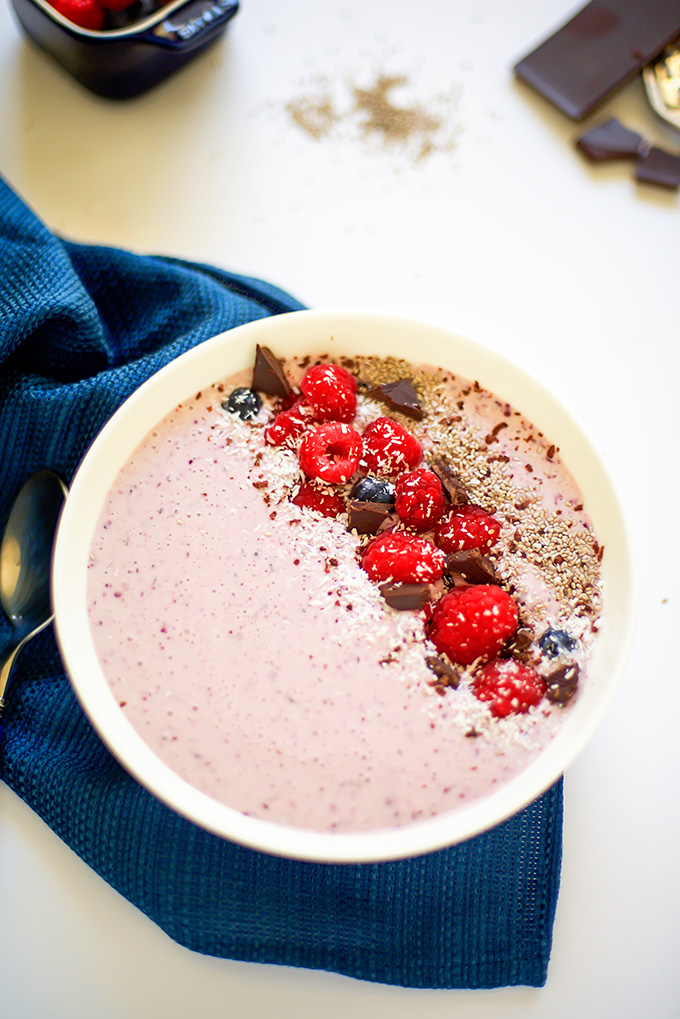 A smoothie bowl is thicker than the usual smoothie where you combine yogurt and fruits and is served with a spoon rather then being sipped through a straw.
The endless topping options are one of the best things about smoothie bowls! You can add different textures and flavors through the toppings you'll choose: nuts, seeds, cereals, fruit, coconut flakes, granola and even chocolate shavings J You can go as creative as you wish when choosing your toppings. For this recipe, I have decided on some fresh raspberries and blueberries, chia seeds, shredded coconut, chopped almonds and a bit of dark chocolate.
This Chia Seed Berry Coconut Smoothie Bowl can be ready in just 5 minutes for a quick, healthy and super delicious breakfast! I blended a combination of frozen blueberries, raspberries and banana, adding coconut milk and chia seeds to get this thick, creamy consistency.
It is enough for 2 servings and can be stored in the fridge overnight to be served the next morning, if preferred.
Chia Seed Berry Coconut Smoothie Bowl Recipe
2 cups frozen mixed berries (raspberries and blueberries)
1 large frozen banana
2/3 cup coconut milk
1 tablespoon chia seeds
Toppings: fresh berries, chia seeds, shredded coconut, sliced almonds, shaved dark chocolate
Method:
Add frozen berries, banana, coconut milk and chia seeds to a blender and puree until smooth (you can use even a hand blender if you don't have a big blender to make this recipe).The mixture will be very thick at this point. Add coconut milk while the blender is still going and puree until you get the creamy, thick, custard like consistency.
Pour the smoothie into bowls and add toppings if you want to serve it immediately. You can refrigerate overnight the smoothie and serve the next day.