The Easter bunny always brings the best sweet treats. Please tell me I'm not the only one that likes Easter Peeps? I know people either love them or hate them- and I love 'em! Especially when they are dipped in chocolate. You know I like to dip things in chocolate, marshmallows, ice cream, pretzels, and candy canes. Well, these Peeps were just asking for it. And they were delicious! Even if you don't love Peeps, I have a feeling you're going to like this version. Try it this year!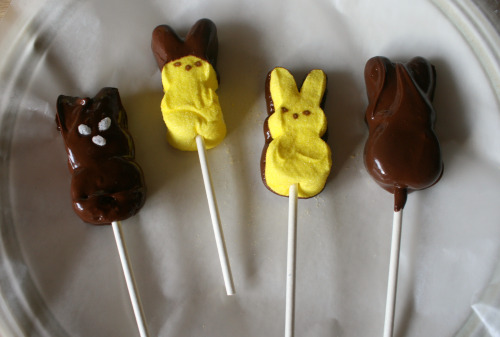 Chocolate Covered Easter Peeps on a Stick
Supplies for Chocolate Dipped Easter Peeps:
chocolate to melt (you could also try white chocolate!)
Easter Peeps
lollipop sticks
wax paper
plate or tray
To melt your chocolate, place it in a microwave safe bowl and microwave for 1 minute. Stir it, then if needed, microwave for another 20 seconds. Repeat if necessary. This works best with chocolate chips.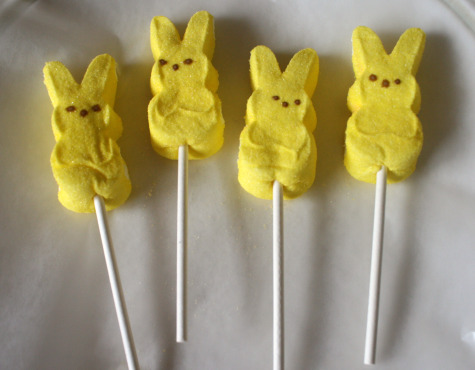 Place a lollipop stick into the bottom of the Peep. Dip your Peep into the chocolate and place on a plate lined with wax paper. Let this harden. You can also place them in the fridge for faster results.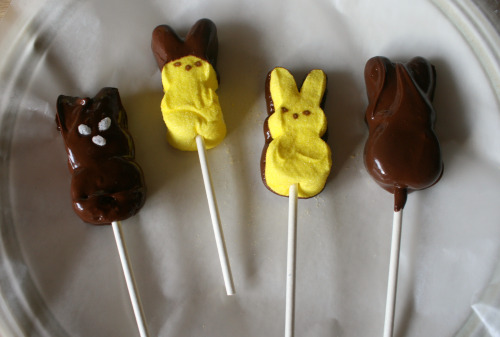 Now you're ready to Hippity-Hop on over to enjoy these Chocolate Covered Easter Peeps!
Get your kids in on the crafting with this one. They will love dipping the little bunnies into the chocolate. Wrap these bunny treats in a bag and gift them to friends, family, and neighbors as a special little Easter gift. Wouldn't that be fun?
Happy Easter!