These colorful and bold doodle snakes and snail drawings start with a simple spiral, which is sectioned and filled with all kinds of interesting doodles. Then, bright watercolor paints are added to bring them to life!
When my girls and I sit down to do an art project together, we often end up doodling shapes and designs, as well as trying our hand at more complicated Zentangle patterns. Even if our patterns aren't perfect, a page full of repeating shapes and lines still looks pretty awesome!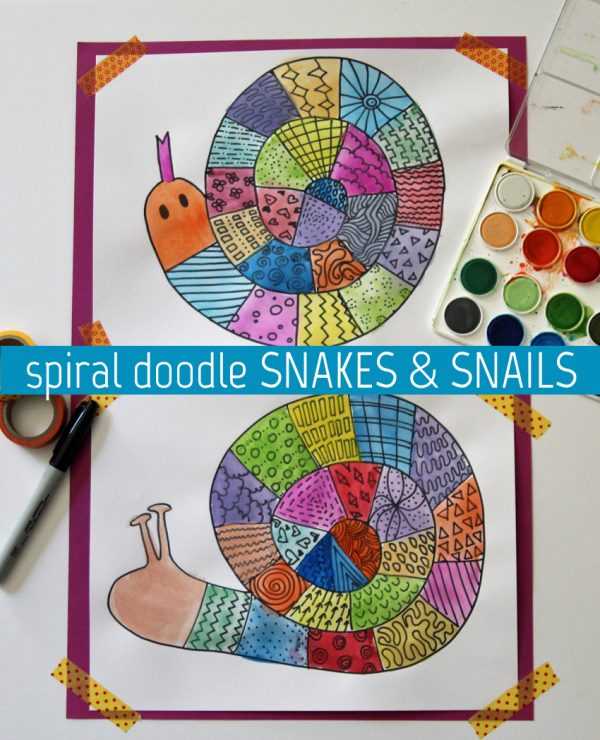 Colorful Spiral Doodle Snakes and Snails Art Project
These whimsical snakes and snails are made with a variety of unique patterns, shapes, and doodles. I find this type of drawing to be quite forgiving, making it a good fit for a variety of ages – littles to adults. Depending on how detailed your drawings are, it can take some time to fill in all the sections. You might encourage your kids to work on it over several days.
Supplies:
watercolor paper or sturdy card stock
pencil
black permanent marker (such as a Sharpie®)
watercolor paints and brush
Let's start with drawing a big, coiled snake. Starting in the center of the paper, draw a large spiral with a pencil. Finish the spiral with a snake's head and tongue. Trace your pencil lines with a black permanent marker.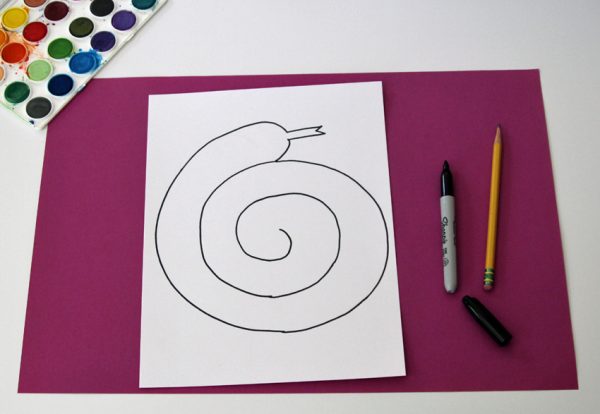 Divide the snake's body into sections with the marker – don't worry about making them all the same size. Add some eyes, too.
Now comes the fun part – lots of doodling! Still using the black permanent marker, fill each section of the snake with a different repeating shape, pattern, design, etc. It really helps to do this project with a few others, so you can share pattern ideas. I like to leave the head plain so it stands out.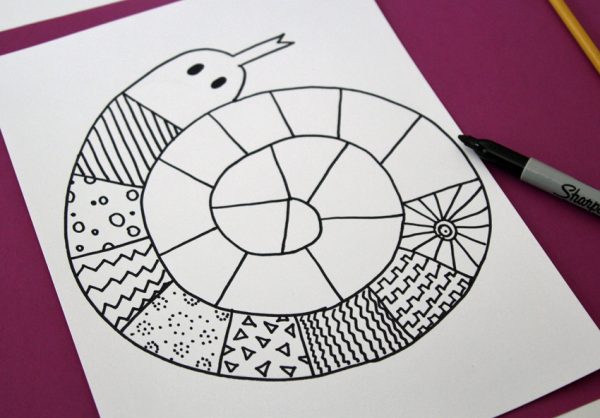 When all the snake's sections are filled in with doodles, it's time to paint. With watercolors, paint each segment a different color. You could alternate warm and cool colors, paint in rainbow order, or just paint colors randomly (that's what I did!).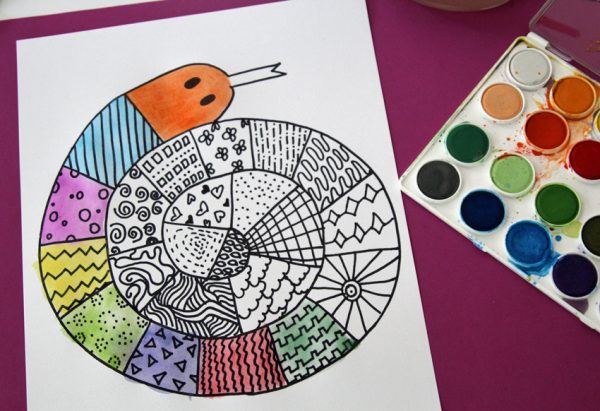 Watercolors painted over black Sharpie is one of my favorite art combinations. Look at that bold and colorful snake! Set aside to dry, then display as is, or cut out and glue to a piece of colored paper.
If snakes aren't your thing, you can easily draw a different head and make a snail with a big spiral shell instead. He's pretty cute, too!
Want to make this into a road trip-friendly project? Do the marker drawing at home, then bring it in the car to color with colored pencils, instead of watercolors. A fun DIY coloring page for on-the-go art!