We made paper snowflakes at our house last year, so I thought I'd try it a little different this time with coffee filters. Coffee filters are great for craft projects. Coffee filters are especially great for snowflakes as they already have a circle shape. That works out nicely! We brightened ours up with watercolors, bringing our snowflakes to life. I think they turn out beautiful.
Coloring Coffee Filter Snowflakes
Supplies for Watercolor Snowflakes:
tray
coffee filters
scissors
watercolor paints
water in a cup
paint brush or liquid dropper
Fold your coffee filter a few times and cut out some holes.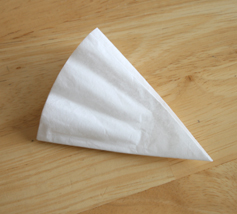 Place the snowflake into a tray with sides. I'm using an old cake pan that's had it's day and is now used for crafts. Then place 1, 2, or up to 5 snowflakes together onto the tray. Coffee filters are really thin and a few can be colored at a time. Then either using a regular paint brush or a liquid dropper, watercolor your snowflake.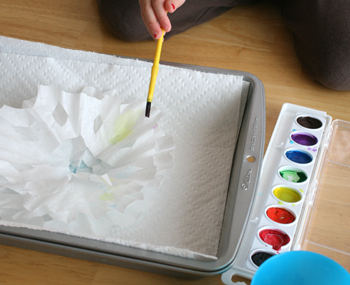 Let them dry, hang them up, and enjoy the frosty snow indoors!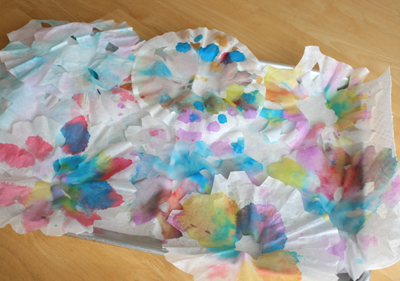 Try these other snowflake craft projects:
SaveSave