My girls have been shutterbugs this summer, taking photo after photo of flowers in the yard, dressed-up stuffed animals, and each other. Yay for digital photos!
We wanted to do a project with some of our summer photos, so I suggested adding our own touches of color to black and white photographs. We had so much fun – we'll be having a repeat coloring session soon!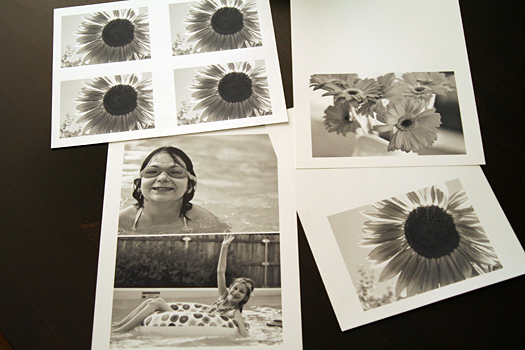 Coloring Fun with Black and White Photos
To get started, you will need some black and white photos. On the computer, I converted a few photos to black and white. If you have the capabilities (I used iPhoto), lighten your photos a bit, and maybe increase the contrast. I just like to lighten-up the greys so the colors we add will show.
I printed our photos on white card stock. Matte photo paper would probably work as well. I wanted some of the flower photos to become cards, so I printed them at the bottom half of the paper. After coloring, we can just fold those into beautiful gift-worthy birthday cards.
Now it's time to color! Make sure you print lots of photos, because you are going to want to join in the fun, too. We experimented with markers, crayons, colored pencils, and watercolors.
• Markers give bright color, but tend to overpower any details in the photograph. Stick with light colors.
• Crayons and colored pencils worked well for layering color and did not hide the details in the photo. Colored pencils are perfect for small areas.
• Watercolors create a more abstract look. The water smears the printer ink, so do not use too soggy of a brush. I almost couldn't tell it was a photo when I was done painting.
The girls had a blast coloring self-portraits. They preferred using a combination of colored pencils and crayons. As you can see, it's fun to experiment with crazy color combinations. Who says your skin can't be bright purple?
After an afternoon coloring photos, I have so many project ideas swirling in my head for these hand-colored black and white photos:
birthday invitations
Christmas cards
birthday party craft activity
art to hang on the wall
postcards to send to relatives or pen pals
I definitely think I need one of these sunflower photos colored and framed for my wall. Do you think your kids would enjoy coloring their own photos? I know mine would!
Happy crafting!
SaveSave