Can you show me how to get to Sesame Street? With the Sesame Street celebrating it's 40th Anniversary, I've crafted this fun hand puppet into my favorite Sesame Street Monster: Grover. He's just so silly and crazy, and isn't afraid to be himself. He's a waiter by day and "Super Grover" by night! And one of my favorite children's books is The Monster at the End of This Book starring the lovable furry old Grover! It's just the funniest book ever. All of my kids LOVE it and beg me to read it almost daily. Grover is the best.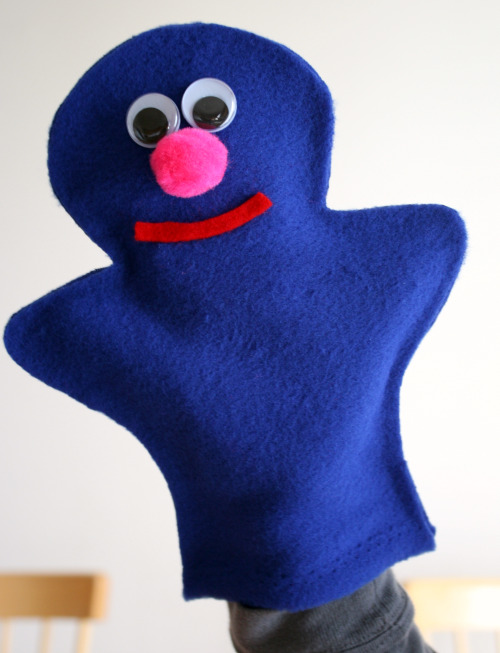 Crafty Grover Hand Puppet
Supplies for Monster Hand Puppet:
bright blue felt or fleece (these are good fabrics to use as the edges don't fray)
pink pom pom
2 googley eyes
red felt or fleece
glue – hot glue is what I used, but you could use a craft glue or even use a sewing machine
scissors
white pencil or black marker
Instructions:
With your white pencil, trace out the shape of your puppet. I just drew mine by hand, but here's a pattern I found that's similar you can print and copy: Hand Puppet Pattern. I folded my blue fleece in half when I cut it out, so both halves look the same. Then I placed the first cut piece on top of the second piece and cut it out.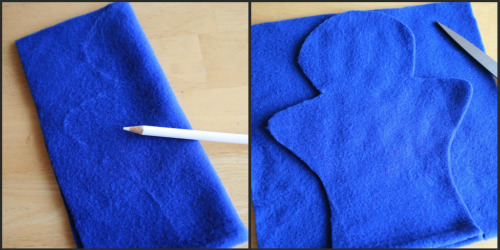 Glue your two pieces of blue cut fabric together, leaving the bottom open for the hand to slip through. I used hot glue, but you could use a craft glue, you would just need to give it time to dry. Or you could even get out the needle and thread and sew Grover up.
Once the body is glued together and dry, you need to glue on Grover's face. I used 2 googley eyes, a large pink pom pom nose, and a piece of red scrap felt for his mouth. Easy as that! (and so cute!)
He's ready for a hand to hold him up and wave him around. We're shouting, "Super Grover" in his whiny up and down voice! Maybe I need to make him a little red cape and a helmet too. This puppet could easily be crafted in Elmo too, red fabric with an orange pom pom nose! That would be a super fun project to make as well.
Happy Anniversary Sesame Street! We love you, Grover!
SaveSaveSaveSave