This fun and simple bookmark came out of inspiration from Kari and Becky at UCreate. We all attended a conference a few weeks back and got to talking about how people come up with creative ideas. It can simply come from naming 2 supplies like googly eyes and pipe cleaners. Then Becky said how about a bookmark, so this Monster Bookmark idea was born. This would be a great gift for Dad for Father's Day, along with one of our favorite books, What Dad's Can't Do by Douglas Wood.
This craft is super simple which makes it perfect for little hands. I love that these monster bookmarks are silly and not scary. The googly eyes make them friendly looking and even a little sweet. Your kids are going to love trying this bookmark craft.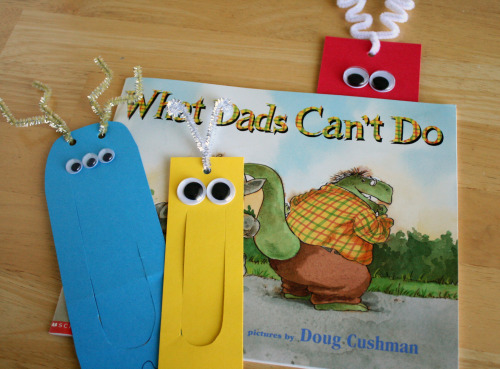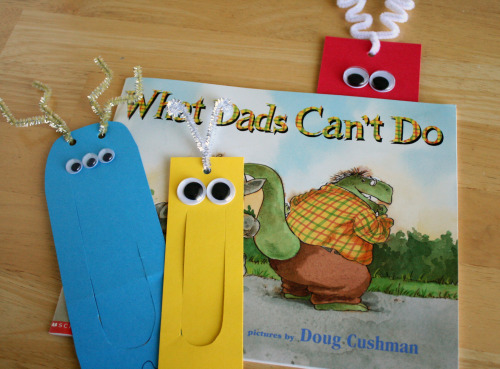 Crafty Monster Bookmark
Supplies for a Monster Bookmark:
pipe cleaners
googley eyes
cardstock paper
glue (I love glue dots for this)
hole punch
scissors or paper cutting tool
Cut out a 3 inch x 5 1/2 inch rectangle out of cardstock paper. You'll need to cut out the nose. You can use a razor blade, scissors, or a paper cutting tool. I made 2 slices down the middle. Then finished off the rounded nose using my scissors. Don't go all the way through, keep the nose flapping in the center.
Using a couple of glue dots, glue the googley eyes onto the top of the cut out nose. Then punch a hole at the top of the bookmark. Add a pipe cleaner through and twist it together. You can then bend or curl the top of the pipe cleaner to give it a silly look.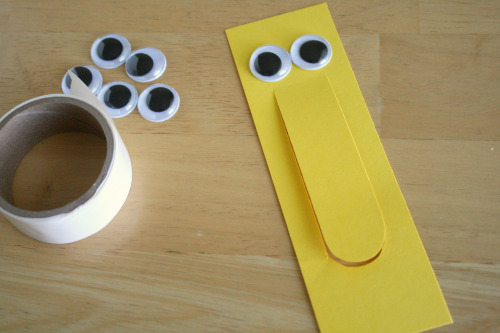 Now it's ready for a book to mark. If this is a gift for Father's day, you can write a special note on the front or back of the bookmark, or even add stickers or ribbon to give it some flare.
Try making these other bookmark crafts:
SaveSaveSaveSaveSaveSaveSaveSave