I'm a huge fan of double sided tape. It's practically seamless on projects and there's no drippy mess! So today, with the help of Scotch Double Sided tape, I'm bringing you a super fun and simple project for your Thanksgiving table. You can make one of these cute paper cornucopias for each of your guests, creating a festive holiday table.
Supplies for Thanksgiving Paper Cornucopias:
1 sheet of paper (8 inch square for the cone shown)
scissors
double sided tape
ribbon, cut 8-10 inches
treats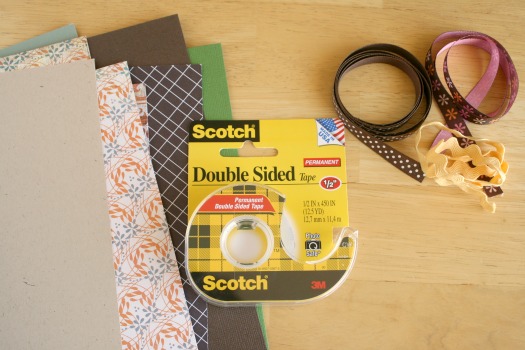 1. Cut your paper into a right angle V shape, with a curve at the top. How wide your angle is will create a more fat or thin cone. Here's a link to a pattern to download and print for a template: Cone Pattern (via Hostess with the Mostess)
2. Add double sided tape to one side of the "inside" of the paper. Roll it up and form a cone shape, and press your tape to the outside of the cone to secure it in place.
3. Place a small piece of double sided tape to one side of ribbon, folding over one edge to make the end not fray, and tape it to the outside or inside of the cone. Add tape to the other end of the ribbon and attach it to the opposite side of the cone. This will form a handle to hang your paper cone if you choose.
Here is another way to tape your ribbon, forming a border around the rim of the cone using your tape.
4. You can also have children trace their hands and create a turkey shape onto the outside of the paper before you tape it together. This gives these paper cornucopias an even more festive look for Thanskgiving.

5. Fill your cone with treats and set them out on the table, one for each Thanksgiving guest. Now everyone will have a party favor to take home or snack on after dinner and pie!
And as double sided tape comes in so handy during the holidays, Scotch is giving away 25 free samples to 25 winners. So if you'd like to receive a sample of tape to complete your crafting handmade holiday favors, simply leave a comment below!
This giveaway is now closed. Congrats to our 25 winners. Here are the comment numbers who won: 1, 2, 4, 12, 17, 21, 23, 24, 27, 30, 32, 33, 37, 39, 41, 47, 50, 52, 58, 63, 64, 68, 72, 86, 87. I will contact you all to receive your Scotch(R) Double Sided Tape!

This post is brought to you by Scotch(R) Double Sided Tape. Submit your response in the comments section to be entered for your chance to win a free sample roll to help with your upcoming holiday needs.
Please learn more about Scotch(R) Double Sided Tape and other Scotch(R) Products on their website, and join the conversation on the Scotch(R) Brand Facebook and Twitter pages.
_________________________________________________________________

Giveaway Entries: To be entered to win one of 25 samples of Scotch Double Sided tape to use on your crafty projects, leave a comment on this post by Sunday, November 14th at midnight, telling me what crafty projects you love to use double sided tape for. I'll announce the 25 winners on November 15th. Good luck!